Former Defense Secretaries Urge Congress to Grant Lloyd Austin a Waiver
Fifteen former defense secretaries, deputies and service secretaries sent a letter to Congress on Monday urging them to sign a waiver for Lloyd Austin to serve as President-elect Joe Biden's Secretary of Defense.
"We understand the qualities necessary to lead the U.S. Department of Defense, more pertinently, we understand what it takes to lead as a civilian at the department charged with the first and most essential task of the United States government, namely to keep America safe," said the officials.
"Rarely in our history has that been a more difficult challenge," the officials continued, listing some of the troubles facing the country such as the coronavirus pandemic, challenges from foreign adversaries around the globe and on the internet, and threats of domestic terrorism.
The letter was signed by former Secretaries of Defense Leon Panetta, Chuck Hagel and William Perry, among others. The letter was sent to Senators James Inhofe and Jack Reed alongside Representatives Adam Smith and Mike Rogers of Congress's Armed Service Committee.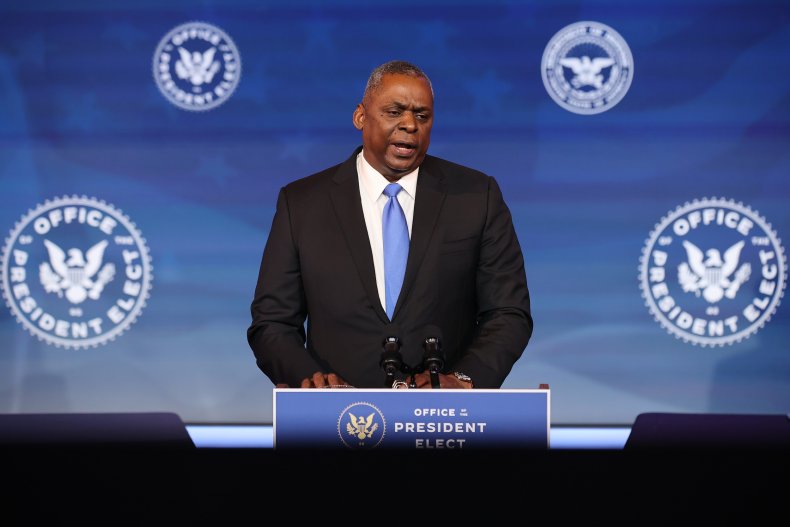 "Now more than ever, we need an experienced, competent, organized, and respected Secretary of Defense. Every day that we do not have such a Secretary in place is a day that emboldened those who wish our nation harm," said the officials. "We believe that Secretary-designate Lloyd Austin can lead effectively as a civilian."
The officials then urged Congress to grant Austin a waiver from the 1947 National Security Act as soon as possible.
The letter was posted to Twitter on Monday by Jennifer Griffin, National Security Correspondent for Fox News.
The 1947 law is meant to ensure civilian control of the military and has only been waived twice, most recently for James Mattis in 2017. The rule also assures that the secretary won't favor the military when it comes to advising on foreign conflicts, defense funding, and the service requirements for current and future soldiers.
"We do not make this recommendation lightly. The principle of civilian control is foundational to the modern military. Nonetheless, Congress has chosen to waive the statutory requirement of the 1947 National Security Act when it had a strong reason," said the officials.
"When the President of President-elect has nominated an exceptional individual during times of national peril, Congress has the legal authority to grant a waiver," the officials added.
Austin, a four-star Army general who Biden picked as his Secretary of Defense, requires a waiver to the act since he retired from the military four years ago in 2016. Under the 1947 National Security Act, the secretary must have spent at least seven years out of the military before serving.
Newsweek reached out to Inhofe, Reed, Smith and Roger's offices.