Former Democratic Assemblyman Removed from Rashida Tlaib Event for Asking 'What About Your Anti-Semitism?'
Rutgers University campus police removed a former Democratic assemblyman from a Muslims4Peace-organized event after he asked guest speaker, Michigan congresswoman Rashida Tlaib, "What about your anti-Semitism?"
Former Democratic New York State Assembly member Dov Hikind shared video from a Sunday Rutgers event entitled, "A Global Crisis: Refugees, Migrants, and Asylum Seekers – Lessons from the Prophet Muhammad," which showed him being escorted out after interrupting Tlaib's talk and accusing her of making previous anti-Semitic remarks. Hikind, who is Jewish and a pro-Israel activist, can be seen lashing out at the Muslim congresswoman as several uniformed law enforcement officers remove him from the event. Hikind demanded Tlaib apologize for her sharing of a January tweet from a Palestinian official who spread, and later apologized for, an unsubstantiated claim about Israeli Jews allegedly murdering an 8-year-old.
Tlaib herself also apologized in a January 28 tweet, but Hikind complained that it wasn't enough after confronting her at Sunday's Muslims4Peace event at the New Jersey university.
"Police just ejected me from an event of @Muslims4Peace at @RutgersU which was a fine event until @RashidaTlaib showed up. I challenged her about her antisemitism and spreading of an anti-Jewish blood libel! She had no answer for me. They will never silence us!" Hikind tweeted Sunday, sharing a video of the incident.
"Blood libel" refers to a bigoted claim made against Jews since the Middle Ages which falsely accuses Jewish people of using Christian blood during religious rites.
Video posted by the former Democratic Assemblyman shows him pointing and yelling at Tlaib, who in 2018 became the first Palestinian-American woman to serve in Congress. Alongside Minnesota congresswoman Ilhan Omar, the two became the first Muslim women in Congress. Other attendees can be heard demanding Hikind be thrown out of the event, which Rutgers officials told Fox News Monday "was not sponsored" by the university.
"She didn't offer any justification or apology for perpetuating a dangerous anti-Jewish blood libel even after I had been ejected, instead she played the victim as she does so expertly," he told Fox News. Hikind added that he'd sat at the event for around three hours and described the event as "fine" for spreading "nice messages" of religious tolerance.
"Then Rashida came on at the end as the main speaker," Hikind told Fox News on Monday. "I asked about her anti-Semitism and spreading a blood libel ... she never apologized to me. This, to me, is serious stuff."
Hikind complained that he did not receive a response from the Democratic congresswoman and that campus police immediately escorted him out as other attendees loudly chanted, "Ra-shi-da" in support of the congresswoman. In August 2015, Hikind appeared on Fox Business Network to express his opposition to the Obama administration's Iran nuclear deal - a fight President Donald Trump would later embrace.
"Yes, you can leave!" another member of the audience can be heard yelling at Hikind.
Hikind added, "As soon as I did that one man pounced on me and I told him to immediately get his hands off and he did. The cops were not far behind and removed me before I could get any response from Tlaib."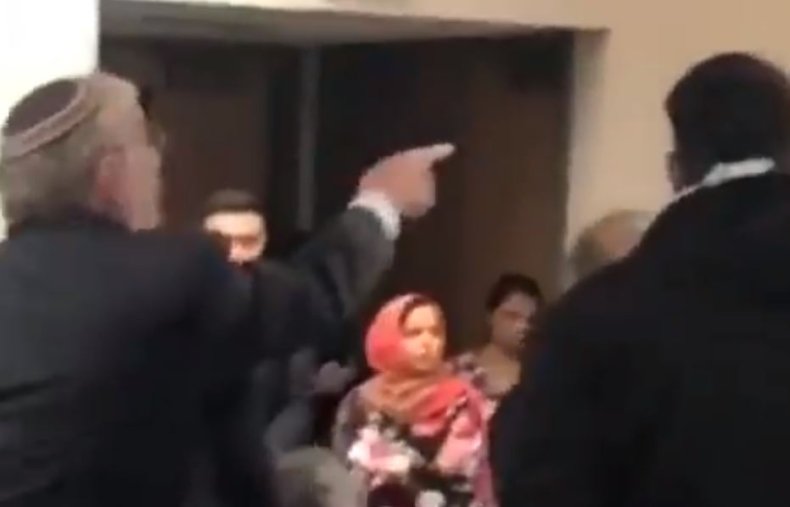 Last year, President Donald Trump accused Jewish Americans who vote for Democrats of "disloyalty," particularly to Israel. Trump has referred to her personally as a "crazed lunatic" Just hours after being sworn into office, Tlaib made national headlines after she declared "we're going to impeach the motherf***er" at a MoveOn event in Washington.