Former Detroit Mayor to Stay in Prison Despite Announcement of Release Due to Pandemic
Former Detroit, Michigan Mayor Kwame Kilpatrick will not be released from prison according to a statement from the U.S. Bureau of Prisons (BOP).
Kilpatrick had been rumored to be among those freed from a correctional facility in Louisiana in order to help curb the spread of coronavirus throughout the prison. Kilpatrick is serving a 28-year sentence for multiple felonies committed while in office including racketeering and mail fraud. Although his release had been announced in a press release from Ebony magazine, the BOP clarified its perspective on the situation on Tuesday.
"On Tuesday, May 26, 2020, the Federal Bureau of Prisons reviewed and denied inmate Kwame Kilpatrick for home confinement," read a Tuesday statement. "Mr. Kilpatrick remains incarcerated at the Federal Correctional Institution-I in Oakdale, Louisiana."
News of Kilpatrick's early release was announced Friday by the National Director of Community Outreach and Engagement for Ebony Magazine Reverend Keyon S. Payton on Friday. Advocacy groups including Ebony, the National Baptist Convention of America and the NAACP had been working toward getting Kilpatrick out of jail.
"While there has been a lot of debate about [Kilpatrick's] guilt or innocence, we were arguing neither, rather, we were opposing the excessive nature and length of his sentence," Payton wrote.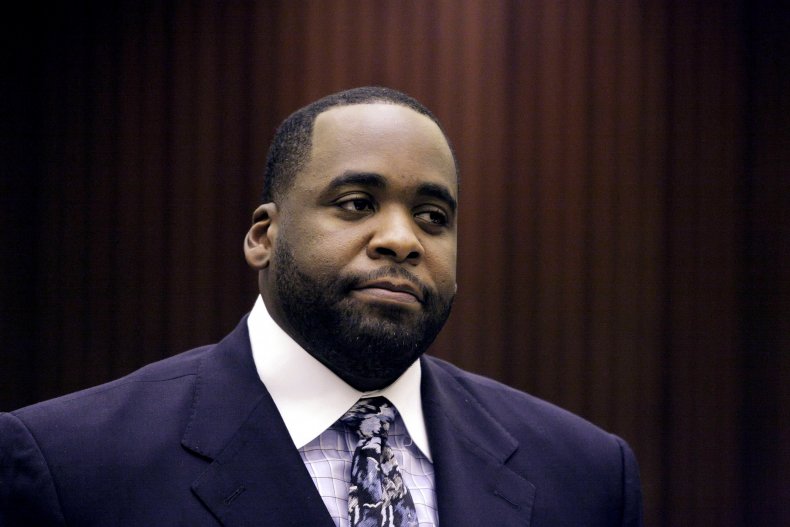 Detroit Representative Karen Whitsett told reporters on Thursday that President Donald Trump had told her personally that Kilpatrick was to be released.
Newsweek reached out to Representative Whitsett and Ebony magazine for comment. This story will be updated with any response.
At least seven inmates have died from coronavirus at the Louisiana prison where Kilpatrick is being held. Attorney General William Barr considered Oakdale to be a hotspot for the virus, specifically mentioning the facility in April as one where transitioning vulnerable prisoners into home confinement was appropriate. Kilpatrick was alleged to be released into his mother's cognizance in June because of virus-related conditions at the prison.
Kilpatrick came under public scrutiny after details of an affair with his then-chief of staff, Christine Beatty, were uncovered. Both Kilpatrick and Beatty denied the affair under oath in an attempt to keep the affair private. When text messages between the two were made public, they both pleaded guilty to perjury. Kilpatrick resigned from office in 2008. As part of a plea deal, Kilpatrick gave up both his license to practice law and his pension.
After a federal investigation into his time in office, Kilpatrick was indicted with 24 felonies in 2013. The former mayor allegedly spent money from public funds and money from non-profit organizations on personal expenditures, such as vacations and golf clubs.
At the time of his sentencing, Kilpatrick claimed he had not taken Detroit public funds. "The government talked about stealing from the city," Kilpatrick said. "I've never done that, your Honor."