Former US Diplomat Said Giuliani Influenced Trump on his Negative Ukraine View that They Had 'Terrible People'
The former top U.S. diplomat to Ukraine, Kurt Volker, told congressional lawmakers behind closed doors Thursday he was concerned about the information President Donald Trump was receiving from his personal attorney, Rudy Giuliani, and others concerning Ukraine, according to his opening remarks obtained by Newsweek on Friday.
Volker resigned from his post last week after a whistleblower report was released that alleged a coverup by the White House involving Trump's July 25 phone call with Ukrainian President Volodymyr Zelensky, where Trump pressured the foreign leader to investigate a political opponent: former Vice President Joe Biden and his son, Hunter.
Volker became concerned in May that "a negative narrative about Ukraine, fueled by assertions made by Ukraine's departing Prosecutor General, was reaching the President of the United States, and impeding our ability to support the new Ukrainian government as robustly as I believed we should," according to his opening testimony, which can be viewed in full at the bottom of this story.
As a result, he connected Zelensky adviser Andrey Yermak with Giuliani in an attempt to convince Giuliani—and therefore Trump—that Zelensky and the new Ukrainian leadership was committed to being trustworthy allies free of previous corruption.
"The new Ukrainian leadership wanted to convince those, like Mayor Giuliani, who believed such a negative narrative about Ukraine, that times have changed and that, under President Zelensky, Ukraine is worthy of U.S. support," Volker said. "I also made clear to the Ukrainians, on a number of occasions, that Mayor Giuliani is a private citizen and the president's personal lawyer, and that he does not represent the United States government."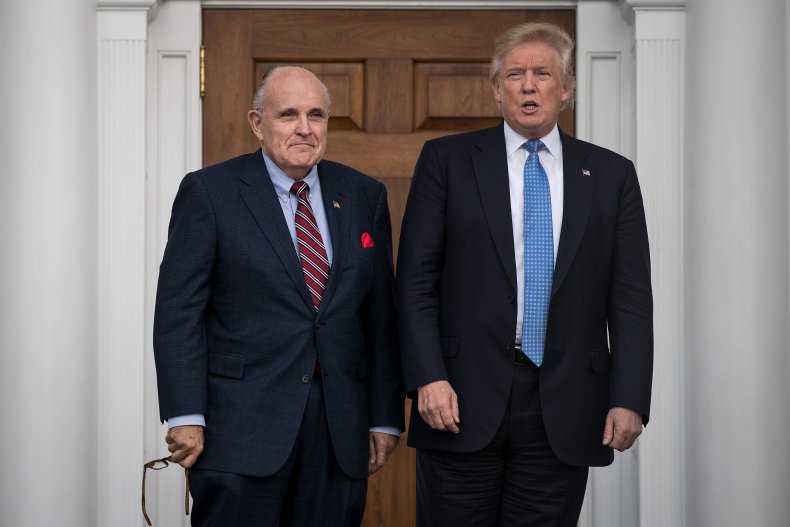 However, Volker said, Trump remained "very skeptical" due to Ukraine's past history of corruption. Volker did say he was aware—and concerned—about hundreds of millions of dollars in military aid being withheld from Ukraine by the U.S., but he believed that the two were not related.
"[Trump] said that Ukraine was a corrupt country, full of 'terrible people.' He said they 'tried to take me down,'" Volker said, referring to unproven claims that Ukraine was also involved in 2016 election meddling.
"It was clear to me that, despite the positive news and recommendations being conveyed by this official delegation about the new president, President Trump had a deeply rooted negative view on Ukraine rooted in the past," Volker continued. "He was clearly receiving other information from other sources, including Mayor Giuliani, that was more negative, causing him to retain this negative view."
Damning text messages released Thursday night by several Democratic-led House committees leading the impeachment inquiry into Trump further detailed the White House's desire to have the Bidens investigated by Ukraine and how involved in the matter Giuliani was. In return for opening an investigation, the texts revealed, Zelensky would be brought to the White House.
Giuliani admitted to CNN this week to being the source of documents handed over to Congress by the State Department inspector general that had unproven allegations against Biden. Democrats amounted the materials, which included a "package of disinformation, debunked conspiracy theories and baseless allegations in an envelope marked 'White House' and containing folders labeled 'Trump Hotel,'" according to three committee chairmen, to being "propaganda." Giuliani has said he gave the materials to Secretary of State Mike Pompeo and was allegedly told the department would investigate.
Volker stated he continued to try and arrange a meeting between Trump and Zelensky leading up to the July 25 phone call to no avail. Volker said he was unaware that Trump wanted Ukraine to investigate the Bidens or that the former vice president and 2020 Democratic candidate was referenced in the call until a partial transcript of the conversation was released to the public by the White House last week.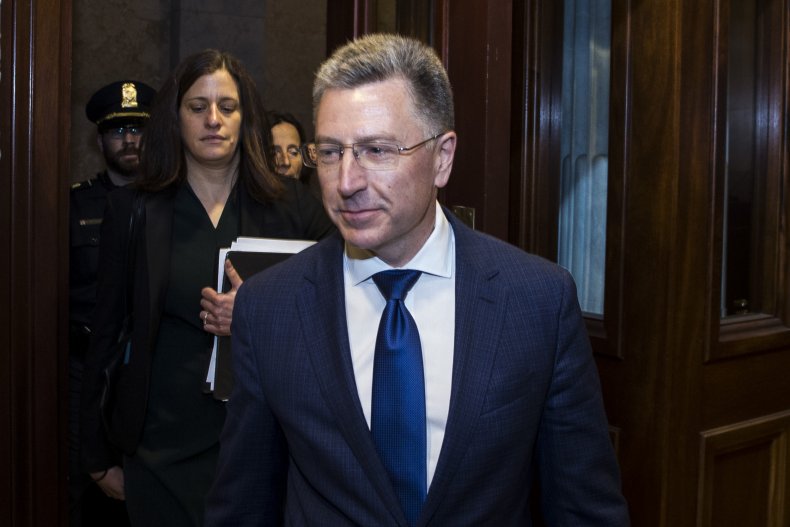 Volker's text messages showed he pushed Zelensky's aid for an investigation but not into the Bidens—into Burisma, the Ukrainian energy company where Hunter Biden served on the board.
In August, when Volker and U.S. Ambassador to the European Union Gordon Sondland expressed their hope that Giuliani would convince Trump about Zelensky's good faith and help schedule a White House meeting, Giuliani said Zelensky "needed to make a statement about fighting corruption," to which Volker agreed.
However, Volker said, in the process of crafting said statement, Giuliani insisted that the terms "Burisma" and "2016" be included. Because of Giuliani's request and for fear of interfering in a foreign election, Volker said the idea of issuing a statement was shelved.
"I believe it is essential that Ukraine do nothing that could be seen as interfering in 2020 elections," Volker told lawmakers. "It is bad enough that accusations have been made about 2016 – it is essential that Ukraine not be involved in anything relating to 2020."