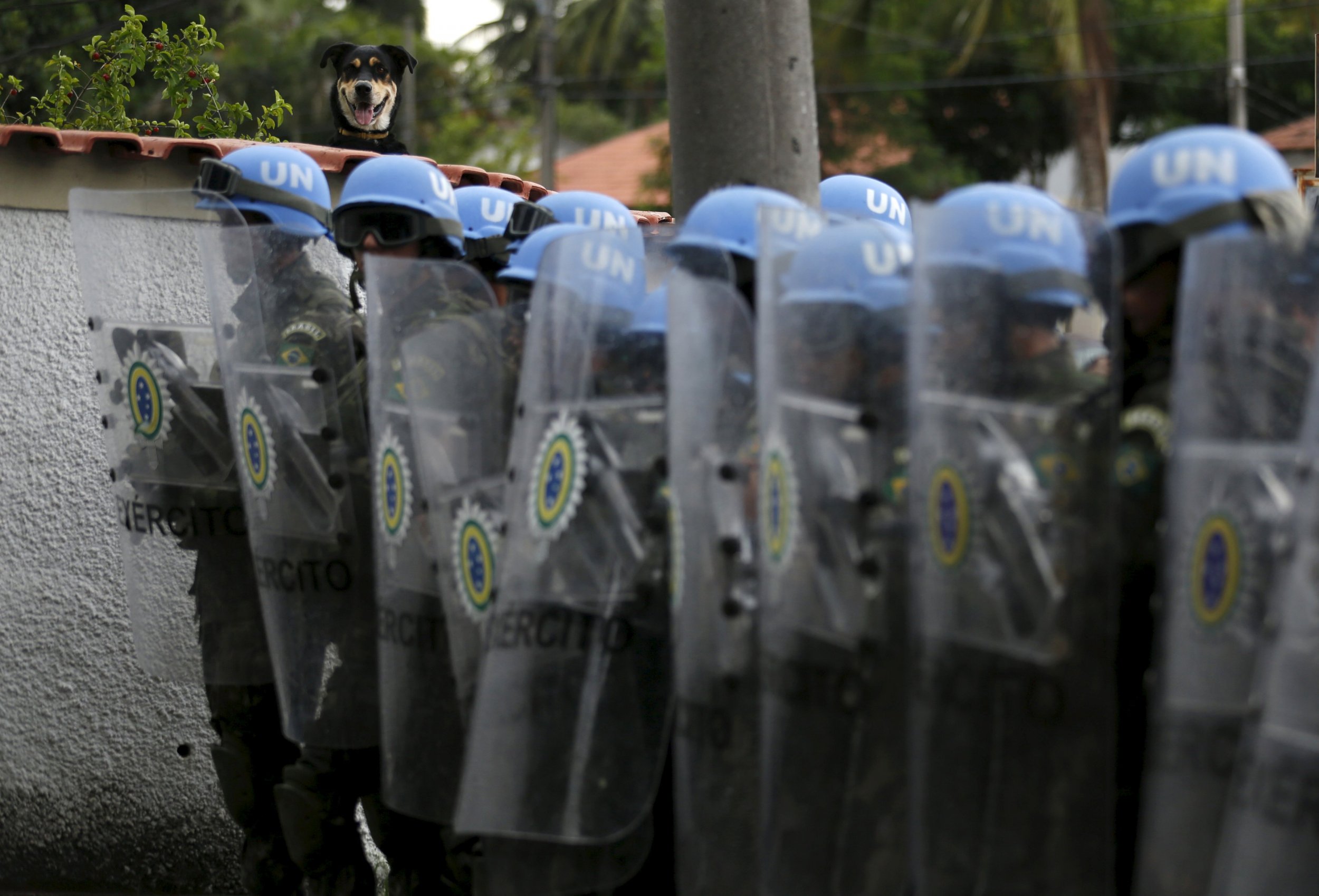 Updated | A New York-based advocacy group has launched a campaign called Code Blue calling for an end to the immunity from prosecution granted to United Nations personnel and establishing an independent commission to investigate allegations of sexual violations committed by U.N. staff.
The campaign by AIDS-Free World, a group that works to end social problems that contribute to the spread of HIV, is backed by former diplomats and U.N. staff. It charges that the prosecutorial immunity afforded to U.N. peacekeepers has allowed them to get away with decades of sexual abuse of civilians intended to be under their protection.
AIDS-Free World hopes the campaign will "change the culture that allows [peacekeepers] to violate the world's most vulnerable people with impunity," the group said in a statement. Graça Machel, Nelson Mandela's widow and author of a groundbreaking 1996 report on the impact of armed conflict on children, was among those participating in the campaign's launch Wednesday in New York, blocks away from U.N. headquarters.
Paula Donovan, the co-director of AIDS Free World, leaked an internal U.N. report last month exposing sexual abuse by French peacekeepers in the Central African Republic to the Guardian newspaper, the latest in a series of accusations of abuses by peacekeepers.
The internal report, commissioned by the U.N. High Commissioner for Human Rights, investigated accusations of abuse against French, Chadian and Equatorial Guinean peacekeepers sent to the Central African Republic following a 2013 coup that plunged the already-fragile country into worse insecurity and chaos. The peacekeepers were deployed by the French government and were not affiliated with the U.N. The abuse allegedly took place in a center for displaced people in the capital Bangui between December 2013 and June 2014. Victims were as young as 9 and many were orphans, according to the allegations. Particularly damning are the claims that peacekeepers sexually abused starving and homeless children in exchange for food. U.N. teams, including staff from the UNICEF, began interviewing the children last May.
Anders Kompass, the director of field operations at the U.N.'s Office of the High Commissioner of Human Rights in Geneva, was temporarily suspended last month after leaking the report to French authorities, the Guardian reported. Kompass has since returned to work, but he still faces an internal U.N. investigation for leaking information, including the names of alleged child victims, the AFP reported. Kompass is not linked to AIDS-Free World; he is accused of breaching protocol and leaking the internal U.N. report to French authorities, while the advocacy group later passed the report on to the media.
The French Defense Ministry said the French government was made aware of the allegations in July 2014. French authorities have also started investigations into the alleged abuse, with French President Francois Hollande vowing to "show no mercy" against the peacekeepers.
U.N. human rights chief Zeid Ra'ad Al Hussein, head of the agency that commissioned the report, last week said French investigators were delayed for months before interviewing the author of the report and said the U.N. "could have done better" in its investigation.
A number of non-governmental humanitarian organizations, including Save the Children and Child Rights International Network, wrote an open letter criticizing the U.N's initial response to the report, which they called "deeply unsatisfactory" for focusing on internal U.N. protocol instead of the alleged abuses suffered by displaced children.
The U.N. has been accused by AIDS-Free World of covering up the crimes, which didn't come to light until a year after U.N. teams interviewed the children. The U.N. called such allegations "offensive" earlier this month.
"I think any implication that Zeid Ra'ad Al Hussein would try to cover up sexual abuse [of] children is frankly offensive and highly unlikely if you look at his personal history," said spokesman Rupert Colville. Zeid has previously led work to stop sexual abuse of civilians by peacekeepers.
The U.N. has 16 peacekeeping missions around the world, with nine of those based in Africa, including a joint mission with the African Union in Sudan. There are 106,595 uniformed personnel, including nearly 92,000 troops and 13,122 police, and 17,092 civilian personnel, according to the U.N. Department of Peacekeeping Operations (DPKO). While the problem of sexual abuse extends across beyond U.N. peacekeeping missions and into missions deployed by individual countries, the Code Blue campaign specifically focuses on U.N. peacekeepers, whom the group accuses of being able to carry out crimes with impunity.
"The ultimate goal of Code Blue in carrying out this campaign, at least my understanding of their goal, and the goal of the United Nations in this regard is exactly the same, which is stopping, reducing, ending sexual abuse by U.N. peacekeepers" said Tony Banbury, the U.N.'s assistant secretary-general for field support, in an interview with Newsweek.
"The United Nations has a very strong interest in achieving that objective and I think that's basically what they're looking to do as well, [to] contribute to that objective. Also to ensure justice for victims, criminal accountability. We are 100 percent committed to that as well," he said.
Banbury says he wasn't invited to the panel last Thursday. The U.N.'s peacekeeping department reached out to AIDS-Free World to see if it could be involved in the event, but AIDS-Free World officials told the department that it would have looked strange to have a U.N. person on the stage with them at a press conference, said Banbury.
Paula Donovan, co-director of AIDS-Free World, said David Haeri, the head of policy, evaluation and training in the peacekeeping department, contacted AIDS-Free World one day before the press conference to offer the presence of a peacekeeping official at the event. Stephen Lewis, also co-director of AIDS-Free World, told Haeri that the press conference was for the media and for the launch of the Code Blue campaign, not a debate or exchange between two sides.
Banbury wasn't invited to the press conference, said Donovan.
"Fair enough, but we offered to have someone there. I haven't been approached by them otherwise," said Banbury, adding that he'd be happy to talk to them about "our shared objectives and how we could each work better to accomplish them."
AIDS-Free World alleges that non-military personnel working for the U.N., including civilians, commit the majority of sexual abuse in peacekeeping situations. In 2014, 69 percent of personnel who allegedly committed abuse were non-military and U.N. agency staff; both categories are covered by diplomatic immunity under a 1946 U.N. convention, unless that immunity is waived by the secretary-general, according to AIDS-Free World, which also said numbers could be underreported as one allegation could involve a number of people.
However, the department of peacekeeping said the campaign misunderstands the concept of immunity when it comes to the U.N. "Immunity is never a barrier in the United Nations to achieving criminal accountability for sexual exploitation and abuse," said Banbury.
"We have challenges in achieving criminal accountability justice, but immunity is not one of them," said Banbury. Those challenges, he says, are criminal investigations and criminal prosecutions, both of which have been deemed the sovereign responsibility of member states by the U.N. General Assembly.
Absolute immunity, Banbury says, applies only to the highest-level officials like an ambassador. For U.N. civilian staff, including police, they are covered by functional immunity, or protection from prosecution for activities or speeches directly related to their job. For example, a human rights official who says the police force is committing acts of torture based on an investigation in the country where the peacekeeping mission is held, would have functional immunity. If that same official commits an act of sexual exploitation or abuse, they are not covered by any immunity.
"They are not immune from prosecution for that," said Banbury. "The Secretary-General does not need to lift immunity in that case because immunity does not apply and they do not have it."
To try to strengthen the investigations against staff who do commit abuses, the U.N. is building the capacity for rapid investigation teams to support member states in criminal investigations. This includes experts experienced in collecting DNA and rape kits and those with a history of investigating sexual crimes, said Banbury.
But some cases will still happen.
"The objective is zero cases, but this is an imperfect world. There probably are going to continue to be some cases," said Banbury.
In 2014, 79 allegations of sexual abuse were reported against U.N peacekeepers, according to AIDS-Free World. Over the past two decades, there have been reports of abuse in several countries, including Bosnia, Kosovo and the Democratic Republic of Congo. Three U.N. peacekeepers were repatriated in 2012 following a hearing on the sexual abuse of a 14-year-old Haitian boy.
Twenty years after presenting a report on the impact of armed conflict on children to the U.N. detailing horrendous sexual abuses against women and children in conflicts from Rwanda to the Balkan states, Machel said it was unacceptable that allegations of abuse by peacekeepers keep coming to light. "The evidence is that things have not changed or improved. Currently, they have gotten even worse," said Machel.
Clamping down on the sexual abuse problem among non-military personnel will have a positive knock-on effect for abuses committed by military personnel in 2014, said retired Lieutenant General Roméo Dallaire, commander of the U.N. peacekeeping mission in Rwanda before and during the 1994 genocide and one of the figures who participated in the Code Blue launch. Abuses committed by the military often get more publicity than civilian abuses, like those committed by U.N. personnel; despite civilian abuses being more numerous, they are often hidden in the structure of various missions and agencies, he said.
"By going after what's really possible, the secretary-general, the main man, taking the bull by the horns and taking care of this impunity that seems to exist on the [part of peacekeeping staff and police], it's creating an incredible pressure on the nations that contribute troops," said Dallaire.
Dallaire said better selection and training of troops, increased oversight by the United Nations and the threat of prosecution would prevent peacekeepers from taking advantage of the chaos and lawlessness of war zones.
"[Personnel] come into a conflict zone, which are now civil wars and imploding nations, where there are mass atrocities, mass abuses of human rights and where rape is now a tool, a weapon of war," said Dallaire. "It creates an atmosphere of chaos that merely makes it available for those who might be so inclined, who might actually tip over and might actually do it."
He continued, "Leadership by example is what we are arguing for the secretary-general [Ban Ki-moon], and once he's got his situation in motion, he can then impose his will on better training, different ethos, attitudinal change and better investigational processes in the field so you can actually take action much sooner."
This story has been updated with comments from Tony Banbury, the U.N.'s assistant secretary-general for field support and further response from AIDS-Free World.