Former Disney Star Bella Thorne Makes Her Directorial Debut With 'Her & Him' for Pornhub
Former Disney star Bella Thorne has just directed her first film. Though the film is set to debut at an international film festival, Her and Him will have its permanent home on Pornhub Premium.
Her and Him is a short film about a man, played by adult actor Small Hands, who finds out his girlfriend (Abella Danger) could be planning to kill him. In a promotional video, Thorne, 21, says her film explores "this relationship between a male and a female and this fight over dominance."
"The vision behind the story was basically creating these two dynamic characters that could switch off ... [between] dominant and submissive," she added.
Thorne says her original idea was to make a Christmas-themed horror film, though "sometimes you go in thinking you want something specific, and then you totally change your mind and don't go with that idea at all."
"Her and Him is a modernistic, sexually explicit Romeo and Juliet-like depiction of two star-crossed lovers who have unbridled sexual longing for each other," Pornhub vice president Corey Price told the New York Post.
Thorne describes the visual style of Her and Him as "a very beautiful, ethereal, neon type of vision." From the trailer, the set features vaporwave-esque colors, though the picture is desaturated, giving a dreamlike quality to the image.
Her and Him was years in the making—Thorne said she shopped the short around, but couldn't find a backer before Pornhub agreed to let her make the film.
"People are kind of scared to make a movie like this one when it comes to dominance and [submissiveness] between a male and a female, and how this relationship can turn quite sour," she said. "I was really lucky that Pornhub believed in my vision and was not scared to jump in it with me."
Thorne also has words for those who might think it wrong that the star of the Disney Channel sitcom Shake It Off is making a film for Pornhub.
"If you think that porn is uncomfortable, I'm sorry that you are uncomfortable, but don't make other people feel uncomfortable for being okay with it," she said.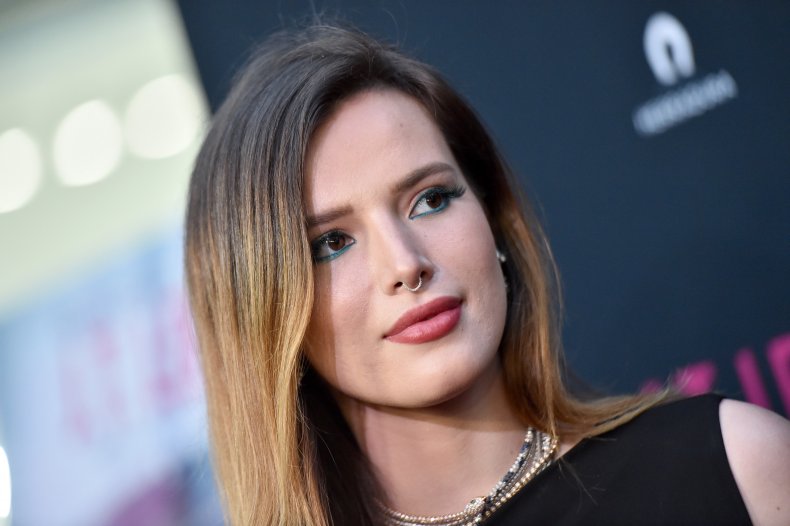 Her and Him is the third entry in the Pornhub Visionaries Director's Club series, which lets first-time directors make sexually explicit films for a female audience. The first film in the series were directed by rapper Young M.A, who made The Gift. The second was I Love You, directed by rapper Brooke Candy. I Love You also features Her and Him star Abella Danger.
Thorne's film will make its debut at the Oldenburg Film Festival, which takes place in Germany from September 11 to 15. Her and Him will then be available on Pornhub Premium, Pornhub's $9.99-per-month subscription service.
In addition to her upcoming film, Thorne recently released a new book, The Life of a Wannabe Mogul: Mental Disarray. She also appears as Lily Mayflower in the upcoming TV series Paradise City.