Former Donors to Bannon's Border Wall Crowdfund Say They Feel 'Sick' Over Where the Money Went
Former contributors to a crowdfunding endeavor ran by Steve Bannon, a former adviser to President Donald Trump, to raise money for a southern border wall that prosecutors say was a scheme to defraud donors feel betrayed.
Bannon and three others involved in the "We Build the Wall" online fundraising campaign allegedly funneled hundreds of thousands of dollars from the $25 million raised—contrary to the promise that "100% of the funds raised" would go towards helping Trump build a wall along the U.S.-Mexico border.
Two women who say they were contributors aired their grievances on We Build the Wall's Facebook page on Thursday amid the news. As of that afternoon, the page continued to operate as if the indictments of its leaders had not occurred. There was no public acknowledgment of Bannon or anyone else's arrests for fraud and money laundering.
"So glad I stopped donating to We Build The Wall when I started to smell a rat. I gave them a total of $200 out of my Social Security check which is my only source of income," Kathy Beaber wrote in a comment of a post on the group's page. "Millionaires stealing from the little folk really pisses me off. The top four involved have been arrested. We will see where that goes."
Lynda Oettinger-Roe offered similar frustration.
"I donated to this fund because I believed in this with my whole being. It makes me sick that these funds were laundered for personal use," Oettinger-Roe wrote. "Wire fraud."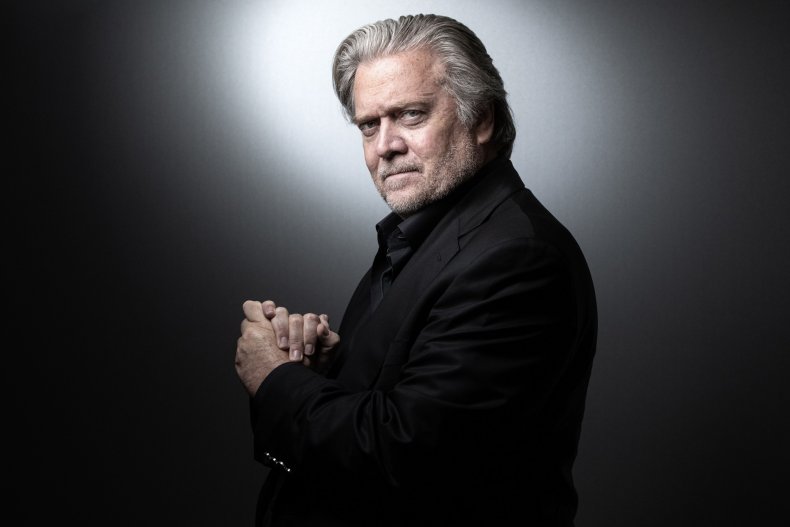 Neither woman could be reached by Newsweek for further comment.
Bannon was reportedly taken into custody while on a yacht off the Eastern coast of Connecticut.
The three other men indicted with Bannon were Brian Kolfage, Andrew Badolato and Timothy Shea. Kolfage began the non-profit campaign in 2018 with the promise that he would receive none of the money and all of the proceeds would go toward funding the wall. Prosecutors from the Southern District of New York said that was not the case. They alleged that the quartet used the money for private expenditures for Bannon and Kolfage, including a luxurious boat, car, home renovations, cosmetic surgery and credit card debt.
All four men were charged with one count of conspiracy to commit wire fraud and one count of conspiracy to commit money laundering, each of which carries a maximum penalty of 20 years behind bars.
Trump immediately distanced himself from Bannon, a former confidant to the president as an ex-top White House and campaign official, in the wake of his arrest.
"Well, I feel very badly. I haven't been dealing with him for a long period of time," Trump told reporters in the Oval Office. "I know nothing about the project, other than I didn't like when I read about it."
Trump derided We Build the Wall as nothing more than a "showboating" effort that he did not condone. In the past, Trump has publicly criticized the group and accused it of attempting to make his wall-building efforts look bad. Privately, however, the president's tune was different.
"I talked with the president, and the 'We Build the Wall Effort' came up," Kris Kobach, a GOP Senate candidate in Kansas and general counsel for We Build the Wall, told The New York Times in January 2019. The president said 'the project has my blessing, and you can tell the media that.'
On Thursday, Trump continued to publicly lash out at the group.
"I said, 'this is for government. This isn't for private people.' And it sounded to me like showboating," Trump expounded. "It was showboating and maybe looking for funds, but you'll have to see what happens. I think it's a very sad thing for Mr. Bannon. I think it's surprising."