Former Eagles Player Hollis Thomas Leaves Philadelphia Radio Show Over Dispute: 'I Don't Work There No More'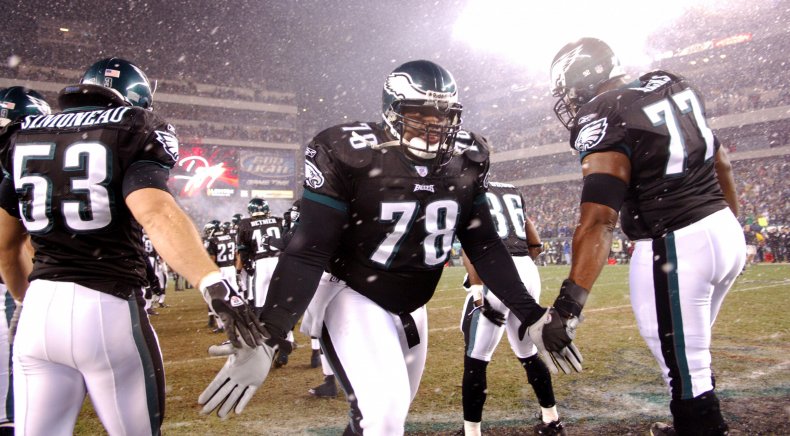 Over this past weekend former Philadelphia Eagles defensive tackle Hollis Thomas appeared on The Josh Innes Show podcast to talk about his former employer, SportsRadio 94 WIP. During this interview Thomas announced that he will no longer be apart of the SportsRadio at 94 WIP.
Thomas joined SportsRadio after a 10-year career in the NFL. He began his radio career by appearing on a wide variety of different time spots, but most recently he has been co-hosting a show with Rob Charry on Saturdays and Sundays.
Fans noticed Thomas' absence from the show on September 21 and 22, with Rob Ellis, a former SportsRadio 94 WIP employee, filling in as co-host, and questions arose pertaining to Thomas' current status with the radio station.
Another SportsRadio 94 WIP alum, Josh Innes, called Thomas on Tuesday, grabbing an interview with the former Eagle for his live podcast, The Josh Innes Show. Innes formerly worked at SportsTalk 790 in Houston, but decided to leave to start his a podcast focusing on Philadelphia's sports scene.
Not realizing he was on the air, Thomas began his feature on the podcast by stating his problem with Spike Eskin, program director of SportsRadio 94 WIP. "Spike has some personal issues," said Thomas.
Following Thomas' comment, Innes informed his guest that the podcast was live. "I don't give a f***, I don't work there no more," Thomas replied.
Thomas went on to explain his quarrel with SportsRadio 94 WIP. The conflict came to a head during his trip to Atlanta for the Eagles' Week 2 game against the Atlanta Falcons.
Thomas explained that along with his role at SportsRadio 94 WIP, he had also worked with The Green Legion, another radio/podcast station in Philadelphia. Eskin informed Thomas that he would no longer be able to appear on The Green Legion Radio podcast because SportsRadio 94 WIP considered it a conflict of interest, according to Thomas.
Later on in his conversation with Innes, Thomas stated that he was given an ultimatum after he was unavailable to make a promotional appearance for WIP. "They said if I don't show up to the appearance, then my employment is in jeopardy," Thomas said, "I said, 'OK, bye.'"
Before resigning, Thomas had worked at SportsRadio 94 WIP since 2011 and, at one point, co-hosted beside Spike Eskin and Josh Innes on the station's afternoon show. The full interview between Innes and Thomas can be heard on YouTube starting at around the 25 minute mark.
Former Eagles Player Hollis Thomas Leaves Philadelphia Radio Show Over Dispute: 'I Don't Work There No More' | News