Former Employee Says Work From Home Policy Was a 'F**k You' From CEO in Viral Post
A post has gone viral on Reddit after a former employee at a food delivery app shared how their CEO flipped on a previously "flexible" work from home policy.
Redditor u/Icerman posted about their experience on the subreddit "Antiwork" in a post that has now been voted on over 15,000 times.
The poster shared that they worked as a team lead for one of the app development teams at a food delivery app. They said their team exclusively worked from home since the start of the pandemic, having even hired some "remote-only" people to join the team. Though working across different time zones, the Redditor said they made it work as they anticipated it would be how things would look moving forward.
"After making several billion dollars from people like us working from home and ordering delivery, around the end of summer, the entire C-suite decided that COVID was pretty much over [spoiler: it definitely wasn't and all my people knew it] and that we would all be heading back to the office part time, gradually increasing to full time," the Redditor wrote.
Earlier this month, Bloomberg reported that according to pollster Morning Consult, the amount of remote workers who would consider quitting if they were asked to return to the office before they felt safe rose to 55 percent as of January 6, up from 45 percent a week earlier.
Though many large companies like Twitter and Spotify have announced they would allow workers to work remotely indefinitely, Forbes reported, not all organizations have followed suit.
The Redditor said that they had been told that any return to work policy would be "super flexible," though when push came to shove they found this was not the case.
"Moreover, those in cities without an office, even though they were hired as remote workers, were expected to come up with a 1-year plan about how they were going to move without any assistance or compensation to a city with an office," the Redditor wrote.
Redditor u/Icerman wrote that after realizing the work from home policy was different than they were told, the team "lost their collective [s**t]."
In response, the CEO of the company began to host town halls to try and display the "collaboration" and "team-building" aspects of being in an office together, the Redditor wrote.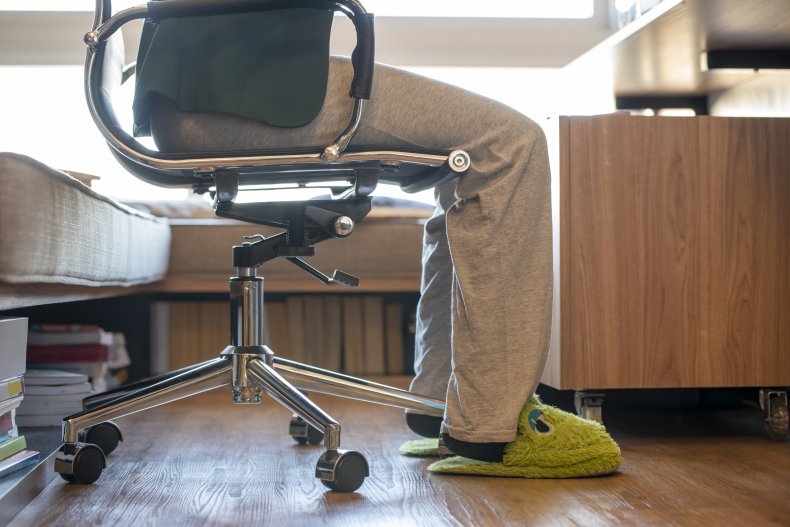 "During one of the Q&A sessions, someone finally asked something like 'I was hired remote and I don't live in a city with an office. I don't want to uproot my family. Will you make exceptions for people like me?' To which the CEO replied 'Look. This is what we're doing and what we think is best for the company. If you want to work from home, my suggestion is to go work somewhere else.'"
The Redditor said after "this [F**k] You" from the CEO, what happened afterward was "the digital equivalent of the air being let out of a balloon." They said virtual conversations began to only exist out of necessity and attendance at company-wide meetings dwindled. Within a month, the Redditor wrote, people, including the Redditor, resigned.
"By the time I left, the team that started at 8 people was down to just 2 deciding to stay," the Redditor wrote.
They said now, they are making 50 percent more than they did in this role and are working fewer hours.
"If you won't let your employees work from home, someone else will," one commenter wrote under the viral post.
Others shared that they thought a move to require returning to the office is about "control" from management.
"I really agree [it's] about control," the original poster responded in a comment. "Hard to browse LinkedIn and interview for better companies when you're in an open office where everyone can see and hear what you're doing."
Newsweek reached out to u/Icerman for comment.