Former Ethics Chief Says Fox News Host Tucker Carlson Admitted He 'Roots For Russia Against The West'
Former Director of the United States Office of Government Ethics Walter Shaub said that Fox News host Tucker Carlson's rooting for Russia in the Ukraine conflict shows a shift in contrasting opinions in America.
"This clip is just one more exhibit supporting the case that it's no longer left vs. right but democracy vs. authoritarianism," Shaub tweeted on Tuesday. "I think many still underestimate the threat to the republic."
On Monday night, Carlson had Richard Goodstein, who served as an adviser to both President Bill Clinton and former Secretary of State Hillary Clinton, on his show, Tucker Carlson Tonight, to discuss impeachment. During the segment, Carlson said he supported Russia and asked Goodstein why people should have to root for Ukraine.
"Those of us that are watching think preserving democracy is important," Goodstein said. "Russia is trying to undo our democracy. They're jealous of us."
Goodstein also pointed to a comment former Vice President Dick Cheney made at The Economic Times' Global Business Summit in 2017.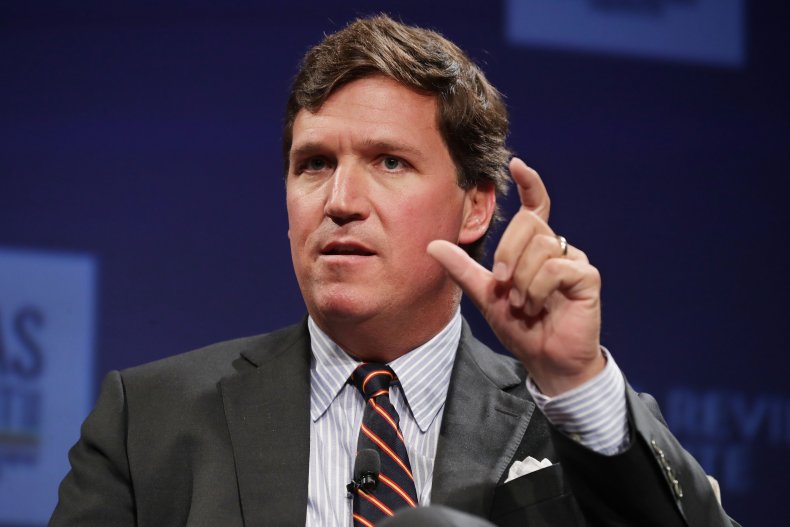 Cheney said there was no question that Russian President Vladimir Putin and his government tried to interfere with America's "basic fundamental democratic process." The Russians' interference in the 2016 election, Cheney said, would be considered an "act of war" in some quarters.
Carlson pushed back against the threat level Goodstein assigned to Russia, asking him if he thought Russia was a greater threat to the United States than China. The former Clinton adviser characterized the two countries as threats in different ways. While China was a threat to America economically, our democracy, according to Goodstein, hinges on Ukraine being able to stop the Russians' impositions against Western Europe.
"No, our democracy doesn't hinge on it," Carlson retorted. "It hinges on elections."
Carlson later clarified that he was "joking," when he said he was rooting for Russia in the battle against Ukraine and added, "I'm only rooting for America."
The military conflict between Ukraine and Russia may seem as if it's a world away, but it's at the center of the House Democrats' impeachment inquiry into President Donald Trump. In September, news broke that Trump asked Ukrainian President Volodymyr Zelenskiy to investigate former Vice President Joe Biden and his son Hunter.
Trump claims this was part of his duty as president to investigate corruption, but House Democrats argue the request was part of a quid pro quo where Trump would release military aid to Ukraine after it announced the Bidens investigation.
After two weeks of witnesses' testimony, both sides declared victory, even in regard to the same account by a witness. Democrats pointed to Ambassador to the European Union Gordon Sondland's opening statement—during which he said there was a quid pro quo—as proof that an exchange was being discussed Trump's July 25 call with Ukraine's president. Trump, however, highlighted part of Sondland's testimony where the ambassador said Trump told him he wanted "nothing" from Ukraine, except for the president to do the right thing.
Speaker of the House Nancy Pelosi said that it's possible more people could be called to testify but that hearings won't resume until after the Thanksgiving holiday.
This article has been updated to include Carlson's comment that he was only joking about rooting for Russia.