Former FDA Commissioner Touts Regulation Rollback Allowing 'Especially Thick' Cherry Pies
Former Food and Drug Administration (FDA) Commissioner Dr. Scott Gottlieb is celebrating a proposed regulations rollback that he says will "free" Americans to make "especially thick" frozen cherry pies.
Gottlieb, who was nominated to lead the FDA by President Donald Trump in March 2017 and resigned two years later, said that the agency put in "hard work" towards the cherry pie rule change under his leadership while adding that the pie deregulation would mean new freedoms for Americans.
"Thanks to the hard work of my FDA team in 2018, the Federal government will no longer be regulating the contents of frozen cherry pie," Gottlieb tweeted on Thursday. "The American people are free add extra fruit, sugar, and make the crust especially thick."
In October 2018, Gottlieb tweeted that an effort to "de-regulate cherry pie" was one of the agency's "high priorities" while using a since-deleted Twitter account. Subsequent moves seeking to remove the pie restrictions were made during Gottlieb's tenure but the formalized proposal comes more than 18 months after he left office.
Although current regulations mandate that frozen cherry pie must contain at least 25 percent cherries by weight, no regulation prohibits frozen pie makers from adding more cherries. Rather than providing them with the freedom to add cherries, removing the regulations would allow manufacturers to lower the number of cherries and use other fruit or additives instead.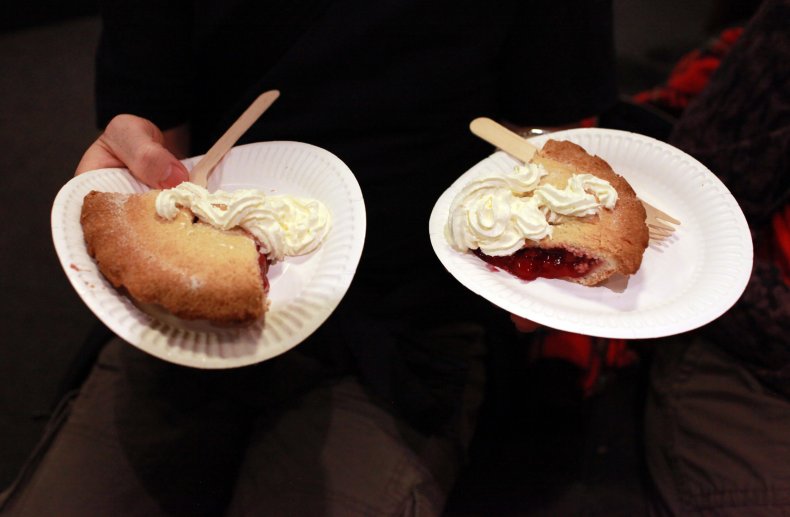 In addition, current rules require that no more of than 15 percent of the cherries contained in pies be "blemished." That category can include cherries that arguably few would choose for a pie they would want to eat, potentially including cherries that became blemished after falling on factory floors.
Regulations also do not place explicit limits on the thickness of frozen pie crust, nor do they mandate limits on sugar added to the pies. They do ban artificial sweeteners from being used, a prohibition that would be lifted under the proposal.
Frozen cherry pies are singled out in current regulations, which do not apply to other types of fruit pies. The proposed rule change would only affect manufacturers of frozen, unbaked cherry pies, despite Gottlieb's suggestion that it would mean new pie-making freedoms for "the American people."
"We tentatively conclude that the standards of identity and quality for frozen cherry pie are no longer needed to promote honesty and fair dealing in the interest of consumers," the FDA wrote in the proposal, which is set to be published on Friday.
"Consumers would decide whether they wish to spend more money on higher-quality products or less money on lower-quality products," the document adds. "A product of unacceptably low quality will not survive in the marketplace."
It is not a certainty that the proposal will ultimately lead to a rule change. It will be open to public comment for 90 days, while any final decision would take place under the administration of President-elect Joe Biden, who could make leadership changes at the FDA.