William Barr's Mueller Report Inconsistencies Suggest He's 'Making Things Up,' Ex-Prosecutors Say
Attorney General William Barr appeared to contradict himself about Robert Mueller's Russia report on Friday, prompting legal experts to call his handling of the case a "sorry spectacle."
During an exclusive interview with CBS, the attorney general said the Department of Justice "didn't agree with the legal analysis" in the special counsel's final report on the two-year probe into Russian election interference—especially when it came to obstruction of justice.
"It was the views of a particular lawyer or lawyers and so we applied what we thought was the right law but then we didn't rely on that," Barr said, adding that the Justice Department looked at the facts and decided there was not enough evidence to charge PresidentDonald Trump with a crime.
But Barr's remarks seemed in direct contrast to what he told Congress in written testimony on May 1 during a Senate Judiciary Committee hearing. At the time, the attorney general repeatedly said he had accepted Mueller's legal framework in making a determination on whether Trump obstructed justice.
"Although we disagreed with some of the Special Counsel's legal theories… we accepted the Special Counsel's legal framework for purposes of our analysis and evaluated the evidence as presented by the Special Counsel in reaching our conclusion," Barr's testimony read.
Bradley Moss, a national security law expert, told Newsweek on Friday that "this is a glaring inconsistency" that "requires clear and defined clarification."
"What exactly about the legal analysis did they dispute and what did they view as the correct law to be applied? Is that outlined in writing anywhere? These are questions that need to be answered to reassure the public he did not mislead them and Congress in his prior remarks," Moss said.
It's not the first time Barr has held contradicting views since being appointed Trump's attorney general in December 2018.
In a 19-page memo he wrote just months before becoming attorney general, Barr expressed that a president has broad executive power to fire or hire for any reason and could not be prosecuted for doing so even if the intention was to interfere with an investigation. That idea is in tension with Barr's public testimony before Congress last month, during which he said a president can be found to have committed a crime.
Barr also criticized Mueller for not coming to a conclusion on whether Trump obstructed justice, even though there is a longstanding Justice Department policy that sitting presidents should not be indicted.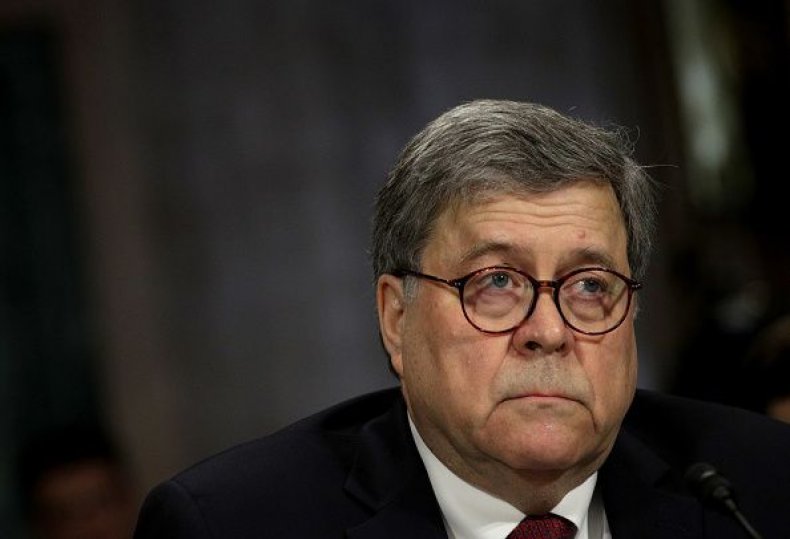 Barr has also repeatedly fumbled on his claim that "spying" occurred on Trump's 2016 presidential campaign. Despite sounding an alarm, Barr told Congress earlier this month that he cannot "speculate" when said spying started.
"He misstates the law one hundred percent," Nick Akerman, a former federal prosecutor and assistant special prosecutor in the Watergate scandal, told Newsweek. "He is basically nothing more than a political hatchet man trying to come out and say there was no obstruction of justice. All he's doing is making things up and essentially not following the law."
CBS chief legal correspondent Jan Crawford asked Barr on Friday if working on Trump's behalf has ruined his reputation as a former attorney general and U.S. attorney. But Barr indicated he was not too concerned about what other people think of him.
"Yeah but everyone dies," Barr said, adding that he does not regret taking his position in the Trump administration.
Still, there have been an increasing number of calls for Barr to resign and he has repeatedly been accused of acting as Trump's defense lawyer rather than the attorney general. More than 1,000 former federal prosecutors, have gone against Barr and signed a petition stating that there is clear evidence Trump obstructed justice.
"It's a sorry spectacle," Peter Zeidenberg, a former federal prosecutor, told Newsweek. "I'd also say that it's a good thing for him that he does not care about his reputation because he seems hell-bent on trashing it."
William Barr's Mueller Report Inconsistencies Suggest He's 'Making Things Up,' Ex-Prosecutors Say | U.S.