A former FedEx worker has been charged with stealing gold bars from one of the company's packaging facilities in Memphis, Tennessee.
The 50-year-old-man, Darrel Parker, was indicted for felony theft over $10,000 after being caught with eight thin gold bullion bars in 2017, Shelby County District Attorney General Amy Weirich said.
Prosecutors say that Parker was working in a FedEx package sorting facility on Democrat Road, Memphis, on December 5, 2017, when he took the gold bars from a package, put them in his wallet and tried to leave the building.
However, security officers scanned his wallet and noticed some unusual dark objects. Upon inspection, they discovered the gold bars, according to the indictment.
The bars weigh 37.5 grams each and have an estimated total value of more than $12,000.
FedEx terminated Parker from his job following the incident. He is now free on $3,000 bond.
In statement provided to Newsweek regarding the incident, FedEx said: "The security and integrity of our customers' shipments is a top priority for FedEx. We fully cooperated with investigating authorities, and the individual named in this indictment no longer works for FedEx."
This is not the first time in recent months that reports about gold bar theft have emerged. Although it must be said that in the following cases, the thieves were far more successful than Parker.
In April this year, a homeowner from Cramahe Township, Ontario, Canada reported that around one million dollars-worth of gold bars had been stolen from their property.
The gold came in the form of five-ounce bars, one-ounce wafers and several coins, the Ottawa Citizen reported.
"It's kind of a bizarre situation," Northumberland County Constable Kimberly Johnston said. "This type of theft is not something we come across every day."
"There was no forced entry into the home," she said. "The owner simply noticed the items missing."
And in July, eight armed men managed to steal around $30 million worth of gold bars from São Paulo Guarulhos International Airport in Brazil—in what was potentially the second most valuable heist in the country's history, Bloomberg reported.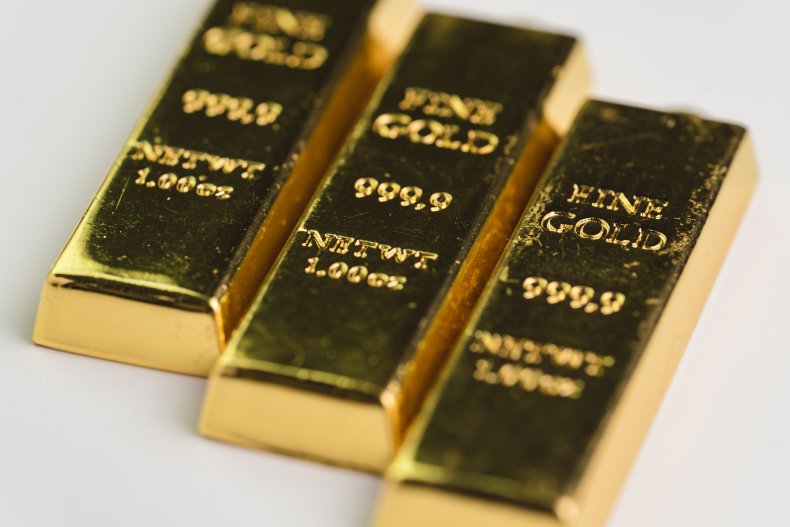 The men—disguised as federal police officers—drove into the airport complex in an SUV and flatbed truck which had been made to look like official vehicles.
Wearing balaclavas, the men then started giving orders to cargo terminal employees in order to help load the gold onto the truck. Within three minutes, the operation was complete and the thieves had made off with more than 1,500 pounds of gold.
Brazilian authorities said that the precious metal was headed for Zurich and New York. São Paulo civil police chief João Carlos Miguel Hueb described the thieves as "a well-organized gang," noting that this was "certainly" not their first robbery.
This article has been updated to include a statement from FedEx.