Former Florida GOP Chair Says Trump's Attack Ad Will Cement His 'Bigoted Legacy Forever'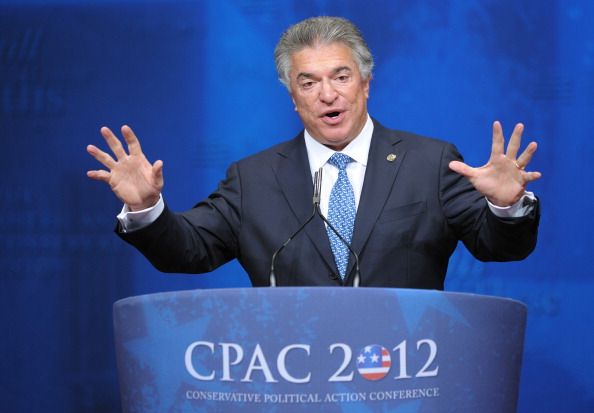 Former Chairman of the Florida Republican Party Al Cardenas delivered a blistering rebuke of Donald Trump's latest midterm attack against Democrats, stating that his approval of a new advertisement will cement his "bigoted legacy forever."
"You are a despicable divider; the worse social poison to afflict our country in decades," Cardenas wrote on Twitter on Thursday morning. "This ad, and your full approval of it, will condemn you and your bigoted legacy forever in the annals of America's history books."
The advertisement that Cardenas is referring to alleges that Democrats are helping criminal immigrants enter the United States. It features convicted cop killer Luis Bracamontes, a Mexican man convicted in February in the 2014 murder of two California deputies. Trump's ad appears to be suggesting that his crimes are a result of Democrats' position on immigration.
"I will break out soon, and I will kill more," Bracamontes says in video footage of the courtroom. Then, the words "Democrats let him into our country. Democrats let him stay" flash across the screen.
The ad goes on to show news coverage of a group of migrants labeled a 'caravan' by those opposed to immigration, currently making its way to the southern border. Trump has alleged that it is filled with gang members, terrorists and "unknown Middle Easterners," continuing a pattern in which he seeks to dehumanize people of other races and stoke fears among his overwhelmingly older, white supporters.
The ad, which was rolled out with the approval of the president and the Republican Party, was tweeted from Trump's Twitter account on Wednesday—less than a week away from the midterm elections on November 6.
"It is outrageous what the Democrats are doing to our Country. Vote Republican now!" Trump tweeted with a link to the video.
Cardenas, also the former chairman of the American Conservative Union, is considered one of the most influential Latino Republicans. The attorney and lobbyist has also held political positions in Ronald Reagan and George H.W. Bush's administration. He was also a top adviser to Jeb Bush's 2016 presidential campaign.
Trump's advertisement has been met with significant backlash from both sides of the aisle. Democratic National Committee Chair Tom Perez told CNN that the video exemplifies "divisive Donald at his worst" and that it is another Republican attempt of "fear-mongering" ahead of the heated 2018 midterm elections.
The ad is a part of the $6 million media blitz campaign for Republicans nationwide ahead of November's election. The advertising is paid for by President Trump's re-election campaign.