Former George W. Bush Strategist Urges Full Florida and Arizona Vote Counts, Calls 2000 Presidential Election 'Grave Injustice'
A former George W. Bush's strategist who worked on the 2000 campaign called on Florida and Arizona officials to tally all the votes cast, urging state personnel to avoid a controversial election victory.
"I worked on the Bush campaign in 2000 and was chief strategist in 2004," Matthew Dowd tweeted on Friday. "Not counting all the votes in Florida in 2000 was a grave injustice and caused many to question the legitimacy of Bush election. Let us not repeat that injustice in FL and AZ this year. Count all the votes."
Close races in Florida and Arizona have yet to be called. Republican Governor Rick Scott is trying to unseat Democratic incumbent Senator Bill Nelson. Scott holds 50.1 percent of the vote according to The New York Times. A final vote count in which the victor wins by .5 percent or less triggers an automatic recount, according to NPR.
Nelson sued Florida Secretary of State Ken Detzner over the process used to validate mail-in ballots, saying the signature verification process "serves as an outright disenfranchisement and burden on the right to vote."
The suit said "this entirely standardless, inconsistent, and unreliable signature matching process, which has a disparate impact on People of Color and young, first time voters, violates the prohibition against undue burdens on the right to vote, enshrined under the First and Fourteenth Amendments to the U.S. Constitution, and subjects Florida voters to disparate treatment and inconsistent standards in violation of the Fourteenth Amendment's Equal Protection Clause."
Detzner was appointed to his position by Scott, according to CNN.
Scott filed his own suit on Thursday evening, alleging ongoing ballot tallies were an effort by "unethical liberals" to swing the election. He said that "left-wing" activists in Broward County were "coming up with more and more ballots out of nowhere," NBC News reported.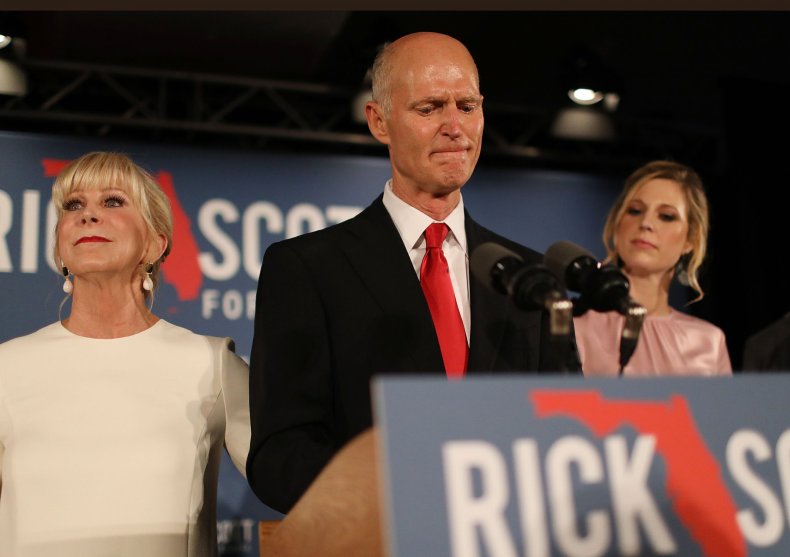 Arizona's Senate race also has yet to be decided. Democratic candidate Kyrsten Sinema, who is challenging Republican incumbent Martha McSally, is leading by half a percent, The New York Times reported.
Four Arizona Republican parties filed a lawsuit on Wednesday against the state's two largest counties, according to the Associated Press. The legal challenge seeks to prevent voters from resolving any discrepancies between their voter registration signature and signature on the mail-in ballot after Election Day.
In the 2000 presidential election, Bush earned 1,784 more votes than Al Gore, according to Business Insider. A machine recount took place. When Bush won the recount by a slim amount, Gore asked for a hand tally.
"Some of the ballots, because of a design flaw, weren't perforated all the way through when voters cast their ballots, leaving some with chads (the hole marking candidates) that were unclear who the person voted for. There were 9,000 votes with hanging chads that the machines couldn't detect," Business Insider reported.
Gore contested the recount in a case that rose to the Supreme Court. The high court reversed the manual recount, meaning Bush won the presidency by five electoral college points.