Former Georgia Republican Rep. 'Tired of Trump's Whining,' Defends Gov. Kemp After Attacks
Former Georgia Representative Allen Peake defended Governor Brian Kemp and his handling of the state's elections after President Donald Trump attacked the governor in his latest efforts to delegitimize the results of the election.
"I for one am tired of Trump's whining. Man up, admit you got beat, and do what's right for our country," Peake tweeted on Monday. "I'll be backing Kemp in 2022."
Peake served in the Georgia House of Representatives from 2007 until 2019.
His remarks come in response to Trump's criticism of the governor, whom the president has called on to overrule Georgia's election results in his favor.
The historically Republican state of Georgia flipped blue in a presidential election for the first time in nearly three decades when Trump lost the state by more than 12,000 votes.
While Trump has largely focused his disapproval on the state's results on Secretary of State Brad Raffensperger, who has defended the integrity of the election in Georgia, the president moved onto Kemp in a Sunday phone interview with Fox News' Maria Bartiromo.
"The governor's done nothing. He's done absolutely nothing," Trump said. "I'm ashamed that I endorsed him. But I look what's going on. It's so terrible."
Peake called Trump's comments "absolutely ridiculous" and defended that Kemp "has done an incredible job leading our state during the worst pandemic of our life time."
On Monday morning, Trump continued to slam Kemp for formalizing the certification of the results, which Raffensperger certified on November 20 after a laborious hand recount affirming President-elect Joe Biden's victory.
"Why won't Governor [Brian Kemp], the hapless Governor of Georgia, use his emergency powers, which can be easily done, to overrule his obstinate Secretary of State, and do a match of signatures of envelopes," Trump tweeted. "It will be a 'goldmine' of fraud, and we will easily WIN the state..."
The tweet, flagged by twitter with a label reading "this claim about election fraud is disputed," has come under scrutiny by a number of legal experts who say Kemp has no such powers to do so.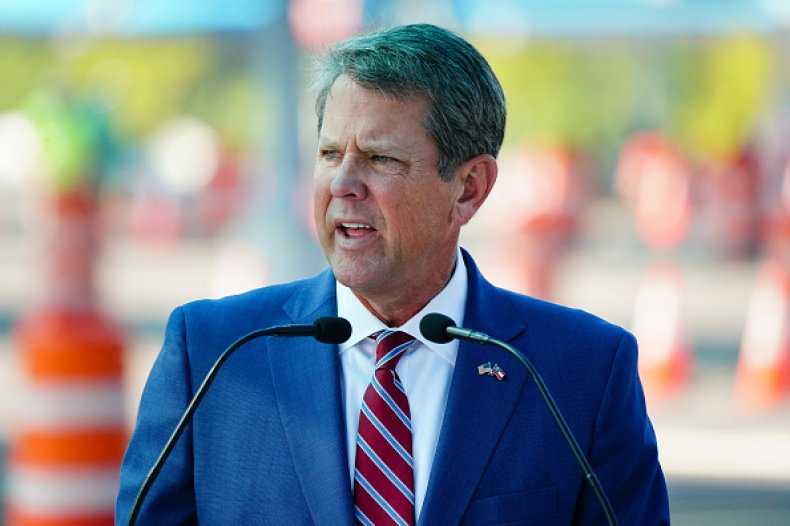 Some Republicans are worried that Trump's rhetoric may affect January's Senate runoff elections, discouraging the president's supporters from voting to reelect Senators David Perdue and Kelly Loeffler. Both senators have echoed Trump's sentiments and even called on Raffensperger to step down.
"I'm frustrated with the outcome, but we've got to focus on the firewall in the U.S. Senate and voting Sens. David Perdue and Kelly Loeffler back to Washington to stop the drastic measures Democrats have embraced over the years," Kemp told The Atlanta Journal-Constitution earlier this month.
Kemp has said the Trump campaign is allowed to proceed with legal challenges in Georgia now that a winner has been certified, but the president's team has been unable to gather enough evidence to bring forward a case alleging widespread voter fraud in the state.
Newsweek reached out to Kemp for comment but did not hear back before publication.