Former Goldman Sachs CEO Says Bernie Sanders Will 'Ruin Our Economy': 'If I'm Russian, I Go With Sanders'
Former Goldman Sachs Chief Executive Officer Lloyd Blankfein cautioned the Democratic Party from nominating Senator Bernie Sanders for president, claiming he was the Russians' preferred candidate.
"Sanders is just as polarizing as [President Donald] Trump AND he'll ruin our economy and doesn't care about our military. If I'm Russian, I go with Sanders this time around," Blankfein posted on Twitter late Tuesday evening.
Sanders claimed victory in the New Hampshire primary, beating out former South Bend, Indiana, Mayor Pete Buttigieg by 1.3 percentage points. In a crowded field of candidates, the early victory put Sanders and Buttigieg as potential top picks for the nomination, as former Vice President Joe Biden, considered a frontrunner, finished in a disappointing fifth place.
The Vermont senator is no stranger to appealing to New Hampshire voters. He won them over in 2016, as well, but he lost the party's nomination to former Secretary of State Hillary Clinton. If the Democratic Party sticks with Sanders for the 2020 presidential election and has him face off against Trump in November, Blankfein wrote on Twitter that Russia would have to "reconsider who to work for to best screw up the U.S."
People for Bernie, which describes itself as "a grassroots collective" supporting Sanders, responded to Blankfein's tweet asking whose economy he meant by "our economy" and several Twitter users pointed out Goldman Sachs' bailout during the financial crisis. The investment company received $10 billion in federal funds during the crisis, according to ABC News, which it later paid back.
In 2009, Blankfein, who was at the helm of the company from 2006 until 2018, apologized for some of the firm's activities leading up to the financial crisis. He told conference attendees that Goldman Sachs "participated in things that were clearly wrong and have reason to regret," according to the Huffington Post.
Newsweek reached out to Sanders' campaign but did not receive a response in time for publication.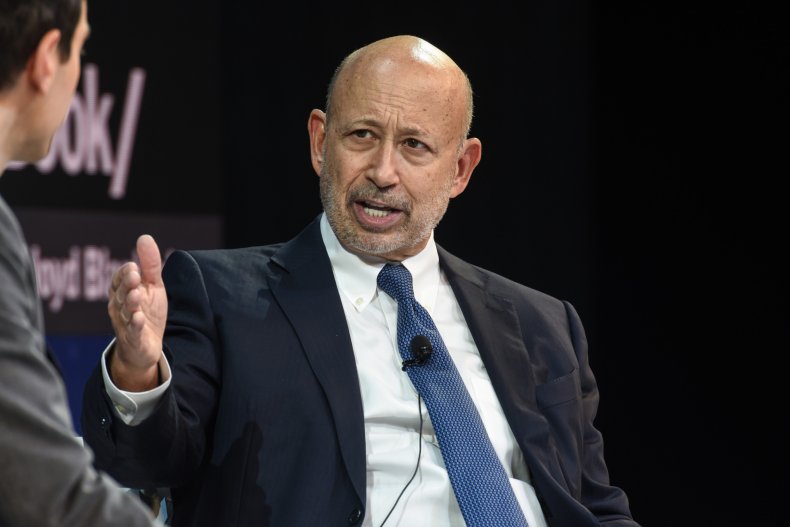 There's no love lost between Sanders and Blankfein: The two traded written jabs on Twitter in July. After Sanders put Blankfein on his list of "anti-endorsements," the former CEO speculated that Sanders looked down on him because the senator "grew up in a fancier neighborhood in Brooklyn."
"Actually, my concern has to do with the fact that you had no problem getting bailed out by working Americans, while you've been picking on them by advocating for cutting Medicare, Medicaid and Social Security," Sanders retorted in a tweet of his own.
Sanders isn't the only presidential candidate to criticize Blankfein and in November, he was featured in Senator Elizabeth Warren's ad about a wealth tax. He told CNBC he wasn't angry about the ad but was "staggered it's gotten to this point of name-calling."
"I used to be a kind of moderate Democrat. Now, without having moved anything, I've become, in their eyes, kind of a right-winger because I don't want to blow up the financial system," Blankfein responded when asked why he was a target of their campaigns.
Blankfein added that he aligned with Democratic candidates on the issue of a progressive tax, social issues and LGBTQ and gender rights. They split, though, on achieving equality by what he describes as "reducing everybody's level of wealth."