Former GOP Congressman Tells MSNBC Republicans Are 'Being Used by Russia'
Former GOP lawmaker David Jolly charged that Republicans in Congress today are essentially "being used by Russia" because they don't want to acknowledge the truth.
"It's dangerous, it's gravely dangerous," Jolly told host Ali Velshi Monday night during MSNBC's The Last Word. Jolly served as the representative for Florida's 13th congressional district from 2014 to 2017.
"Through their own ignorance, negligence or maleficence, they are being used by Russia," Jolly said. "Republican senators and Republican members of Congress tonight are being used by Russia because they are unwilling to look at the truth."
The MSNBC segment began with Velshi playing a clip of William Taylor's public hearing in front of the House Intelligence Committee earlier this month. Taylor was one of a dozen witnesses to testify as part of the impeachment inquiry against President Donald Trump.
Taylor, the top American diplomat in Ukraine, told lawmakers that there was no good reason for Trump to temporarily block nearly $400 million in military assistance to the nation except for wanting to pressure them to help with his political campaign.
"It was counterproductive to all of what he had been trying to do. It was illogical, it could not be explained, it was crazy," Taylor added.
House Democrats launched the impeachment probe in late September following reports that Trump tried to pressure Ukrainian President Volodymyr Zelenskiy to investigate former Vice President Joe Biden and his son Hunter. Trump temporarily withheld nearly $400 million in military assistance to Ukraine to get the country to follow through with his request, according to multiple reports.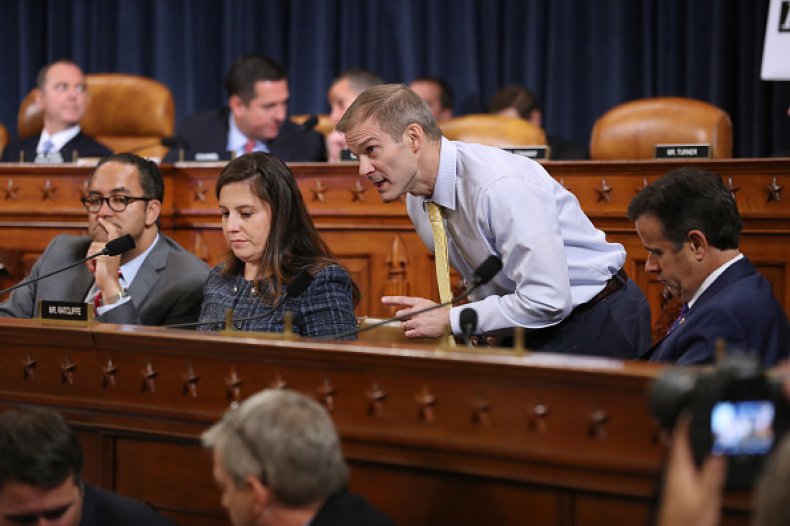 Velshi commented that before 2015, no Republicans on Capitol Hill would have peddled conspiracy theories to help defend the president. Senate Majority Leader Mitch McConnell has even been dubbed "Moscow Mitch" over his support of Russian President Vladimir Putin.
"Lindsey Graham wouldn't have tolerated it, John McCain wouldn't have tolerated it, people like you wouldn't have tolerated it," the MSNBC host said.
Jolly replied that was has happened is that the GOP has "abandoned the truth and failed the American people."
"What I've learned these last three years is it wasn't a law and order party, just a party that hated Bill Clinton. It wasn't a constitutional party when Barack Obama was in office, it was just a party that hated Barack Obama," the former congressman said.
Jolly added: "What we're seeing now is a party embracing Donald Trump because they have a quest for power, proximity for power and they want within their reach the ability to self-deal."