Former GOP Congressman Slams 'Republican Clowns' for 'Quoting Vladimir Putin Propaganda' at Trump Impeachment Hearings
Former Republican Representative Joe Scarborough called out GOP members of Congress, calling them "clowns" and accusing them of "quoting Vladimir Putin propaganda talking points" during the impeachment hearings against President Donald Trump.
Several prominent Republicans on the House Intelligence and House Judiciary committees, which have overseen the impeachment inquiry, have repeatedly suggested that Ukraine interfered in the 2016 U.S. presidential election–a debunked conspiracy theory that is counter to the assessment of U.S. intelligence agencies. The theory has, however, been repeatedly pushed by Russian media as well as Russian President Putin.
During a segment of his MSNBC show Morning Joe Thursday, Scarborough referred to the defense of the "Republican clowns" as "desperate."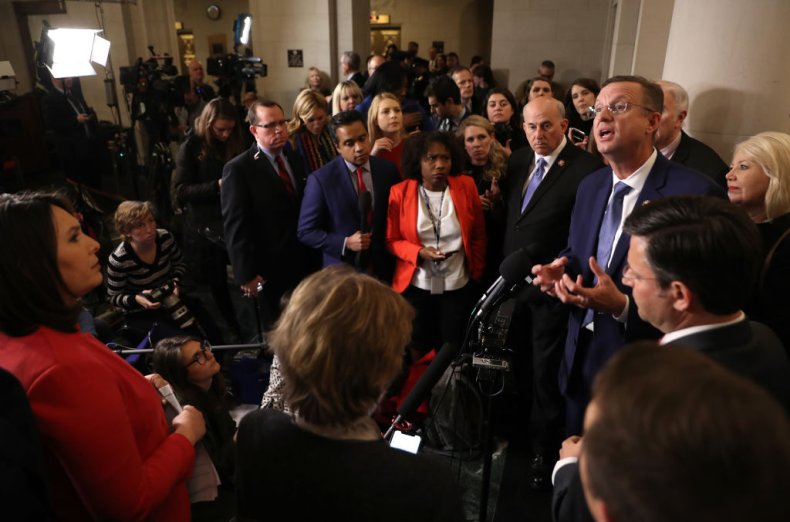 "What are they doing? They're quoting like, Vladimir Putin propaganda talking points," the former congressman said. "This is the most desperate defense. And it's literally just throw whatever you want at the wall," he argued.
The impeachment inquiry against Trump centers around the president's efforts to pressure Ukraine's government to announce investigations against his domestic political rivals. During a July 25 phone call, the president specifically asked Ukraine's President Volodymyr Zelensky for "a favor," and to look into the widely-debunked conspiracy theory that Democrats and Ukrainians worked together to interfere in the 2016 presidential election, as well as into unsubstantiated allegations that Democratic presidential candidate Joe Biden acted corruptly in Ukraine to benefit his son Hunter Biden's business interests there.
Multiple credible witnesses from within the Trump administration have testified in the impeachment inquiry, explaining the pressure campaign and that there was a "quid pro quo" involved. The president temporarily withheld nearly $400 million in military aid to Ukraine as he and his personal attorney Rudy Giuliani pressured Zelensky to announce the requested investigations. Trump has also withheld a White House meeting with Zelensky, which witnesses have said was contingent on the Ukrainian president announcing probes the administration requested.
U.S. intelligence agencies and special counsel Robert Mueller have concluded with certainty that Russia, not Ukraine, interfered in the 2016 presidential election. The interference was largely intended to promote Trump's candidacy while disparaging former Democratic presidential candidate Hillary Clinton. However, Mueller's investigation did not establish that Trump or his campaign conspired with Russia in that effort.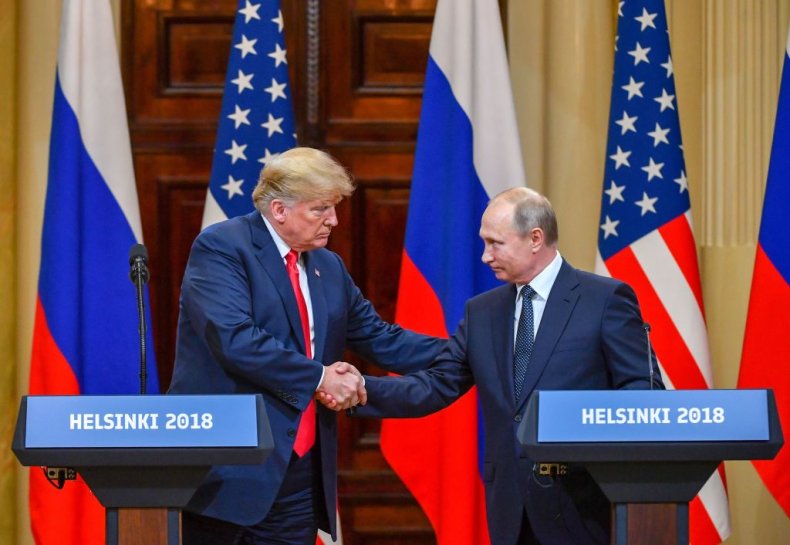 Putin and state-owned Russian media have repeatedly pushed forward claims that Ukraine, not Russia, was behind the 2016 election interference. This narrative has been repeated by right-wing American pundits, politicians and media outlets, despite a lack of evidence and with disregard for the conclusions of the U.S. intelligence community.
Trump's former top Russia adviser Fiona Hill, who served on the National Security Council until she resigned in July, called out Republicans for repeating the "fictional narrative" during her testimony at the impeachment hearings last month. "I would ask that you please not promote politically-driven falsehoods that so clearly advance Russian interests," she said.