Former GOP Governor Says Trump Should Resign Now, and It's Time for Republicans to Demand It
Christine Todd Whitman, the former governor of New Jersey, in a Los Angeles Times op-ed Sunday called for sitting Republican lawmakers to turn on President Donald Trump and demand that he resign, even as his approval ratings continue to tick higher within his own party.
"We must put aside the GOP label, as hard as that may be, and demonstrate the leadership our country needs by calling on the president to step down," she wrote.
Whitman's call for action centered on Trump's meeting and news conference with Russian leader Vladimir Putin last week in which the president disregarded U.S. intelligence and embraced Putin's narrative that Russia did not interfere in the 2016 election. Trump has since claimed he misspoke, but he again tweeted Sunday that the Russia investigation was a "big hoax."
"Trump's repeated public dismissals of the intelligence coming from his own deputies is deeply disturbing," Whitman wrote. "Along with his walk back of statements last week, and then walking back the walk backs, it's impossible to keep up, and his behavior warrants a fresh evaluation of whether the president can be trusted with the future of the United States.
"If he cannot take his place at a podium next to an adversarial foreign leader and stand up for America's interests and principles, he should not be president," she added.
After facing backlash from not only Democrats but also congressional Republicans, his own advisers and supportive media outlets, such as Fox News, Trump has repeatedly defended his meeting with Putin in Helsinki on Twitter.
"I got criticized by the Fake News Media for being too nice to President Putin. In the Old Days they would call it Diplomacy," he said Friday. "If I was loud & vicious, I would have been criticized for being too tough. Remember when they said I was too tough with Chairman Kim? Hypocrites!"
On Monday, he added, "When you hear the Fake News talking negatively about my meeting with President Putin, and all that I gave up, remember, I gave up NOTHING, we merely talked about future benefits for both countries. Also we got along very well, which is a good thing, except for the corrupt Media!"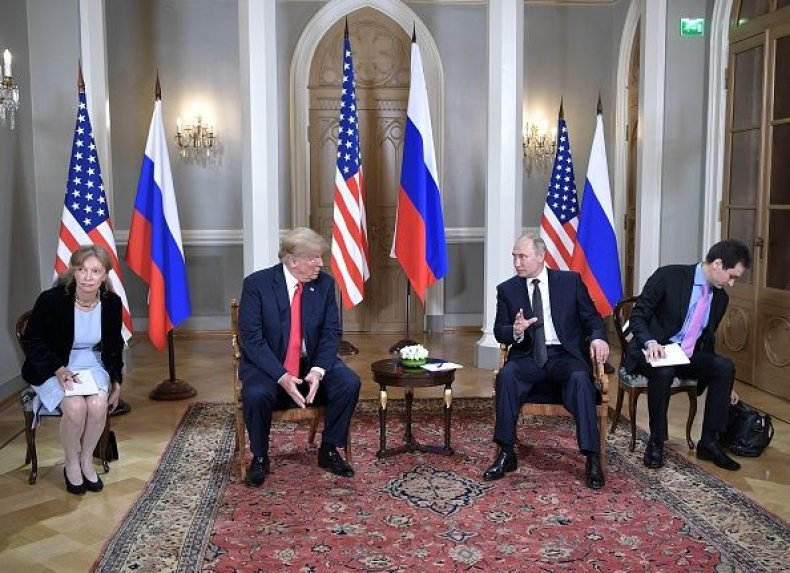 Despite the bipartisan outrage over Trump's performance alongside Putin, his approval numbers have continued edge higher among Republicans, including an 88 percent approval rating from GOP voters, according to a Wall Street Journal/NBC News poll released Monday. But his overall approval rating still ranks among the lowest of any modern president during the first term, according to the survey.
"Welcome to the latest and most daring of Donald Trump's high-wire acts, in which the president increases his degree of difficulty and manages yet again to stay on in his feet," Fred Yang, a Democratic pollster who helped conduct the poll, told the Journal.
The poll surveyed 900 voters from July 15 to 18 with a 3.27 percent margin of error.