Former Republican strategist Steve Schmidt argued that Democratic presidential candidate Senator Elizabeth Warren "would lose an honest debate" to President Donald Trump, despite Schmidt's estimation that the president was the "most prolific liar."
Schmidt, who switched his party affiliation to become a Democrat in 2018, previously worked on the campaigns of prominent Republicans, including President George W. Bush and the late Senator John McCain. He made the remarks about Warren, who represents Massachusetts, in an interview with MSNBC's Morning Joe on Tuesday.
"She does seem to have a tremendous talent for self-righteousness and hypocrisy," Schmidt argued, referring to Warren. Although he noted that Trump is the "most prolific liar we have ever had as president," he argued that "strangely" he may also be "the most honest."
"There's no artifice. He is exactly what he appears to be. He revels in his corruption" the political strategist said, going on to suggest that Warren wouldn't be able to compete well against Trump in the general election. The strategist then noted several instances where Warren had made misleading claims.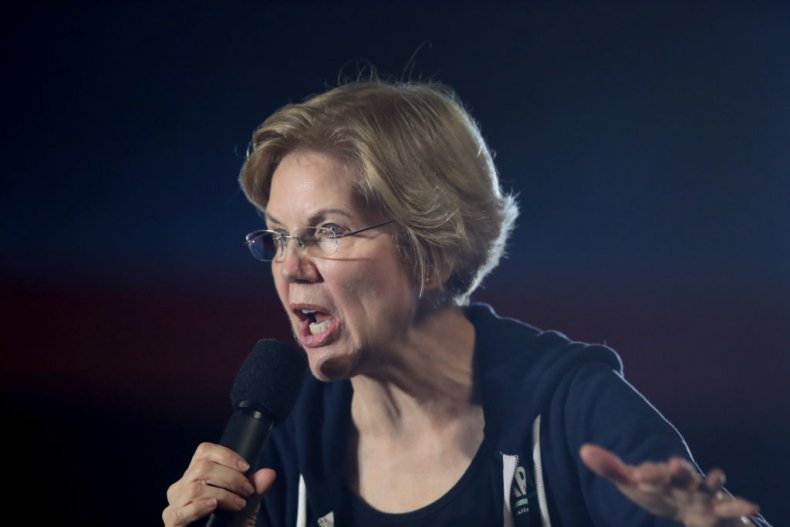 "Why is it that Elizabeth Warren checked the box as a Native American on her Harvard Law School application?" Schmidt asked. "I know why she checked the box. She checked the box because she was trying to game the system. I know why she said that her kid went to public school, as opposed to private school, because she's trying to game the public," he argued.
"Over and over again she has misrepresented herself, in this sheen of self-righteousness and virtue and hypocrisy," he said, asking if the Democrats "want to nominate, possibly the second candidate in a row that's going to lose an honesty debate to the most prolific liar [Trump]."
As Schmidt noted, Warren did list herself as having Native American ancestry when she applied to work at Harvard Law School, however the institution has said this did not have bearing on its decision to hire or promote her. But Warren has drawn significant criticism for repeatedly claiming Native ancestry. She controversially took a DNA test in 2018 to corroborate her claims.
Although the results showed that she was likely somewhere between 1/64th and 1/1024th Native American, her decision to take the test and publicize the results was condemned by some Native American leaders. Warren apologized directly to leaders of the Cherokee Nation over the fiasco ahead of launching her 2020 presidential campaign.
Warren in late November said that her children had attended public schools. The statement was not inaccurate, but one of her two children also attended private school from 5th grade onward. Critics argued that she was misleading voters by simply highlighting the public education of her children, while leaving out the fact that one child had attended private school as well.
Several people criticized Schmidt's assessment on Twitter.
"Steve Schmidt is lying on @Morning_Joe. Elizabeth Warren was not a Harvard Law student. She attended Rutgers. Plus, when reviewed for tenure at Harvard, her heritage didn't come into decision at all," Jennifer Taub, a professor at Vermont Law School tweeted.
While Schmidt's remarks did come across as if he was describing an application to attend Harvard Law School as a student, they could also be interpreted as her filling out a job application.
Harvard Law Professor Laurence Tribe also criticized Schmidt's assessment, although he admitted that he had not watched the segment.
"I didn't hear @Morning_Joe today, but if @SteveSchmidtSES said @SenWarren was a Harvard Law student or that her heritage in any way affected her hiring and promotion as a Harvard professor, he was wrong. I doubt he was 'lying' though. Just badly misinformed. He must apologize," he wrote in a tweet.