Former Governor Joins Televangelist in Fighting Lawsuit Over Fake Coronavirus Cure
A former governor of Missouri has joined Jim Bakker's legal team, claiming that the televangelist's "religious freedom" is being threatened by legal challenges he is facing for allegedly promoting a fake coronavirus cure.
Former Missouri Governor Jay Nixon is defending Bakker in a lawsuit filed by Missouri Attorney General Eric Schmitt on March 10. The suit alleges that Bakker promoted a fake remedy called the "Silver Solution" as cure for the coronavirus to his television audience. Bakker had also sold the product for years prior to the pandemic.
"Jim Bakker is being unfairly targeted by those who want to crush his ministry and force his Christian television program off the air," Nixon told Missouri paper The Rolla Daily News in a statement. "Targeting a Christian pastor, who has been using and offering the product for the past 10 years, is not supported by the facts or the law."
The supposed treatment promoted on Bakker's show contains colloidal silver, a substance that is not effective in treating, curing or preventing the virus in people, although it is known to cause argyria, a condition that can permanently stain skin a blue-gray color.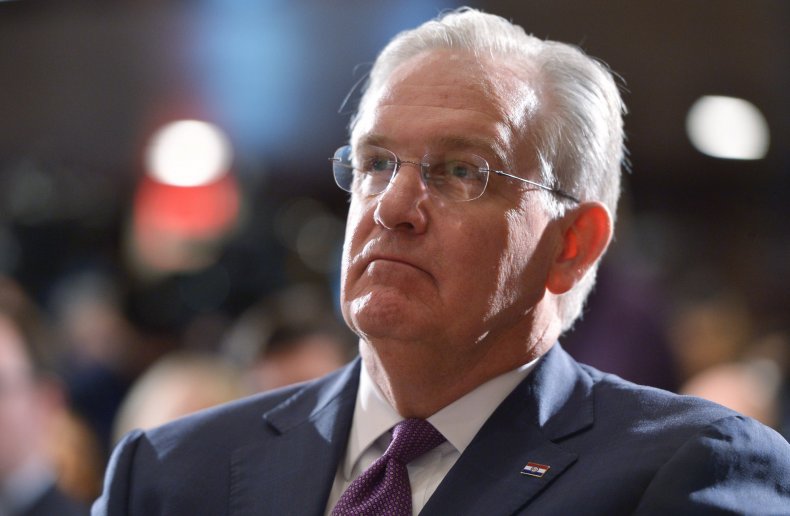 Nixon, a Democrat who served as Missouri's governor from 2009 to 2017, insisted that the allegations against Bakker were false, noting that the televangelist did not directly claim the fake remedy cures coronavirus. However, Bakker's show did host a "naturopathic doctor" who promoted the substance and suggested it could be effective.
Bakker was also warned to stop promoting the product by the New York state attorney general, the Food and Drug Administration and the Federal Trade Commission. Several others including conspiracy theorist Alex Jones have also recently run into trouble for promoting similar products amid the pandemic.
Last month Bakker asked viewers to mail in checks after credit card companies refused to work with him due to his show promoting the phony remedy. He also complained that his legal challenges had given ammunition to critics who wanted his "head on a platter" while forcing him to pay lawyers who seek to "bleed" him to death.
"They're already bleeding us to death, and now we're going to have to pay lawyers that will bleed you to death," Bakker said. "I know that they are watching me right now, and they're having a ball. They're having a ball, and they're saying, 'Wow, we got to... we've whipped Jim Bakker finally.'"
"I believe that God wants me not to stop when some anti-Christ person stops me," he added. "I'll tell you what, you all may want my head on a platter, and you may get it, but I'll be gone to Heaven, and you're not going to win."
Bakker served nearly five years in prison after being convicted on multiple counts of fraud in 1989. He eventually returned to televangelism, with broadcasts in recent years frequently focused on selling supplements and "end times" products to viewers, including large buckets of "emergency" food like preserved broccoli with cheese sauce that Bakker has suggested could double as portable toilets after the buckets are emptied of food.
Newsweek reached out to Bakker for comment. This article will be updated with any response.