Former Wisconsin Governor Scott Walker is picking a fight with those he claims are radical leftists seeking to silent opposition through so-called "cancel culture," and he'll use the power of TV, radio and the courts to do so.
"You're seeing your country slip away. Free speech is under attack from Big Tech censorship, leftist radicalism and a culture of fear and intimidation," Walker says in a video about a new initiative from his perch as president of Young America's Foundation (YAF), one of the nation's largest organizations for college conservatives.
"Conservatives are shamed into silence for fear of social stigma, and even economic ruin," the former Republican presidential candidate claims in the video, which will be used to raise money and awareness for a program to launch Monday that he has dubbed "The Long Game."
The title, he told Newsweek, stems from efforts by the late Saul Alinsky and others on the left who he says have for decades targeted academia, journalism and Hollywood as avenues to get their messages into the mainstream.
"The left is stepping up their efforts to go after young people, and to reach them sooner with radical levels of indoctrination. What we're seeing now didn't happen overnight. The left started its takeover of colleges and culture over a half-century ago," Walker says in the video as images of Alinsky and Presidents Barack Obama and Joe Biden scroll across the screen.
Since February, Walker has been president of YAF, an organization that has chapters on about half of the 4,000 college campuses nationwide and operates on an annual budget of about $30 million from foundations and individual donors.
While he hasn't yet formulated a budget for The Long Game, its goals include setting up chapters at an additional 2,000 universities along with technical schools and community colleges, as well as stepping up efforts at high schools and middle schools.
Walker and YAF have already purchased television commercials to debut Monday on Fox News, Newsmax TV and other outlets and ads for The Long Game will also run on conservative talk radio.
Goals also include bringing conservative speakers to all 50 states and increasing YAF's presence online. While YAF already reaches 400,000 people on YouTube with lectures from the likes of Ben Shapiro, Michael Knowles, Elisha Krauss and Dinesh D'Souza, Walker says he can bring that number up to 1 million, in part by producing new podcasts, some of which will be hosted by college students railing against cancel culture.
Walker says that Shapiro, in particular, has been a boon for traffic, especially his Q&A sessions where he battles students who disagree with his conservative messages. Shapiro has lectured at 60 universities in the past eight years courtesy of YAF.
"We're not afraid of the strength of our positions. We're happy to debate the left, but they don't want to, so they use bogus complaints to say we're dangerous," Walker told Newsweek. "Conservative students are afraid not only of hurting their grades, but also of retaliation from other students."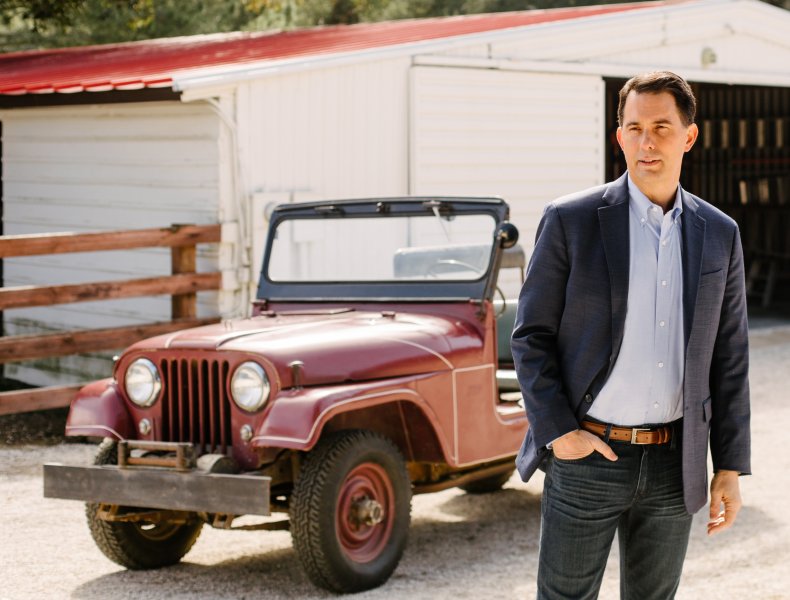 Hence, he intends to be more aggressive in defending free speech by way of lawsuits, using a 2018 decision against UC Berkeley as a guide. In that situation, Walker said the university stifled ads promoting a Shapiro appearance, initially told YAF their invited speaker could not be scheduled beyond 3 p.m. and attempted to charge them three times more for security than what was typical for a liberal guest.
In the end, the Ninth Circuit Court ruled against such double standards, and the university was ordered to pay YAF $70,000. The court also ruled against the "heckler's veto," dictating that the university should no longer allow protesters to shut down conservative expression.
"We're going to be doing this kind of thing a lot more," Walker said of the Berkeley case. "Not everything will be a lawsuit, but we have free speech on our side, and we intend to use it."
For those who deny that cancel culture is real, said Walker, the YAF's website is replete with examples. One of which he's fond of involves the University of Kentucky "scheming" to block a YAF chapter in 2019. Through a public records request, YAF obtained emails and texts from administrators.
In one exchange, an administrator wrote: "they are going to be mad they waited forever and I denied them whoops," while later writing, "I didn't do it intetionally [sic] promise hehe."
When administrators got a look at YAF's intended ad to recruit members that read, in part, "No longer will you have to feel ashamed for believing in God, capitalism, or just about any other good thing, ever. Join the club," they mocked the flyer with comments like, "oh jesus tap dancing christ" and "it SCREAMS McCarty [sic] era policies."
The university did not respond to a request for comment.
Even Psychology Today has acknowledged the existence of cancel culture, writing in 2019 that those who engage in it do so to increase their social status while diminishing that of their enemies, who are forced to reveal themselves. It also said that those who attempt the canceling strengthen their social bonds while the argument, "You could be next" simply "does not compute" for most of them.
"It's the perfect time to start leveling the playing field, and we're going to be much more aggressive," Walker said. "Free speech should be revered, especially on campus. When someone is prevented from speaking, that's a clear case for the courts, and we'll take it as far as we can. When our ideas are allowed to compete with theirs without being canceled, our ideas win."