Former Greek PM Offers Unity Government With Syriza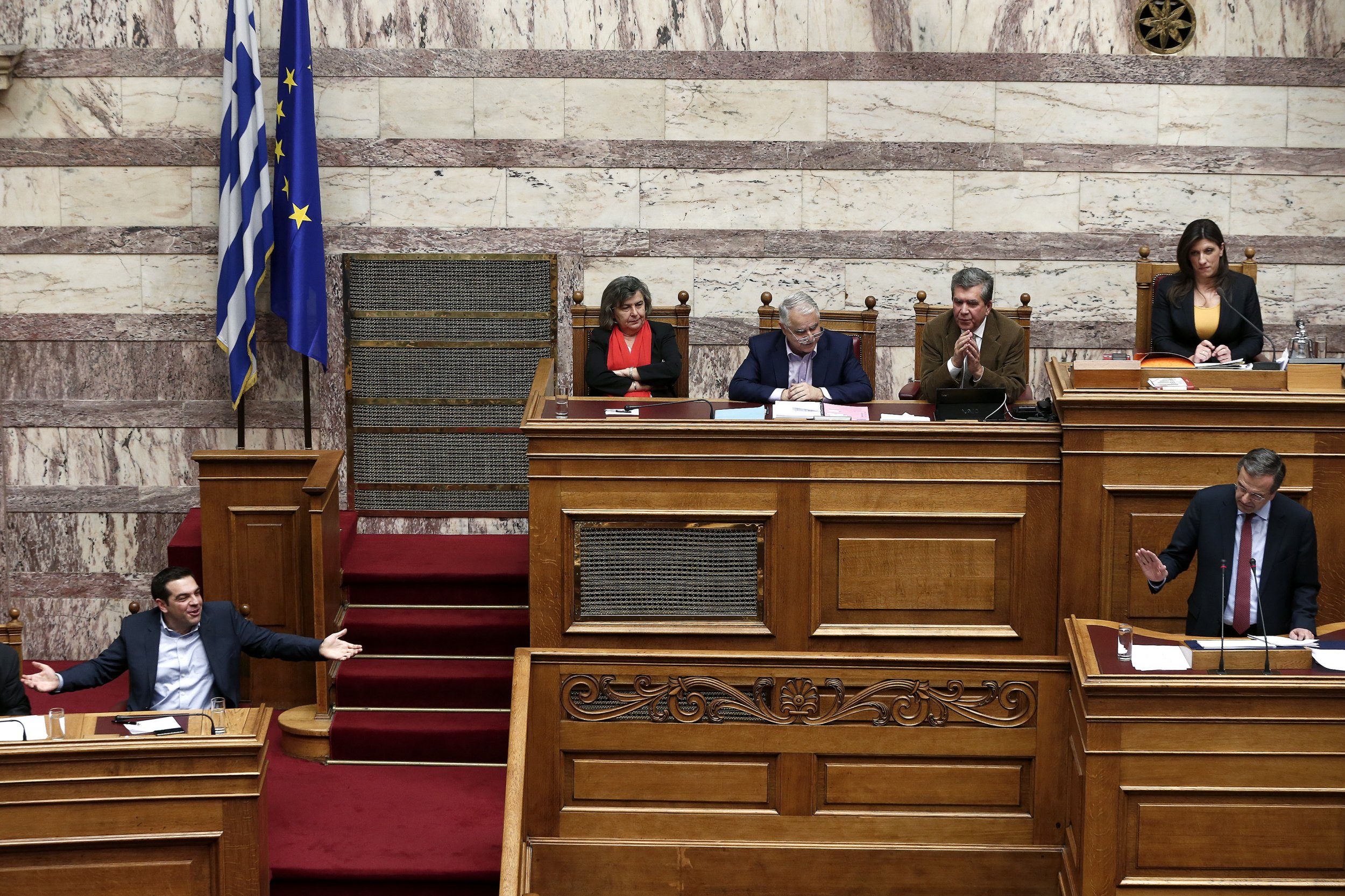 The leader of the Greek opposition has offered to form a unity government if the eurozone bailout wrangle causes a split in the governing Syriza party.
Former prime minister Antonis Samaras, who was ousted by incumbent Alexis Tsipras in January's elections, also questioned his successor's commitment to staying in the eurozone and said the party's increasingly close relations with Russia were detrimental to the cause.
Syriza, who are also known as the Coalition of the Radical Left, is made up of a variety of radical and central leftist groups. It has a Eurosceptic left wing known as the Left Platform led by energy minister Panagiotis Lafazanis, who has previously called for an exit from the "totalitarian EU".
Speaking to Bloomberg, Samaras said his New Democracy party would support Syriza if they are committed to staying in the common currency. "If the plan is to keep Greece in the euro area, we will provide support," said Samaras yesterday. "Exit would signal a total catastrophe."
The offer has received a frosty reception from Syriza. A response from Tsipras' spokesperson, Gabriel Sakellaridis, described the prospect of a pro-bailout unity government as "a midsummer night's dream".
Earlier this week in a briefing to the Greek parliament, Tsipras called on opposition parties to support anti-austerity negotiations and accused Samaras of having "ruled for five years via Troika emails".
Journalist and commentator Kostas Kallergis says there is little chance of Syriza splitting so long as negotiations with the Eurogroup are ongoing.
"It's impossible in the near future to have a split but Syriza members do have different opinions. As long as the negotiations are ongoing there will be no split because no splinter group can benefit from it," says Kallergis. "But if the negotiations fails then we can expect anything."
Samaras also questioned the current government's ties with China and Russia. Lafazanis visited Russia this week to discuss ways around the current sanctions on EU trade with Moscow. At the same time, deputy prime minister Yannis Drakasakis said he would open the Greek's largest seaport, Port of Piraeus, to Chinese shipping group Cosco.
Ahead of his visit to Russia on April 8, Tsipras praised the two countries' "brotherly relations" and spoke of the need for "a new impetus" in cooperation between Athens and Moscow.
"When you are in Europe and ask Chinese, Iranians, Russians to finance your deficit, don't you send a signal to the rest of Europe that you are not really a serious pro-European?" said Samaras.
Greece is currently negotiating a further €7.2 billion of new eurozone loans agreed in principle by the previous government, subject to various austerity measures. Reuters reported today that Greece told creditors it would run out of money on April 9, though the Greek finance ministry denied it in an official statement. Earlier this week, interior minister Nikos Voutsis said the government would have to choose between paying pensions and salaries or deciding to repay €450 million to the International Monetary Fund.