Former Gubernatorial Candidate Arrested on 4 Counts of Child Porn
Eliot Cutler, two-time gubernatorial candidate in Maine, is in custody facing four counts of possessing sexually explicit materials involving children under 12.
Cutler's arrest follows Maine State Police executing search warrants of his Portland and Brooklin homes on Wednesday as part of a two-month investigation, but authorities have not said what they were seeking.
The search warrant affidavits have been sealed, according to court officials.
Newsweek confirmed that Cutler, 75, is currently being held in Hancock County Jail. His bail has been set at $50,000, WMTW reports.
Hancock County District Attorney Matthew Foster said Cutler will be charged with four Class C counts of possessing sexually explicit material involving a child under age 12. Each carries a maximum penalty of five years in prison.
The counts correspond with activities from December through March, and materials are still being reviewed, Foster said.
"It wouldn't surprise me if more charges were on the way," Foster told the Associated Press.

Newsweek reached out to Augusta-based criminal defense attorney Walter McKee, who confirmed he is representing Cutler but declined to comment further after Cutler's Friday arrest.
Cutler resigned from his role as president of the board of directors at the Lerner Foundation the same day police searched two of his homes, Bangor Daily News reports. Lerner is a nonprofit aiming to help students from rural Maine attend college. Executive Director Don Carpenter said Cutler cited "personal reasons" for his resignation.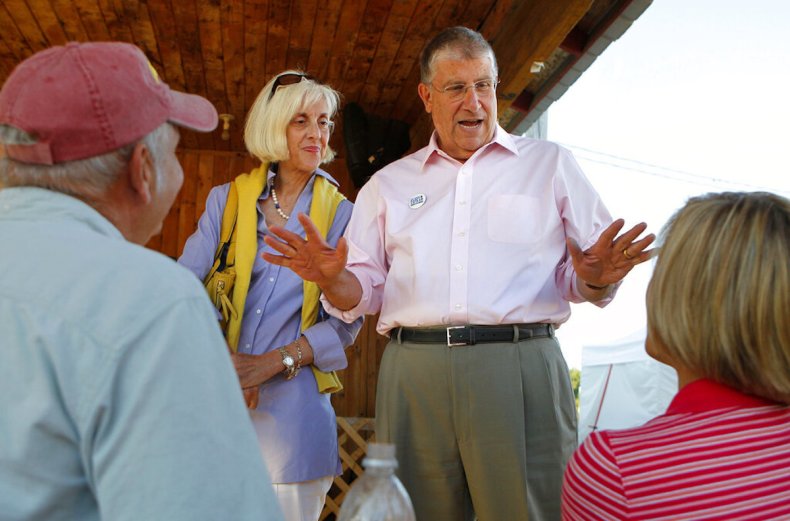 Cutler started in politics as an aide to Senator Edmund S. Muskie in the 1960s and 1970s. He was also an advisor to former President Jimmy Carter.
He entered Maine politics as an independent gubernatorial candidate in 2010, narrowly losing by 10,000 votes to Republican Paul LePage, according to Bangor Daily News.
Cutler unsuccessfully ran again in 2014, winning only 8 percent of votes.
He went on to serve as an environmental attorney and helped found a law firm in Washington, D.C., according to AP.
The Bangor native later returned to Maine and resided in Cape Elizabeth, where he owned a mansion that he later sold for more than $7.55 million to the nephew of former President George H.W. Bush.
Newsweek reached out to the Maine District Attorney's Office and police for comment.