Former House Speaker Dennis Hastert Settles With Man Who Accused Him of Child Sexual Abuse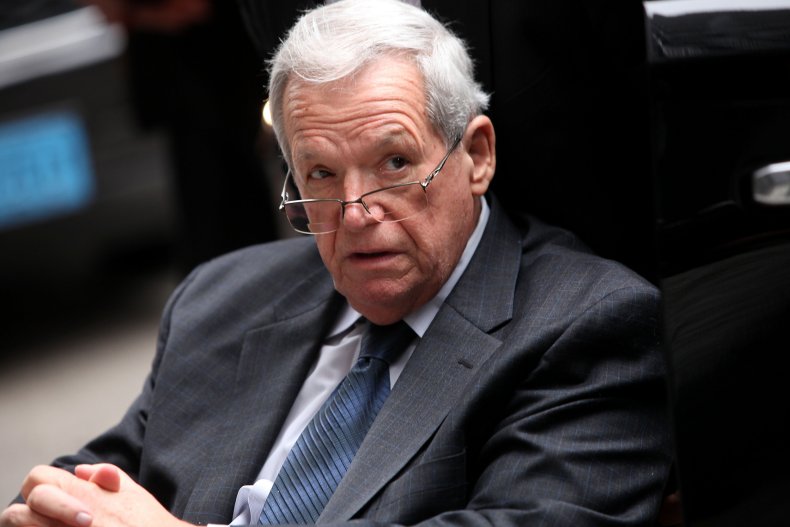 Former U.S. Speaker of the House Dennis Hastert has agreed to a financial settlement with a man who accused him of child sexually abuse.
Chief Judge Robert Pilmer of Illinois' 23rd Judicial Circuit said that attorneys for the former Illinois lawmaker, a Republican, and an anonymous man referred to a "James Doe" had "tentatively reached an agreement" to settle the suit.
The settlement will cancel a trial, which was set to begin on Monday, that would have revealed the name of the alleged victim. Assuming that a written agreement is drafted and signed by both parties, a motion to dismiss the case will likely be granted in a hearing next week.
"I would have loved to try this case," Kristi Browne, attorney for the plaintiff, told reporters after the settlement was reached. "I think it was a good case. I've been very confident about our case from the beginning. But this what we've managed to resolve and this is a resolution my client is comfortable with."
Hastert, who was the longest-serving Republican Speaker of the House between 1999 and 2007, had been sued for breach of contract after allegedly refusing to pay $1.8 million out of $3.5 million in "hush money."
Hastert's alleged victim said that in exchange for the money, he agreed to remain silent about abuse he suffered at the hands of the former lawmaker while he was 14-years-old and Hastert was his wrestling coach at Yorkville High School, located in a suburb of Chicago.
Hastert began making secret payments to the man in 2010. He paid around $1.7 million before catching the eye of federal investors due to making a series of large bank withdrawals. The payments then ended.
The investigation uncovered multiple allegations of Hastert's alleged child sex abuse while he was employed as a high school teacher and coach in the 1970s, at least some of which the ex-speaker later admitting to in court. Hastert eventually reached a plea agreement with prosecutors in the criminal case, pleading guilty to breaking banking laws.
During his 2016 sentencing hearing, U.S. District Judge Thomas Durkin described Hastert as a "serial child molester." Hastert was sentenced to 15 months in prison, sex offender treatment, $250,000 in restitution for victims and two years of supervised release. He was released from a federal prison in Minnesota in July 2017, having served about 13 months.
"It's never over for a victim of childhood sexual abuse," Browne said on Wednesday. "It's never over. It impacts them for the rest of their lives. This resolves this case... it resolves all of the issues of litigation between them."
Newsweek reached out to Hastert's attorney for comment.