Republican John Boehner, the former speaker of the House of Representatives, once said that he was "unalterably opposed" to decriminalizing marijuana. But now that he is a board member of a cannabis investment firm Boehner could make millions of dollars off cannabis if he can convince Congress to legalize it.
According to a report by The New York Times, Boehner's position at Acreage Holdings could make the former Ohio lawmaker a fortune. The multi-million dollar cannabis corporation is involved in a cultivating, processing and dispensing operation across 14 states.
In April, Acreage Holdings said it planned to sell itself to Canada's Canopy Growth — the world's largest cannabis company. The deal is expected to create an $18 billion organization, according to an analysis by the Times. Boehner holds 625,000 shares in the company and stands to make millions through the sale.
Boehner retired from Congress in 2015 and joined the board of Acreage Holdings in April 2018 alongside William Weld, the former governor of Massachusetts who is now mounting a 2020 primary campaign against Donald Trump.
The move was a tectonic shift for the longtime Republican, who spent his 24-year career in federal government as a formidable foe of marijuana. In the four years that Boehner ran Congress, nearly half a million people (mostly black and Latino) were arrested for selling the drug.
Months after joining the board of Acreage Holdings, Boehner told Newsweek that he changed his mind on the drug because it was "the right thing to do." He added that he felt like "I'm just like most of America, who found myself adamantly opposed years ago and over the years have begun to change my outlook."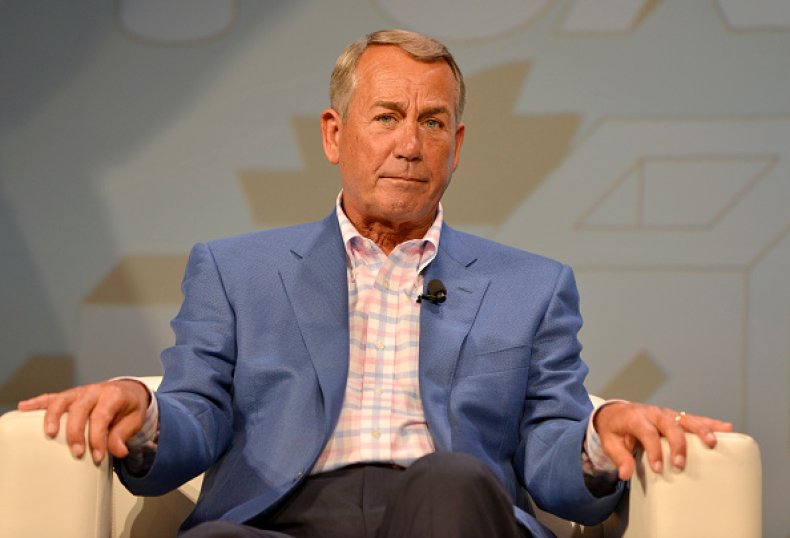 Now, Boehner is working to convince his former colleagues in Congress to reform marijuana policy. Decriminalizing the drug is now drawing bipartisan support through laws like the STATES Act, which would block the federal government from enforcing prohibition in states that legalize the drug. Even President Donald Trump said he would support such legislation.
Ten states and Washington D.C. have passed laws legalizing marijuana for both recreational and medical use. Plus, over 30 states have passed measures decriminalizing marijuana for medical use only. According to a Gallup poll from October 2018, two in three Americans support marijuana legalization.
Speaking at the South by Southwest festival in Texas earlier this year, Boehner said that his main motivation for supporting marijuana legalization is to help provide an alternative drug for people who need it. Boehner has advocated for cannabis decriminalizing for military veterans and sick children.
Boehner told the crowd that he Acreage Holdings CEO Kevin Murphy first introduced him to the idea of legalization.
"I wanted to learn more. He introduced me to a Navy SEAL with repeated concussions who didn't want [to take] opioids, so he just lived with the pain. When he was introduced to cannabis his headaches went away. That is when I decided to lend my voice to this debate," Boehner said.