Former ICE Chief Pens Book Calling for Trump's Re-Election: 'Build the Big, Beautiful Wall'
President Donald Trump has offered high praise for a "great new book" by Thomas Homan, the former acting director of the U.S. Immigration and Customs Enforcement (ICE) agency—and it is not hard to see why.
Titled Defend the Border and Save Lives: Solving Our Most Important Humanitarian and Security Crisis, much of Homan's new book reads as a love letter to Trump's presidency, with the former ICE chief calling on Americans to re-elect the president in November.
Having worked under six different presidential administrations, including the Reagan, Bush, Clinton, Bush, Obama and Trump eras, Homan writes that only Trump "walks the walk" when it comes to immigration.
"President [Ronald] Reagan was fairly strong on immigration. President [Bill] Clinton was decent on immigration because he actually talked about how we need to secure our borders," Homan states. However, the former ICE chief said: "They all talk the talk. Trump walks the walk."
Detailing Trump's record on immigration, with the president enforcing some of the most hardline policies the U.S. has ever seen—including his widely condemned "zero tolerance" family separation policy— Homan says Trump is the first president that he has worked under to understand "the immigration issue inside out."
Celebrating the president's plans to see at least 450 miles of border wall built between the U.S. and Mexico before the end of 2020, Homan says the U.S. needs to "build the big, beautiful wall" and keep enforcing Trump's stringent policies.
"We've got to keep Donald Trump in office in 2020," Homan writes. "If we don't win, the border is in big trouble and so is our country."
"Even if you don't particularly like the president's outspoken personality, do you really believe the Democrats' policies and passive-aggression toward citizens will help this country?" Homan later writes.
"The choice is day and night. If you believe in the sovereignty of the United States, if you believe we have the right to defend our border, if you believe a country is not a country unless it has borders, then you have no other choice," he states.
Much of Homan's admiration for Trump, however, appears to stem from the president's attitude towards and treatment of law enforcement.
Describing winning the "Man of the Year" Award handed out at Night to Unite, an annual gathering of law enforcement workers, in 2019, Homan writes that "much of my acceptance speech was about President Trump and his love and respect for the men and women who serve on the frontlines."
"Until you serve, you don't realize what a thankless job it can be and how much a thankful leader means," he writes.
That evening, Homan said he heard "numerous stories" about how Trump had "supported law enforcement long before he became president."
One such story recounted how Trump "used to go down to Ground Zero in the dark of the night in the aftermath of the September 11 attacks on New York City."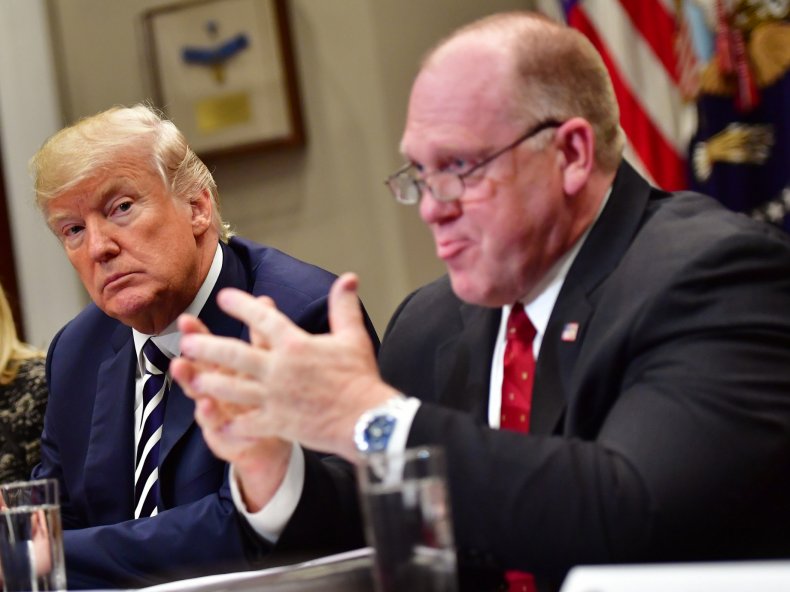 "He was on the scene within hours and sent workers from his numerous construction projects to Ground Zero to assist in the rescue efforts. He was an icon in New York City at the time, and every cop knew him. There was no press; he wasn't there for a photo op," Homan writes. "He went among the debris and hazardous conditions to personally thank the men and women doing the incredible task of respectfully recovering remains so family members could honor the deceased."
"That's right, a billionaire businessman went to that scene where so many perished and so many got sick, simply to pay his respects—not once, but numerous times," Homan writes.
Another story, the former ICE chief said, recounted how Trump used to invite law enforcement officers to use Trump Tower's employee dining facilities for their lunch or dinner breaks.
After one officer joked to Trump that the facility could use a "soft-serve ice cream bar," Homan writes that "a few weeks later, a spectacular ice cream bar appeared."
"Knowing that some of his staff didn't always appreciate the cops in their dining hall, Trump placed a sign above the installation that read, 'You can thank the men & women in Blue for this ice cream bar. Because of their honesty and suggestions we have added this selection for all to enjoy,'" Homan writes.
Law enforcement officials across the country, Homan said, "respect and love" Trump and it appears to be in no small part because "the Trump effect is pro-law enforcement."
It is unclear whether Trump has read Homan's book yet. However, in his tweet, he called on Americans to purchase the new read, calling it a "great book" written by a "great guy."
Newsweek has contacted Homan and the Trump campaign team for comment.