Former Ice Cream Shop Owner Ordered to Pay BLM Protesters for False Threat Claims
The former owner of an ice cream shop in Schenectady, New York, was ordered by a judge Wednesday to pay a total of $4,500 to Black Lives Matter protesters for making false claims against them that violated their civil rights.
The ruling stemmed from a lawsuit filed in March by New York Attorney General Letitia James against David Elmendorf, who once owned Bumpy's Polar Freeze in Schenectady.
In 2020, Elmendorf was accused of shouting racist epithets and making death threats with both a .22 caliber air rifle and a baton at Black protesters before he claimed he was the victim. He called 911 and said the group had threatened to shoot him. The attorney general's suit said none of the protesters were found to be armed.
The protests from Black community groups, including Black Lives Matter, occurred at a private property near Bumpy's in the summer of 2020 after racists texts that were allegedly written by Elmendorf were shared on social media, according to the lawsuit filed by James. At least one text allegedly contained a racial slur, while another reportedly read: "I don't hire Black people." Hundreds of people were said to join the protests against Elmendorf.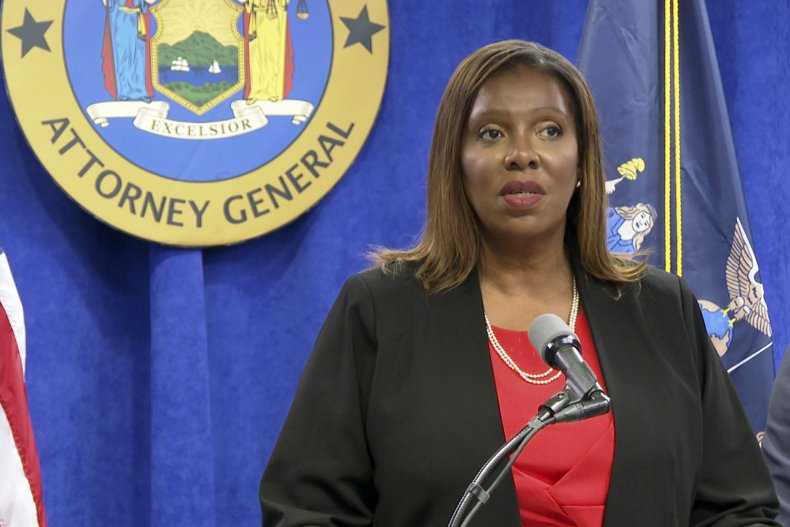 James' lawsuit against Elmendorf was the first to cite a new law that makes it illegal to submit false "race-based" police reports. The law has been called the "Central Park Karen Law," since it was inspired by the white woman—dubbed "Karen" by social media and local press—who called police on a Black birdwatcher after he requested she put a leash on her dog.
The law that passed following the incident in Central Park gave Attorney General James the authority to sue any person who, when motivated by racial or other bias, summons police "without reason to suspect a violation of the penal law." That law, along with others, was cited in her lawsuit against Elmendorf.
Elmendorf's attorney called all the accusations against his client false. On Wednesday, a judge ruled in James' favor and ordered that Elmendorf must pay $500 each to nine protesters he harassed for a total of $4,500.
"There is zero tolerance for harassment, intimidation, or violence of any kind against anyone in New York," James said in a statement following the ruling. "As this nation continues to be plagued by division and hate, this decision sends a critical and clear message that those who perpetuate racism and discrimination, including filing false, race-based police reports, will be held to the fullest extent of the law."
Schenectady Mayor Gary McCarthy also commented on the ruling in a statement. "This outcome sends a clear message that racism and hatred will not be tolerated in our community," he said.
In August of 2020, Elmendorf was also fined $10,000 after not complying with COVID-19 safety measures at Bumpy's and was ordered to close the shop. Months later, in October, he was charged with assault after allegedly stabbing a private investigator in the neck with a pen.