Former Iranian President Spreads Coronavirus Conspiracy Theory, Calls on World Health Organization to Identify 'Perpetrators' of 'Biological War'
Former Iranian President Mahmoud Ahmadinejad has written to the World Health Organization suggesting that the worldwide coronavirus outbreak was caused by unidentified laboratories who spread the epidemic as part of a "biological war."
Ahmadinejad presented no evidence for his claim, drawing on conspiracy theories that allege the COVID-19 strain of coronavirus is actually a biological weapon. The disease is believed to have originated at a "wet market" in the Chinese city of Wuhan that sold dead and live animals.
Conspiracy theorists have been peddling numerous false claims, including that the strain was developed in a U.S. or Chinese military lab—including one in Wuhan. Others have claimed the significant impact on Iran and China as proof of a U.S. plot. There is no evidence to support any of these conspiracy theories.
On Tuesday, Ahmadinejad tweeted a letter to Tedros Adhanom, the director of the WHO. The former president acknowledged the organization's "sacred commitment of protecting the health of human society" in the face of the coronavirus "calamity."
Though Ahmadinejad noted that "weakness or failure on the part of state officials in some countries...has had an effect on the size of the spread and the damage caused by the epidemic," he claimed that the true drivers were the unidentified laboratories that supposedly spread the illness.
"The main responsibility of production and distribution of the virus, by the laboratories that produced it, and those perpetrating a biologic war on nations, should never be overlooked," Ahmadinejad wrote.
"The WHO must immediately identify the lab that produced and spread the virus, as well as the other centers that supported the biological war against humanity," he added in his tweet alongside the letter.
A WHO spokesperson told Newsweek there is increasing evidence of a link between COVID-19 and other coronaviruses circulating in bats, more specifically those of the Rhinolophus bat sub-species.
"However, the route of transmission to humans at the start of this event remains unclear," the spokesperson added. "The current most likely hypothesis is that an intermediary host animal has played a role in the transmission. Both Chinese and external expert groups are working in trying to identify the animal source of this new virus."
Ahmadinejad was Iranian president from 2005 to 2013, and became well known for his belligerent rhetoric around Israel, the U.S. and other Western nations. He acknowledged that Iran is "suffering heavy damage and costs" from the coronavirus outbreak, but did not suggest any failings on the part of the regime.
Iran is one of the worst-affected nations outside of China. The Johns Hopkins University COVID-19 tracker has recorded 8,042 cases and 291 deaths, while 2,731 individuals are reported to have recovered. Key regime officials are among those infected and killed by the COVID-19 strain.
As the below Statista infographic shows, there have been almost 120,000 confirmed cases and more than 4,000 deaths worldwide. Some 66,000 people have recovered, according to Johns Hopkins University.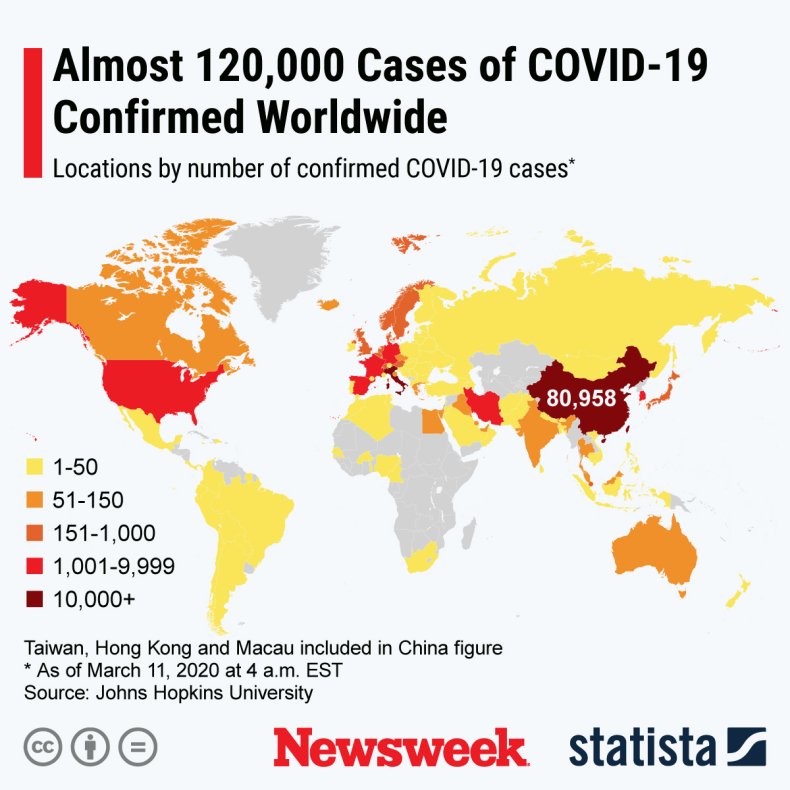 Ahmadinejad said that "public and unbiased dissemination of information regarding the perpetrators of the anti-human crime is an important factor in controlling the anti-human weapon."
The former president did, however, suggested that with international cooperation "the criminals will be isolated" and the rest of society will be protected from "the ill-wishers of transgression and hegemony."
World Health Organization advice for avoiding spread of coronavirus disease (COVID-19) Hygiene advice
Clean hands frequently with soap and water, or alcohol-based hand rub.
Wash hands after coughing or sneezing; when caring for the sick; before; during and after food preparation; before eating; after using the toilet; when hands are visibly dirty; and after handling animals or waste.
Maintain at least 1 meter (3 feet) distance from anyone who is coughing or sneezing.
Avoid touching your hands, nose and mouth. Do not spit in public.
Cover your mouth and nose with a tissue or bent elbow when coughing or sneezing. Discard the tissue immediately and clean your hands.
Medical advice
If you feel unwell (fever, cough, difficulty breathing) seek medical care early and call local health authorities in advance.
Stay up to date on COVID-19 developments issued by health authorities and follow their guidance.
Mask usage
Healthy individuals only need to wear a mask if taking care of a sick person.
Wear a mask if you are coughing or sneezing.
Masks are effective when used in combination with frequent hand cleaning.
Do not touch the mask while wearing it. Clean hands if you touch the mask.
Learn how to properly put on, remove and dispose of masks. Clean hands after disposing of mask.
Do not reuse single-use masks.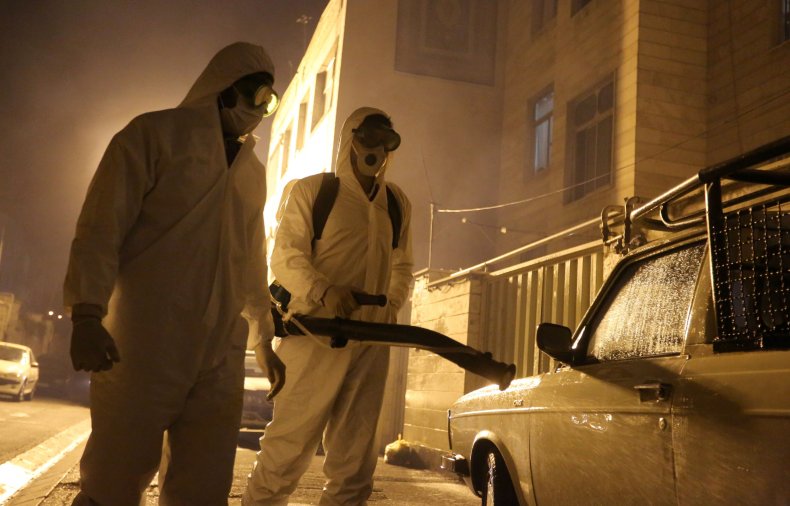 This article has been updated to include an infographic and to include a statement from the WHO.