Former 'Jeopardy!' Contestant Says Mike Richards Appointing Himself Host Left A 'Bad Taste'
A former Jeopardy! contestant has said that Mike Richards appointing himself host of the beloved quiz show "left a bad taste" in her mouth.
Staci Huffman, who took part in the show in 2018, has revealed she was shocked by Richards' sudden departure following weeks of scandal.
As the Jeopardy! hosting fiasco continues, Richards will no longer be hosting the show and has also stepped down as executive producer over offensive comments he made on a podcast several years ago.
"I'm surprised," Huffman told The Spokesman-Review. "I didn't realize there was so much turmoil. When it was announced that he [Richards] would host, it seemed like a situation in which he was looking for a good host, but he decided to pick himself.
"That left a bad taste in my mouth. It's so different than what it was like with Alex Trebek."
Huffman added: "Alex was the nicest guy who worked so hard with his staff every day. When I was on the show, he wasn't sick yet. He wasn't diagnosed yet. He just signed a new contract. You had the feeling that there was no need to worry about anything since you figured Alex would be around for years."
An immediate replacement for the late Trebek was not named and instead, the show opted for a roster of rotating celebrity guest hosts, before finally appointing Richards in the permanent role behind the podium.
In August, The Ringer published a story about the offensive remarks Richards made on the podcast he hosted in 2013 and 2014 called The Randumb Show.
Richards mocked women's weight, Jewish people and other groups, prompting an investigation from the Anti-Defamation League.
Then, three weeks ago, Richards confirmed his resignation and released an apology to staff.
"As such, I will be stepping down as host effective immediately. As a result, we will be canceling production today," his statement read in part.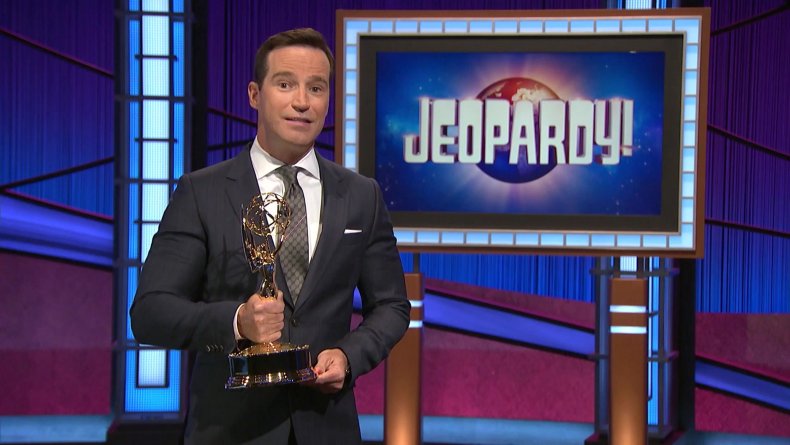 It continued: "I want to apologize to each of you for the unwanted negative attention that has come to Jeopardy! over the last few weeks and for the confusion and delays this is now causing. I know I have a lot of work to do to regain your trust and confidence."
Just two weeks later, Suzanne Prete, executive vice president of business and strategy for both Wheel of Fortune and Jeopardy!, confirmed Richards' departure from his executive producer role.
"I'm writing to let you know that Mike will no longer be serving as EP of Wheel and Jeopardy! effective immediately," Prete's message to staff said. "We had hoped that when Mike stepped down from the host position at Jeopardy! it would have minimized the disruption and internal difficulties we have all experienced these last few weeks. That clearly has not happened."
The search for a permanent host continues.