Former Justice of Peace Arrested for Allegedly Slapping Yankees Fan During ALCS Game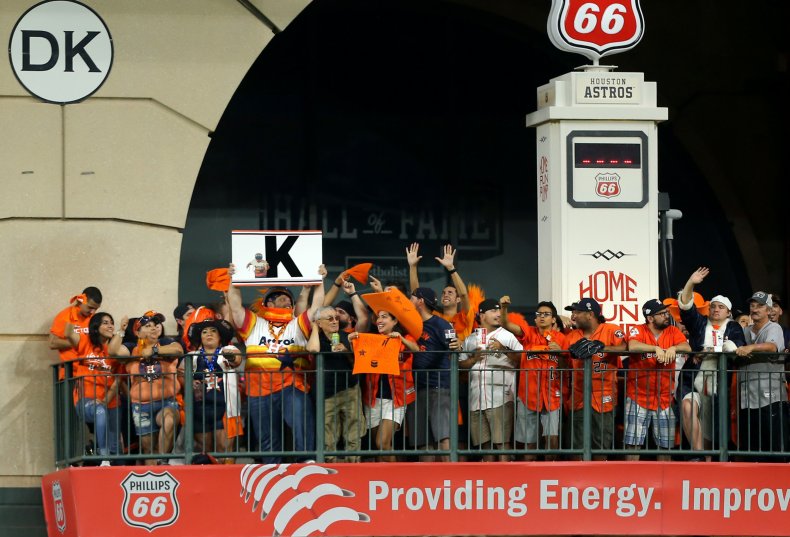 A Houston Astros fan was arrested Sunday for allegedly slapping a New York Yankees fan during the American League Championship Series.
The fans were watching as their teams faced off in the second game of the ALCS at Minute Maid Park in Houston.
According to police, James Dinkins slapped Yankee fan Manuel Bitolas in the back of the head multiple times and was later arrested for a misdemeanor charge. Bitolas was allegedly slapped while he cheered for his team during the game.
"I told him something and patted his shoulder and he said, 'Don't f-ing touch me,'" Bitolas told KTRK. "I bent over to get my drink and he like hit me."
Nicknamed "The Judge" due to his former job as justice of the peace in Montgomery County, Texas, Dinkins has often entered into verbal altercations with fellow Astros fans, according to KTRK.
Police also told another Houston news outlet, KPRC, that Dinkins told the Bitolas to "shut up" as he was cheering.
Another Astros fan, Lea Menchaca, witnessed the incident, which took place during the 9th inning of the game.
"Dinkins reached back and slammed him on the face, five times, like repeated five-time slap," Menchaca told KRPC.
Menchaca also said she has encountered "The Judge" in the past at Minute Maid Park.
According to Menchaca, Bitolas was attending the game with his mother, who promptly broke up the altercation. Menchaca said that as soon as Dinkins slapped Bitolas, his "mom was like, 'No you don't touch him, what are you doing?'"
According to court documents, Bitolas and his mother reported the incident to stadium police, who later arrested Dinkins. According to KPRC, Dinkins told the police that Bitolas threatened his fiancé.
Nathan Beedle, Chief of Misdemeanor for the Harris County District Attorney's office in Texas, confirmed that the assault was caught on stadium security cameras. Beedle stated that the Astros pride themselves on "hospitality, sportsmanship and welcoming anyone from anywhere," while referring to the incident as "troubling."
Bitolas and his mother left the game while the score was still tied, while Dinkins was removed from the stadium, the Houston Chronicle reported.
Dinkins was later released from jail on a $100 bond.
The Houston Astros defeated the Yankees 3-2 on Sunday and 4-1 on Tuesday, giving them a 2-1 series lead. Game 4 will take place in the Bronx on Wednesday night.
Former Justice of Peace Arrested for Allegedly Slapping Yankees Fan During ALCS Game | Sports