Former KKK Grand Wizard David Duke Says U.S. Should Make Israel Pay for Trump's Border Wall
Prominent white supremacist and former Ku Klux Klan leader David Duke has weighed in on one of the most contentious political issues of the day: U.S. support for Israel.
"Hundreds of billions of taxpayer dollars have gone to Israel. We spent trillions in wars for israel. Every major jewish organization lobbies to send US money to Israel that builds a giant wall - BUT OPPOSE A WALL FOR AMERICA. I say: build a wall and MAKE ISRAEL PAY FOR IT!" Duke tweeted on Tuesday.
The U.S. has supported Israel since its founding in 1948, and in August lawmakers in congress passed a $38 billion military aid package for the country. Meanwhile, Congress is currently refusing to fund a wall President Donald Trump would like to construct on the nation's southern border.
But the tweet appeared to be Duke's contribution to a debate unfolding on social media over whether Israeli lobbyists wield too much influence in Washington. The furor began on Sunday when Ilhan Omar, the Democratic Representative from Minnesota, tweeted a criticism of the pro-Israel lobby with the caption, "it's all about the Benjamins baby," using a reference to a rap song to suggest that lawmakers are supporting Israel because of financial incentives.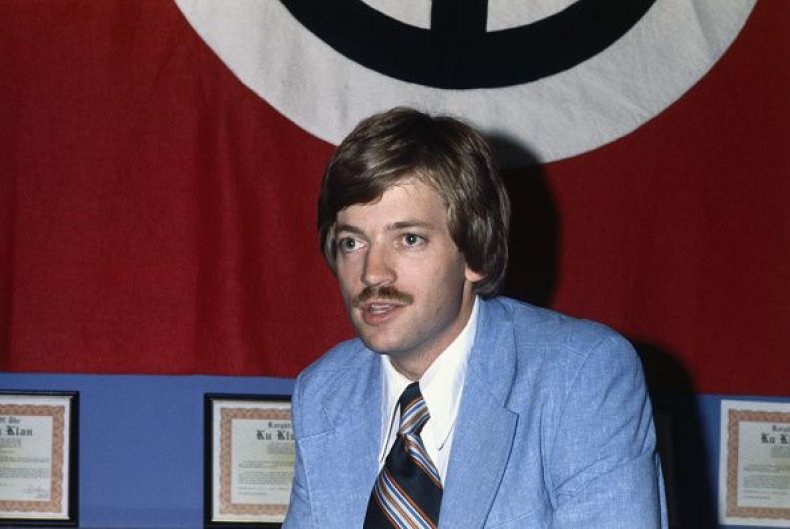 The comment was immediately slammed for playing into anti-Semitic tropes that portray Jews as being wealthy and pulling all of the strings. President Donald Trump suggested that Omar should resign. Members of the Democratic Party urged Omar to apologize, which she did on Monday.
"Anti-Semitism is real and I am grateful for Jewish allies and colleagues who are educating me on the painful history of anti-Semitic tropes," Omar said in a statement. "My intention is never to offend my constituents or Jewish Americans as a whole. We have to always be willing to step back and think through criticism, just as I expect people to hear me when others attack me for my identity. This is why I unequivocally apologize."
But the incident sparked a debate about whether organizations like the American Israel Public Affairs Committee (AIPAC) are too influential in Washington because they are willing to invest resources into lobbying congress.
Some advocacy groups warned that lawmakers should avoid calling any criticism of Israel anti-Semitic.
"Elected officials should be particularly sensitive and careful on the question of the role played by campaign contributions in influencing U.S. policies toward Israel and the Middle East," Jeremy Ben-Ami, president of the advocacy organization J Street, said in a statement.
"There is no doubt that money often plays a major role in our political system. At the same time, elected officials must be extremely aware that tropes about Jewish money and political influence have been used for centuries to target and stigmatize our community. Indeed, such tropes featured alarmingly in the campaign ads of Republican candidates during the 2018 election cycle," Ben-Ami continued. "Elected officials should also refrain from labeling all criticism of Israeli actions or policies as 'anti-Semitic,' in a transparent effort to silence legitimate discussion and debate."
The pro-Israel lobby contributed around $14.9 million in the 2018 election cycle, according to data from OpenSecrets.org, a website that tracks money in politics. While far from the largest contributor, the lobby does wield significant influence among Republican and Democratic lawmakers. Meanwhile, the defense industry, which profits off of the sale of military equipment to Israel, also has a vested interest in ensuring that the U.S. continues to support for Israeli defense sectors.
Questions about whether the U.S. should maintain its staunch support for Israel despite a sharp move to the right by Israeli Prime Minster Benjamin Netanyahu and accusations of human rights abuses in the West Bank and Gaza have divided the American political left.