Former KKK Leader David Duke Praises Richard Spencer's Defense of Confederate Robert E. Lee Statue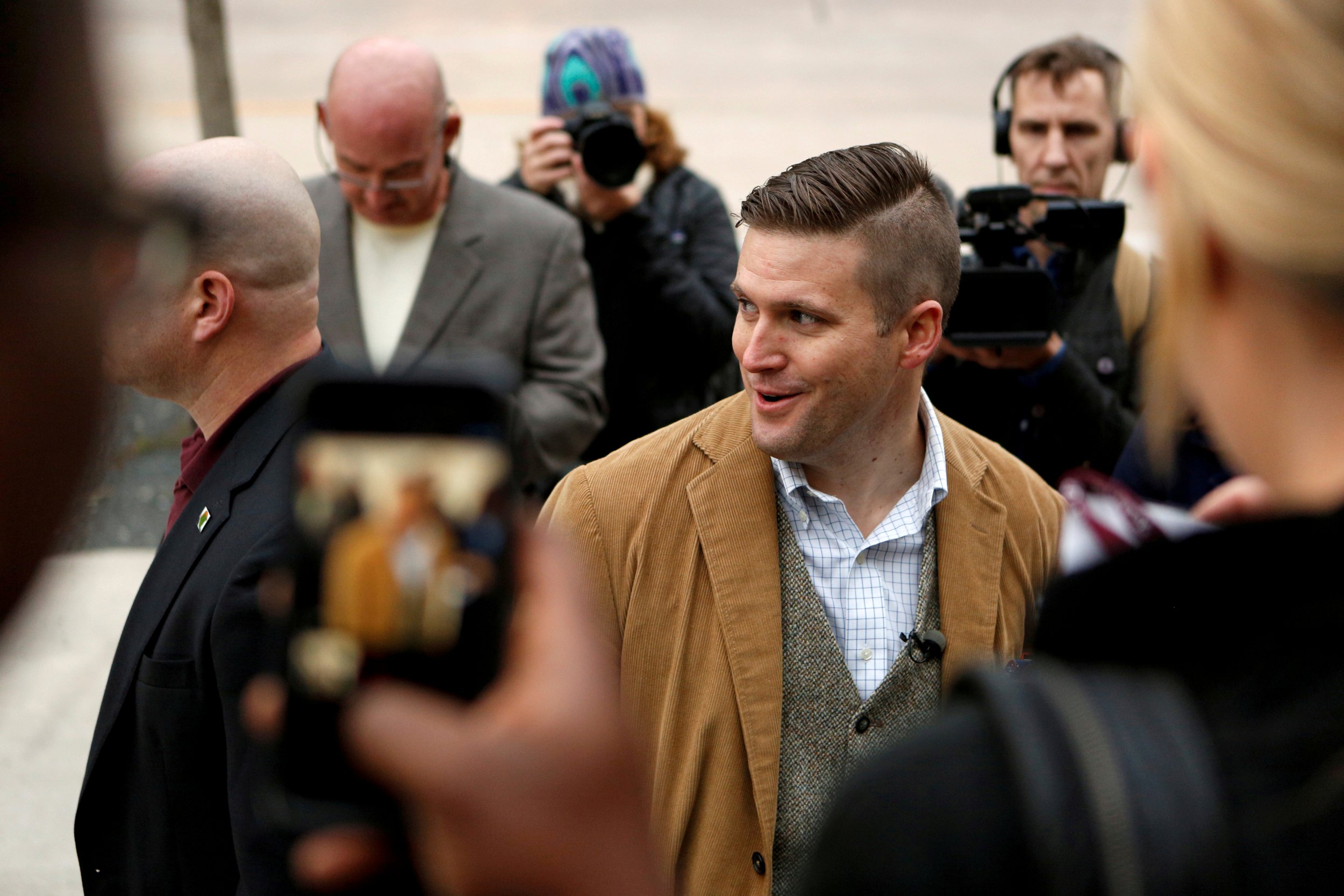 Former Ku Klux Klan Imperial Wizard David Duke and other hard-right figures are praising white nationalist and alt-right figurehead Richard Spencer's protest to block the removal of a memorial to Confederate Civil War General Robert E. Lee in Virginia.
"We will not be replaced from this park, whites have a future, we have a future of power," Spencer said through a bullhorn as he led protesters during an afternoon rally Saturday. Spencer said people who seek equality of races want whites "neutered and in a museum." Supporters of his white nationalist ideology held banners and shouted "you will not replace us!"
Later that night Spencer returned to Charlottesville's Lee Park for a torchlight protest with several dozen supporters.
"Modern day leftists have turned our younger generation into the imaginary boogieman [sic] they have always feared aka openly proud White men/women," Duke wrote on Twitter Sunday, above a picture of Spencer holding a torch during the night time rally. Duke is a long-time white supremacist and Holocaust denier.
The neo-Nazi website The Daily Stormer called Spencer's protest a "glorious torchlight procession" and the day of hard-right activism "an impressive showing for our side!"
In April the Charlottesville City Council voted to sell and move the statue from Lee Park. The council also voted to rename the park following controversy over its commemoration of Lee, who fought for the right to own slaves.
Read more: Rick Perlstein: the alt-right is gunning for anti-Trump protesters
Local activist Ben Doherty of the group Showing Up for Racial Justice has called the monument of Lee an "emblem of white supremacy." A judge placed an injunction on moving the statue May 2 as a court case on the issue moves ahead.
Spencer styles himself as a leader of the so-called alt-right. Spencer claims to have coined the term that describes a loosely-affiliated group that mixes racism and xenophobia, white nationalism, conspiracy theories, and populism. The group became more prominent after presidential candidate Hillary Clinton mentioned them when she described some of her opponent President Donald Trump's supporters as "deplorables" during a speech last August.
In interviews Spencer says he is pushing to create a whites-only ethno-state. Members of the alt-right threw their support behind President Donald Trump's 2016 election campaign because of his promise to get tougher on immigration.
The protests were either "profoundly ignorant" or designed to instill fear in minorities "in a way that hearkens back to the days of the KKK," Charlottesville's Mayor Mike Signer said in a statement Saturday. "We are a welcoming city," he said, "but such intolerance is not welcome here."