Willem Jewett, a former Vermont lawmaker and state House majority leader, used a medical-aid-in-dying law he helped pass to end his life at age 58.
Jewett died in his home in Ripton, Vermont, on January 12, according to his wife, Ellen McKay Jewett, the Associated Press reported. Over a year ago, he was diagnosed with mucosal melanoma.
Jewett died with the help of Act 39, the state's medical-aid-in-dying law that he helped pass 10 years earlier, the VTDigger news website reported.
Act 39, also known as the Patient Choice and Control at End of Life Act, permits eligible Vermont residents with terminal diseases to choose to be prescribed a dose of medication that helps them end their lives, according to a document from the Vermont Department of Health.
Jewett helped pass the law through the Legislature, garnering support for the bill, organizing it and working with the state's Senate to send it to the governor, according to The Hill. The bill was passed in 2013.
Along with Vermont, other states with laws allowing death assisted by physicians include California, Colorado, Hawaii, Maine, New Jersey, New Mexico, Oregon and Washington, ProCon.org reported. Montana allows it via a court ruling.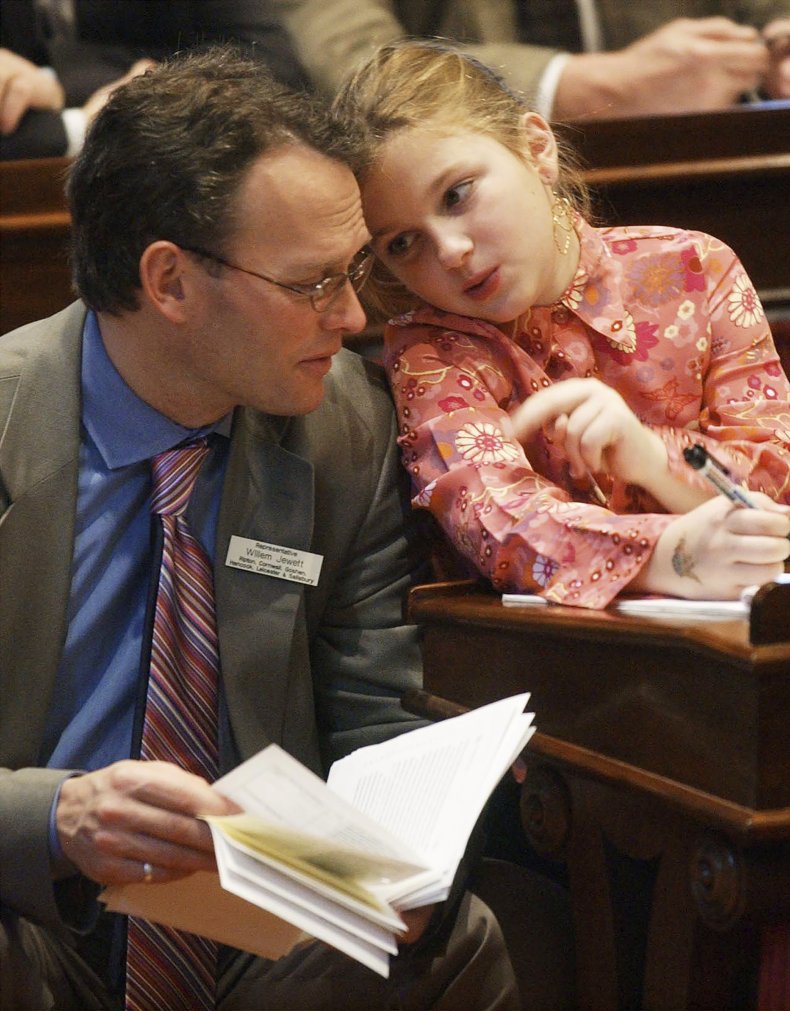 Jewett was still continuing to fight against limitations on Act 39 in the days leading up to his death, VTDigger reported.
"It is very Willem fashion to still be pushing for legislation that he believed in and using his ability to advocate for people," his daughter Abigail Jewett was quoted by the AP.
Jewett had contacted Patient Choices Vermont, a nonprofit organization, on December 29 to talk about his own experience with the law and proposed changes, which are now being considered, according to the AP. He spoke to Betsy Walkerman, president of organization, five days before he died.
Jewett "just wanted to add his voice, which is incredibly powerful because he has this dual role as a legislator and a patient, a person near the end of life, who's making choices," Walkerman said, according to the AP.
"His support was really critical," Walkerman said regarding Act 39, the AP added. "He's very proud of this bill."
In an email sent to Newsweek, Shap Smith, former Vermont House speaker, called Willem a "savvy legislator whose capacity for work was unparalleled."
"He had incredible focus and intellect, but would take the time to hear out the views of those who might have concerns about some proposal he had made," Smith said in the email. "His integrity and sense of humor made him a legislator who others, whether elected members or lobbyists, respected.
"He was one of a kind," Smith said.
Jewett served in the Legislature for 14 years, according to VTDigger. He was also an attorney and avid cyclist who biked over 50 miles from his home in Ripton to the Statehouse in Montpelier as part of an annual Earth Day bike ride.
"No half measures," his wife Ellen McKay Jewett said in the VTDigger report. "It was 100 percent. Always."
Update 01/19 8:52 PM: This story was updated to include comments from former Vermont House Speaker Shap Smith.