'Ardent' LGBT Ally Wants 'More Aggressive' 'Don't Say Gay' Bill in Michigan
James Craig, the leading candidate in Michigan's Republican primary, who previously has been vocal about being an ally to the LGBTQ community, says he'd want a "more aggressive" version of Florida's controversial "Don't Say Gay" bill.
Craig, a former Detroit police chief, said that if he were to be elected governor, he would go even further than lawmakers in Florida, banning classroom discussion of gender identity and sexual orientation beyond kindergarten through third grade all the way up to middle school.
"I'd be a little more aggressive with it. I would go beyond the third grade. Maybe the sixth grade. It shouldn't be a conversation with teachers and students; that's up to the parents," Craig initially told WJBK last Thursday.
In an interview with Newsweek on Wednesday, Craig reiterated those comments and said that while he stands by his remarks, "in no way am I suggesting and saying I don't support the LGBTQ community because I absolutely do and my track record shows it."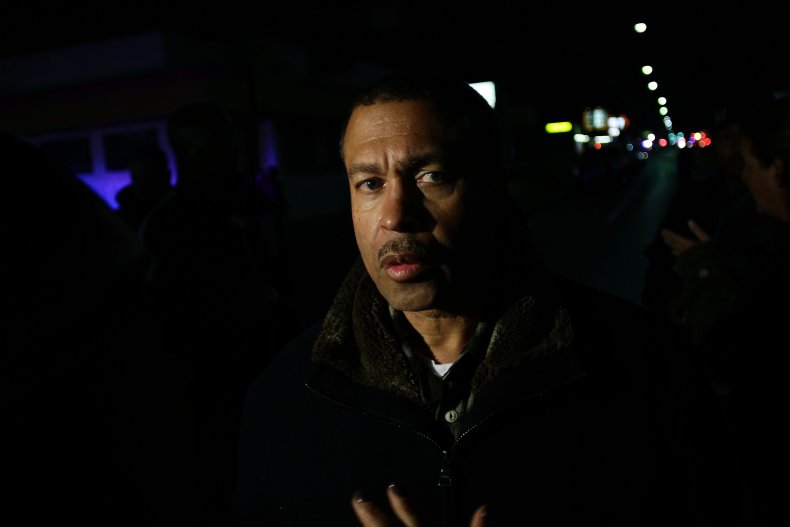 His remarks echo a Republican wave that has swept the nation in the weeks since Florida Governor Ron DeSantis signed the Parental Rights in Education bill, dubbed the "Don't Say Gay" bill into law last month.
GOP lawmakers in Alabama, Arizona, Georgia, Kentucky, Indiana, Iowa, Louisiana, Missouri, Oklahoma and Tennessee have all proposed their own legislation similar to the bill in Florida.
There has yet to be a similar bill introduced in Michigan.
But Craig voiced his support for a similar bill despite having supported Detroit's LGBTQ community as the chief of the police department just a couple of years ago.
In 2019, Craig led the flag-raising ceremony at the Motor City Pride Festival.
"We are a community committed to inclusiveness, where everyone matters and everyone can contribute," he said at the event.
It was not the first pride event that Craig had attended.
Back in 2018, he also joined the Hotter Than July Black Pride festival, where he gave a speech about the importance of strong relationships between police departments and local LGBTQ communities—something he said he first experienced in Los Angeles, where he spent 28 years of his law enforcement career, according to Pride Source.
At the 2018 event, Craig thanked the LGBTQ community for their partnership, saying, "We couldn't do it without you. Please keep the dialogue open so we can do more. I love each and every one of you. We're here for you. Keep up the great work."
"I'm an ardent supporter [of the LGBTQ community]," Craig told Newsweek. "I have always been a big supporter going all the way back to my time in Los Angeles."
"I absolutely support communities in a very strong way, but I find it very different," he said. "We're talking about being heterosexual or being gay—those are conversations only parents should have with children. I don't think those are conversations that should be had by teachers."
Craig also said if he were elected governor he would push for a similar ban on those topics in classrooms, as well as a ban on teachings of critical race theory.
"That's another thing that's going on in our state, and frankly, once again, who are the stakeholders? The parents," he said. "I don't care if you're on the left or the right, so many reject critical race theory. I reject critical race theory."
Critics of the "Don't Say Gay" bills say it is homophobic and makes local LGBTQ communities feel targeted, while supporters say parents have a right to choose what kind of information their child is exposed to.
Companies like Disney and Hollywood elites have been speaking out against the legislation, and organizations have taken to the streets in certain states encouraging people to "Say Gay."
Update 4/13/21 10:25 a.m. This story was updated with comments from Craig.