Former Libertarian Presidential Candidate Torches Party
A former Libertarian candidate for president who rose to prominence for promises of free ponies while wearing a wellington rubber boot on his head denounced his involvement in the movement earlier this week, claiming the party has become a "non-functional embarrassment" in a profanity-laden tweet late Tuesday night.
Vermin Supreme—a performance artist and activist who finished third for the party's nomination for president at its 2020 convention—claimed Tuesday night he regretted ever getting involved in the party following a number of highly publicized missteps by the party's newly installed leadership ahead of a planned anti-war rally it was sponsoring in Washington, D.C., later this month to protest excessive U.S. aid to Ukraine.
The rally's main aim, organizers claimed, was to promote a list of demands including immediate peace in Ukraine, global nuclear de-escalation, the abolition of the CIA and the "military industrial deep state," and the disbandment of NATO, among others.
While many of the demands are considered standard fare among the anti-war movement, it was the messengers many—including Vermin Supreme—took issue with, prompting him to denounce his place in the party.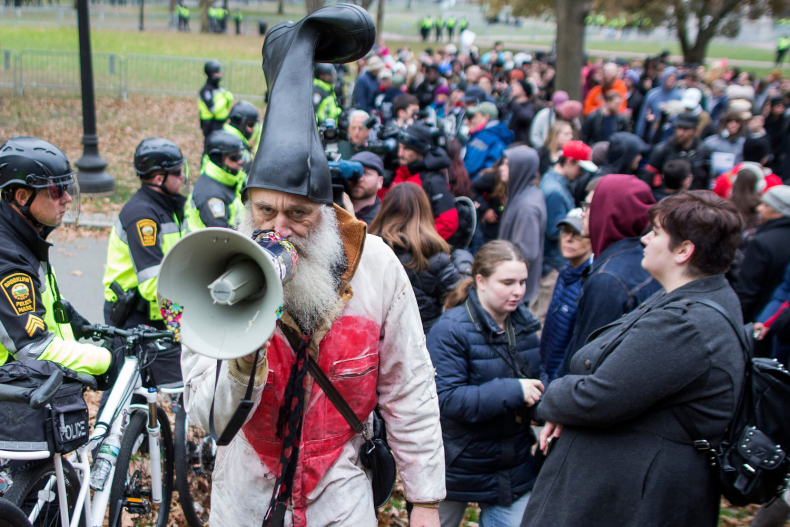 "To all that were attracted to the Libertarian Party by my 2020 candidacy: I am sorry," Supreme wrote on Twitter. "It has become a terrible dumpsterfire of a s***show. I regret my involvement in such a non-functional embarrassment full of paleo dips***s, pedo apologists, and culture war f***wads."
Newsweek has reached out to Vermin Supreme for comment. However, Angela McArdle, the current chair of the National Libertarian Party, told Newsweek the perennial candidate's views were not necessarily shared by others in the party.
"The guy who wore the boot on his head is not a great representative of the party," she told Newsweek. "He's kind of been out of step with us for a while."
Others, however, said the credentials of many of the speakers scheduled some party leaders said publicly, spoke for themselves.
In addition to mainstream speakers like journalist Scott Horton, former Hawaii Congresswoman Tulsi Gabbard and former U.S. Congressman Ron Paul, the event will also feature figures like Jimmy Dore—a controversial comedian largely known for his penchant for right-wing conspiracy theories—and journalist Max Blumenthal, a regular contributor to propaganda outlets like Russia Today and Sputnik who has been accused of boosting Russian foreign policy.
The event will also feature Ron Paul Institute Executive Director Daniel McAdams, who appeared to actually support Russian President Vladimir Putin and his decision to invade Ukraine one year ago.
"Do you want your kids to be forced to go to drag queen shows with perverts or do you want to live in a country where it is illegal for adults to sexually attack your children?" he tweeted earlier this week. "I'm with Russia. 100%. Let the "libertarians" lose their s*** over this: I'm with Putin!"
The straw that broke the camel's back, however, was the initial inclusion of speakers like Scott Ritter, a former United Nations weapons inspector and contributor to Russian propaganda outlet Russia Today who was twice charged for attempting to solicit sex from undercover officers posing as children. (Ritter has since been removed from the program, according to a webpage advertising the event.)
His initial inclusion—plus the inclusion of speakers with pro-Russian sympathies—only sought to undermine whatever message the party hoped to advance, critics claimed.
"It's no longer my job to give the LNC advice, and I generally operate under the presumption that if my advice was something they wanted or valued then they would have made some effort to retain my services in that capacity, but here is a freebie: This event and any pretense of it making a meaningful anti-war impact distinct and separate from Russian propaganda is unsalvageable," Tyler John Harris, the party's former executive director, wrote in a Twitter thread bashing the rally Wednesday. "Going forward with it at this point only doubles down on that failure."
Party leaders have sought to downplay those concerns, issuing a statement Tuesday asking for Ritter to stay home from the event and unequivocally stating the Libertarian Party's event was designed for one purpose: to oppose all wars. McArdle noted in addition to conservative speakers, the rally would also feature figures from the left like activist David Swanson as well as other fellow travelers aligned with the Libertarian position.
"We are not pro-Putin. We are not pro-Russia. We oppose Russia's invasion and any initiation of force," the statement read. "The threat of nuclear devastation is higher than it's been for decades, and the war in Ukraine has led to horrifying death, harm, and destruction for thousands of innocents. War is simply mass murder writ large, and the party's opposition to these crimes has never been in question. Any speaker advocating for the contrary does not align with our values."
The episode surrounding the February 19 "Rage Against The War Machine" rally, however, offers only a glimpse into a growing rift within the Libertarian movement over the past several years.
In September, the "Mises Caucus"—a brash wing of the party closely aligned with the principles pushed by Ron Paul during his 2008 run for the presidency—took control of the national party, abandoning its unequivocal pro-abortion stance and embracing an absolutist free speech position that included the watering down an anti-bigotry statement in the party's platform at the party's convention in Reno last fall.
While some, like the New Hampshire Libertarian Party, have embraced the rightward swing, others have been divided by it.
A Congressional candidate in Idaho withdrew their name from the race last summer after what he described as an "ideological break" between himself and the newly-installed party leadership. Meanwhile, in Massachusetts, the state's Libertarian Party formally split into two competing factions this past October, citing irreconcilable differences, while the Virginia Libertarian Party narrowly voted shortly after the party convention to dissolve itself entirely.
"I am certainly not going to be a fraud and take members' money and promise them something and not be able to deliver, and I'm certainly not going to deliver candidates who believe in repealing the Civil Rights Act," the party's former chair, Holly Ward, told Fox News following the vote.
McArdle—who rose to prominence by courting conservative votes on the wave of discontent surrounding U.S. "lockdown" policies during the COVID-19 pandemic—said her efforts to change the party's direction are intended to actively increase the number of voices at the table and put a renewed focus on the party's attitudes toward limitless free speech and its opposition to war.
Her rally—while controversial—only seeks to affirm that ethic.
"I think it is a representation of our ability and willingness to take risks to advance libertarianism ideologically in foreign policy," she said. "We are much more willing with our new leadership to put ourselves out there to halt nuclear war and to make a strong statement about peaceful foreign policy than our predecessors were. They were definitely too timid. There is no way that you'd see a coalition rally happening under past leadership."