Former Marine and Congressional Candidate Says Trump Would've 'Flunked Out Immediately' After President's Gold Star Families Comments
Former Marine and current Democratic congressional candidate Jake Auchincloss said President Donald Trump would have "flunked out immediately" of Marine Corps during basic training as a response to the president's handling of coronavirus and past denigrating comments towards veteran families.
On Friday afternoon, Auchincloss joined former Missouri Secretary of State and Afghanistan veteran Jason Kander, congressional candidate and Air Force veteran Col. Moe Davis and Vets for Biden Chief of Staff and former Marine Claire Russo in a press conference to discuss Trump's comments on veterans and their families in light of the president's statements that he may have gotten the coronavirus during an event for Gold Star families.
The four participating veterans highlighted the president's pattern in denigrating the military, referencing Trump mocking John McCain as a prisoner of war, The Atlantic article detailing Trump dismissing fallen American veterans as "losers" and "suckers," and the disrespectful comments the president made towards the late Army Captain Humayun Khan's family—a Gold Star family—in 2016.
While citing a 2015 New York Times article in which Trump said that he "always felt that [he] was in the military" due to his time at a military-themed boarding school, Auchincloss said that the president doesn't encompass the core values of the military and especially those of the Marine Corps, in which Auchincloss served from 2010 until 2015.
"The core values of the United States Marine Corps: honor, courage and commitment," he said. "I can assure the president that, should he have tried to go through Basic Officer Training in the United States Marine Corps, he would have flunked out immediately. He is without honor, he lacks courage and he has no commitment."
Russo called Trump's denigrating comments towards veterans and their families—along with his recent accusations—a "threat to national security," saying that a president has "a sacred duty to protect and grow and cultivate a willingness to serve in this country."
"Donald Trump's history of denigration of the United States military, bad behavior, inability to accept responsibility...one of the real critical issues created by that is that a lot of people are spending time focusing on bad behavior, focusing on his incompetence, and not realizing that denigrating families who have given a loved one in defense of our democracy is a threat to our national security," she said.
Russo later added: "President Trump...accusing the families who have given their loved ones of giving him a deadly virus is a threat to our national security."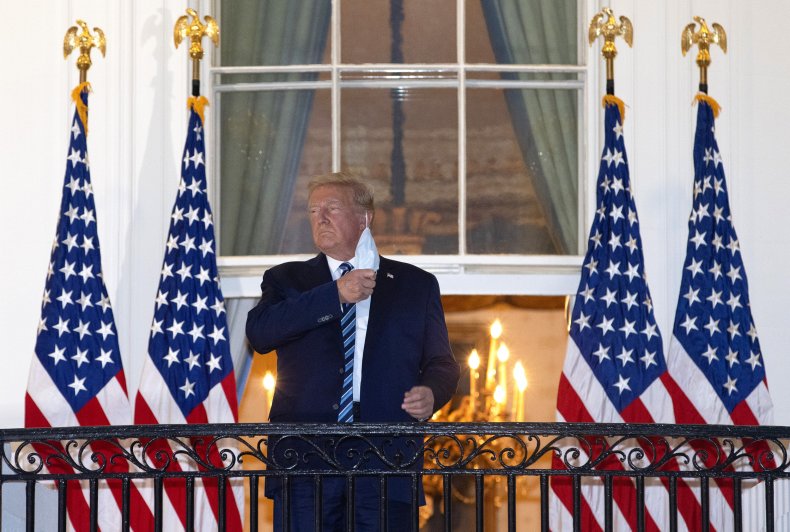 The Gold Star families event honoring fallen U.S. soldiers and held at the White House on September 27 was just one of many events attended by Trump following the Rose Garden Ceremony nominating Judge Amy Coney Barrett to the Supreme Court. The Gold Star event was held indoors in the East Room of the White House and few appeared to wear masks or practice social distancing.
Although several White House officials present at the Rose Garden Ceremony on September 26 have confirmed they tested positive for COVID-19, Trump told Fox Business' Mornings with Maria on Thursday that he "figured there could be a chance" that he had gotten infected with the virus while meeting the veterans' families. He said that members would "come within an inch of my face" while telling him stories of their son or daughter, "and frankly, I'm not telling them to back up. I'm not doing it."
The White House reportedly contacted The Greatest Generations Foundation, the charity that sponsored the event, on October 2 to warn them about potential exposure to the coronavirus.
"The week after engaging in reckless behavior in which dozens of people were exposed, in which we know that he was at least exposed if not outright infected by a deadly virus, Donald Trump met with dozens of grieving families without taking basic precautions to ensure their safety. And we know now that the White House knows what they did was wrong," said Russo, adding that the White House began to "secretly" tell the families that they may have been exposed a few days later.
"But instead of apologizing, Trump turned around this week and publicly and falsely blamed these families for possibly giving him the virus," she said
Echoing the criticism of Trump's handling of the coronavirus, Col. Davis said veterans and their families "deserve a lot better than what they're getting" from the president.
"Every commander I've ever served under, you've learned leadership lessons. They can be positive lessons or negative lessons. But I think, with this commander in chief, we're going to have volumes of negative lessons in leadership," he said. "Because job one of being a leader is being responsible and taking care of your subordinates, and clearly here we have a commander in chief that the only back he's got is his own."