Former Mayor Resigns After Comparing BLM Protesters to Monkeys in FB Post
The former mayor of a small community in South West Wales resigned from his post on the local town council after he was accused of comparing Black Lives Matter protesters with monkeys in a Facebook post.
The post, which has since been deleted, was being investigated as a possible hate crime, Dyfed-Powys police told the BBC. The post featured an image of protesters standing on top of a police car beside an image of a group of monkeys atop a safari vehicle, according to the BBC.
Kraus denied that he had racist intentions when posting the photos, an action he initially attributed to hackers but later admitted was his doing.
"I have never in my whole Life been Racist in any way or form," read a post published by his Facebook account on June 19. "The picture in question which I am sure you are all referring to actually means to me that some People are worse than Animals and enjoy and dest[r]oying things, w[h]ether it be Vehicles, Buildings or Statutes."
Kraus' post went on to say that he had "hundreds" of Black friends. Many of his friends contacted him in response to the racist allegations he was facing and told him they did not believe his post was problematic, he said.
Dyfed-Powys police did not respond to Newsweek's request for comment in time for publication.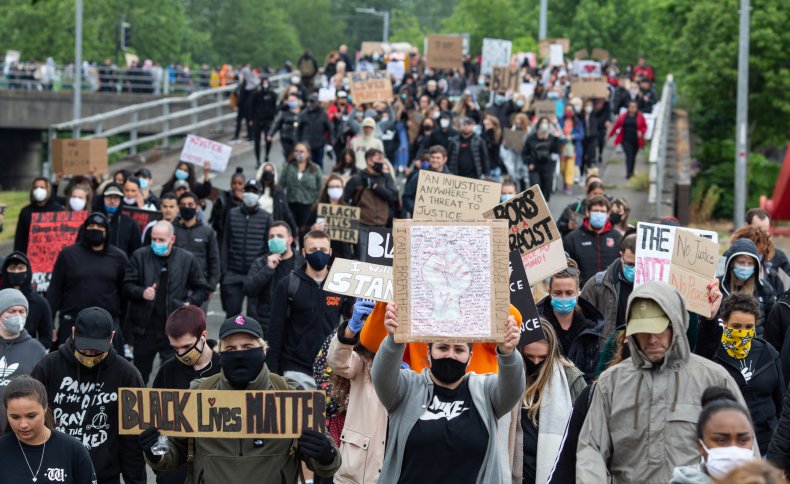 Kraus was the mayor of Pembroke Dock for about a year in the early 2010s. He was until recently serving on the Pembroke Dock Town Council as a representative for its Llanion area, which the council said on its website is home to fewer than 3,000 people.
In the wake of the controversy, the council confirmed Kraus had resigned his post. "Members of the Council would like to thank Peter for all his hard work which he has undertaken over the years throughout the Town and for his continued efforts within the Town Council," the organization said in a statement on its website.
Kraus is one of a growing number of individuals who have either resigned or been fired amid recent allegations of racist behavior. As protests continued for a fifth week in the wake of George Floyd's death while in police custody in the U.S., calls for an end to systemic racism around the world spread as demonstrators questioned the leaders they held responsible for enabling cycles of violence against Black communities to persist.
Both police officers and politicians have come under intense scrutiny for the ways in which they carry out approved policies and procedures, especially in regards to Black citizens. In North Carolina, an officer was fired after using racial slurs and saying "I can't wait" to "start slaughtering" Black people. In Nevada, the mayor pro tempe of Las Vegas stepped down after news began to spread about racist comments she made earlier this month.