It's Not Just Greta Thunberg, Former Top Military Officials Tell Donald Trump to Treat Climate Change as Major National Security Threat
Following climate change activist Greta Thunberg's scathing address to world leaders at the United Nations on Monday, former top military officials have called for President Donald Trump to treat the issue as a major national security threat.
Sixty-four former senior military and intelligence leaders have endorsed the Climate Security Plan for America issued on Tuesday by the Center for Climate and Security and George Washington University's Elliott School of International Affairs.
"In this context of unprecedented risk and unprecedented foresight, the President has a responsibility to prepare the nation for the unavoidable impacts of climate change, and a responsibility to prevent future security scenarios that impose catastrophic consequences," the plan reads.
The proposal calls for Trump to create a new White House Office on Climate Security and promote new climate leadership roles in the Department of Homeland Security, the Department of Defense, the State Department and the Office of the Director of National Intelligence.
In 2017, the Trump administration removed climate change from the list of threats and instead placed it under a section on "embracing" energy dominance. The administration's National Security Strategy assigns greater importance to border control and the global economy.
The climate plan also suggests that Trump launch a "Climate Security Infrastructure Initiative" to improve both civilian and military infrastructure around the country to prepare for the devastating effects of climate change.
"Human civilization has never before experienced the current rapid rate of climatic change, but despite the unprecedented risks associated with this change, there is a silver lining. The United States today is fortunate to have unprecedented foresight capabilities," the proposal said.
Among the former top military members to endorse the plan are General Larry Welch, Admiral Samuel Locklear and General Anthony Zinni. Welch is the former chief of staff of the Air Force, Locklear was the former commander of the U.S. Pacific Command, and Zinni was the commander of the U.S. Central Command.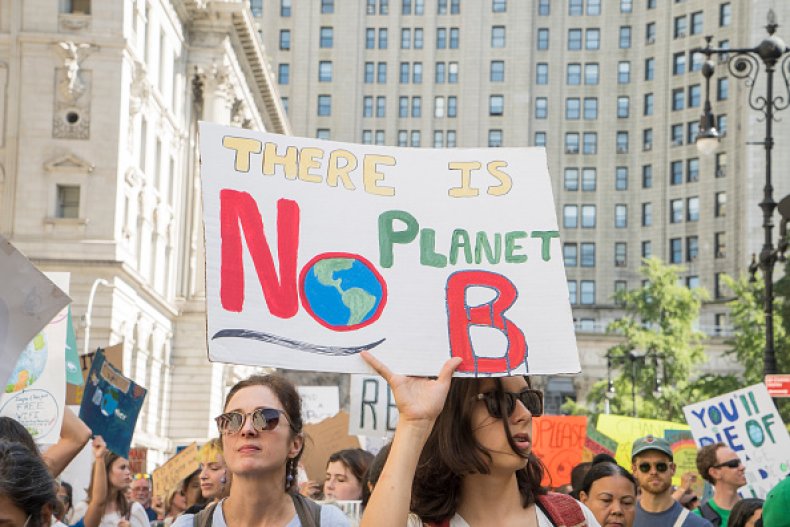 The Climate Security Plan for America was unveiled following last week's record-breaking youth climate strike. More than 4 million people participated in the global protest, according to the environmental advocacy group and co-organizer 350.org.
The climate strike was inspired by Thunberg, the 16-year-old Swedish activist who became famous for taking time off school to demonstrate outside parliament for stronger climate action.
Thunberg scathed world leaders during her speech at the United Nations on Monday. She accused members of caring more about "fairytales of eternal economic growth" than mass extinctions and crumbling ecosystems.
"I shouldn't be up here. I should be back at school on the other side of the ocean," Thunberg said. "Yet you all come to us young people for hope. How dare you! You have stolen my dreams and my childhood with your empty words."