Who is Ana Orke? Former Minnesota Gov. Mark Dayton Marries Ex-Campaign Aide 41 Years His Junior
Mark Dayton, the former governor of Minnesota, has announced his marriage to a former campaign aide 41 years his junior. Mark Dayton, 73, took to Facebook on Sunday to reveal he had recently wed 32-year-old Ana Orke, now Ana Dayton.
Alongside what appears to be a photo taken at the couple's wedding, Mark Dayton wrote: "Dear Family and Friends, I am delighted to reach out to you in these challenging times with some very happy news: After twenty years of bachelorhood, I am now a married man!
"Well-wishers, with whom I share my news, often ask me, 'Who is the lucky lady?' But that is the wrong question, for it is I who am the lucky man."
He described his wife as "smart, compassionate, tough, funny, and impossibly good at Scrabble!"
Mark Dayton added: "You will not be surprised to learn that politics (in addition to winning at board games) is important to us both."
Ana Dayton had worked for Hillary Clinton's presidential campaign in 2008 and Mark Dayton's gubernatorial campaign in 2010, he said in the post. He said they then lost touch, but reconnected after running into each other in Minneapolis a couple of years ago. "The rest is happy history," he added.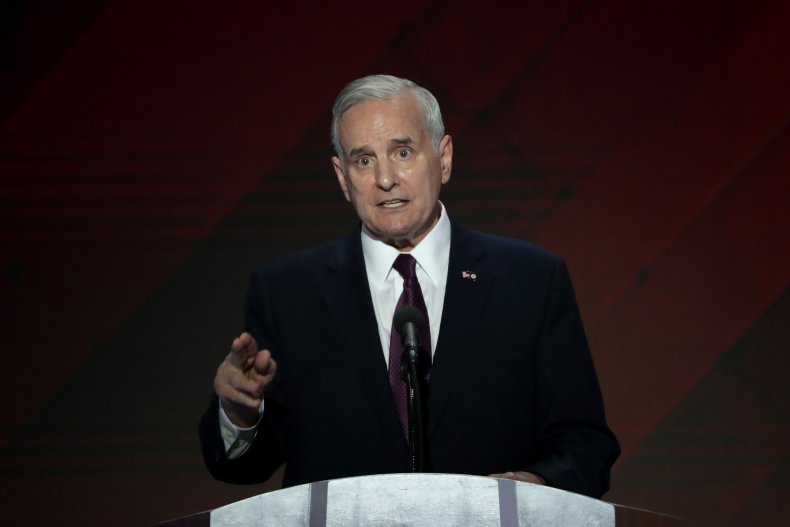 Mark Dayton also acknowledged the age difference, noting that his wife is 41 years younger than him.
"I know our age difference (I am 73; she is 32) will surprise many of you," he wrote.
"The truth is, the feelings that developed between Ana and me, given our age difference, surprised us too, at first. But as we grew to know each other, we realized that the love binding us is far deeper and more meaningful than the years that separate us."
Mark Dayton also used the Facebook post to wish people a happy holiday season.
"As I celebrate the gift of new love and joy in my own life, I would like to take this opportunity to wish you a most joyful holiday season," he added. "May the New Year bring to you, your loved ones, and our shared community health, happiness and, out of the dark difficulties of these hard past times, a brighter tomorrow."
Dayton, a Democrat, served as Minnesota's governor from 2011 until 2019. He was a U.S. Senator for Minnesota from 2001 until 2007.
He has been married twice before—to Alida Rockefeller between 1978 and 1986 and to Janice Haarstick from 1996 to 1999, according to KTSP.