Former Missouri Governor Compares St. Louis Violence to Afghanistan, Iraq
Former Missouri Governor Eric Greitens said compared violence in St. Louis to that witnessed in Iraq and Afghanistan after a shooting took place on Monday night.
The ex-Navy SEAL told Fox News on Tuesday that shootings akin to those witnessed in Iraq and Afghanistan were happening in "cities across the country," and railed against "leftist radicals" in favor of defunding police forces.
Greitens also lashed out at this fellow Republicans, accusing some GOP lawmakers of showing "cowardice" and failing to step forward on crime.
Speaking to Fox News last night, former Gov. Greitens said: "As a Navy SEAL, this is what you expect to happen in places like Iraq and Afghanistan, but unfortunately now it's happening in places like St. Louis and in cities across the country.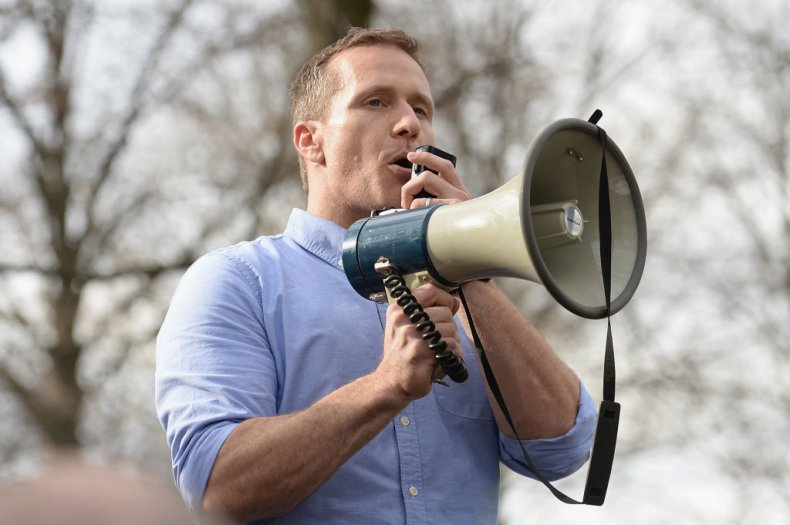 "Last night, we had semi-automatic fire ringing out in the daylight at a crowded intersection in a place that people used to take their families."
The former governor later added that children were being killed as "leftist radicals" were calling for the police to be defunded.
"Unfortunately some Republican politicians, because of their cowardice, aren't stepping forward," Greitens said.
Newsweek has contacted the former Missouri governor for further comment and will update this article with any response.
The ex-state leader compared violence in St. Louis to incidents that take place in Iraq and Afghanistan after he ran to help victims of a double shooting in the city on Monday night.
The St. Louis Post-Dispatch reported that Greitens rushed to the scene of the double homicide with a friend he was having dinner with at Vito's Sicilian Pizzeria & Ristorante when shots rang out near St. Louis University. The pair then reportedly administered first aid until paramedics arrived.
Local police said the victims 21-year-old Omar Harris and Arie Bagsby, 20, died from multiple gunshot wounds. Officers had not reported making any arrests as of Tuesday morning.
The Associated Press reported last week that three people had been shot in the downtown area of St. Louis shortly before 11 p.m. on July 8. A minimum of 10 shots were believed to have been fired.
According to local news outlet KSDK, another man was dropped off at St. Louis Hospital on Tuesday afternoon, and later pronounced dead. Police are investigating the incident.