Former Missouri Senator Reacts to Poll Showing Biden Leading Trump in State: 'I Just Fainted'
A new poll measuring support among voters in Missouri for former Vice President Joe Biden and President Donald Trump led one of the state's former senators to respond to the results by posting a link to the poll on Twitter with a caption reading, "I just fainted."
Claire McCaskill represented Missouri in the Senate from 2007 to 2019. Though she won two state elections as a Democrat, Missouri is a battleground state that tends to lean Republican. Trump won the state handily in 2016, and the state twice voted against Barack Obama each year he ran for the presidency. No Democratic presidential contender has won the state since Bill Clinton in 1996, Federal Election Commission data show.
But according to a poll conducted online between June 16 and 22 by Garin-Hart-Yang Research Group, voter support may be shifting away from the president, whom McCaskill has frequently criticized. While Trump defeated Hillary Clinton by 18.5 points in Missouri in 2016, according to The New York Times, pollsters found Biden was leading Trump by 2 points among the 800 likely voters surveyed. Even with the poll's 3.5 percent margin of error, Trump was lacking the significant lead he enjoyed in the general election four years ago.
Biden earned 94 percent of likely voter support among Democrats, while Trump garnered 87 percent of support among Republicans, the poll found. Independents swayed toward the Democratic Party, with 45 percent telling pollsters they would support Biden and 40 percent saying they intended to back Trump.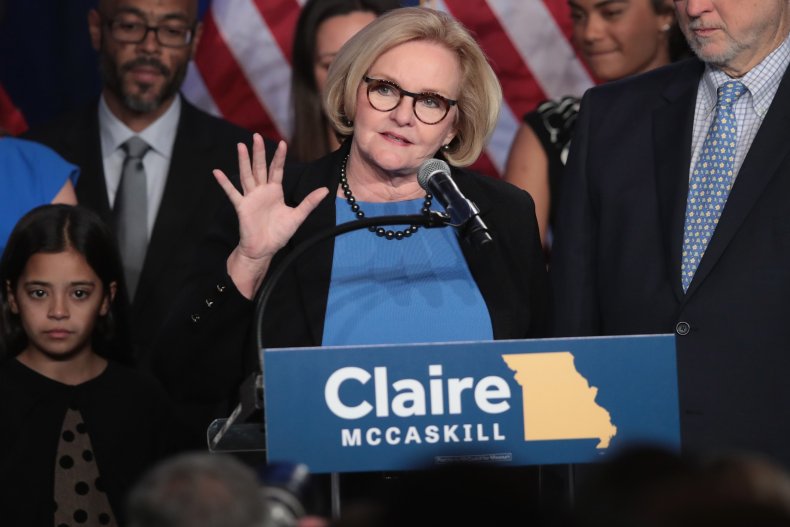 In total, the poll found that Biden claimed 48 percent of the likely voters in Missouri and Trump claimed 46 percent. "This result is consistent with national polls showing a double-digit Biden lead and state polls showing Biden ahead in other states Donald Trump won in 2016," pollsters said in a release.
Biden's campaign did not respond to Newsweek's request for comment before publication.
"The political environment in Missouri has shifted slightly away from Republicans," the pollsters concluded. Missouri is not the only battleground state in which recent polls indicate this is true. Earlier this month, election forecasters estimated Biden had an 86 percent advantage over Trump nationally, with his edge in some important swing stages ranging between 2 and 8 percent. Even so, the president has said that he holds a lead in all of the states likely to be critical in the general election's outcome.
A recent poll by Reuters/Ipsos found Americans' opinion on how Trump has handled the coronavirus pandemic and its impact on the economy—whose strength was a point of pride for Trump before the virus hit the U.S.—reached a new low as new virus cases began spiking in several states.
Though the president has remained optimistic that the outbreak will soon be overcome and the economy will be able to resume in full, states' health data and the measures local leaders began taking in late June to roll pandemic restrictions back into place indicate the recovery will take longer than anticipated.
A couple of hours after posting a link to the Garin-Hart-Yang poll on social media, McCaskill again joined Trump's critics by saying he was "killing Americans by refusing to wear a mask."
"The rest of the world is looking at Trump and watching him refuse to wear a mask, but somehow that reflects on his strength," McCaskill told MSNBC.
McCaskill did not respond to Newsweek's request for further comment before publication.