Former MMA Fighter Scott Fairlamb Charged With Punching Cop in Capitol Riots
Former mixed martial arts fighter Scott "Wildman" Fairlamb of Sussex, New Jersey was charged Friday with assaulting a federal officer during the riot at the U.S. Capitol in January.
Fairlamb was allegedly captured on video participating in the riot which saw supporters of President Donald Trump breach the Capitol building during the Congressional certification of President Joe Biden's victory in the Electoral College. Five individuals died in connection with the riot. Many members of the mob live-streamed their participation in the riot on social media. Fairlamb was identified through images posted online.
According to an affidavit from the U.S. Department of Justice, Fairlamb was allegedly shown in a video in the act of punching a federal officer in the head. Fairlamb also allegedly posted a video of himself at the riot on his Facebook page in which he can be seen carrying a collapsible baton. "What Patriots do?" Fairlamb said in a since-deleted video. "We f*ckin' disarm them, and then we storm f*ckin the Capitol."
Fairlamb was charged with certain acts during civil disorder, assaulting a federal officer, knowingly entering or remaining in any restricted building or grounds without lawful authority, carrying a dangerous weapon and violent entry and disorderly conduct on Capitol grounds, according to a criminal complaint filed with the U.S. District Court for the District of Columbia.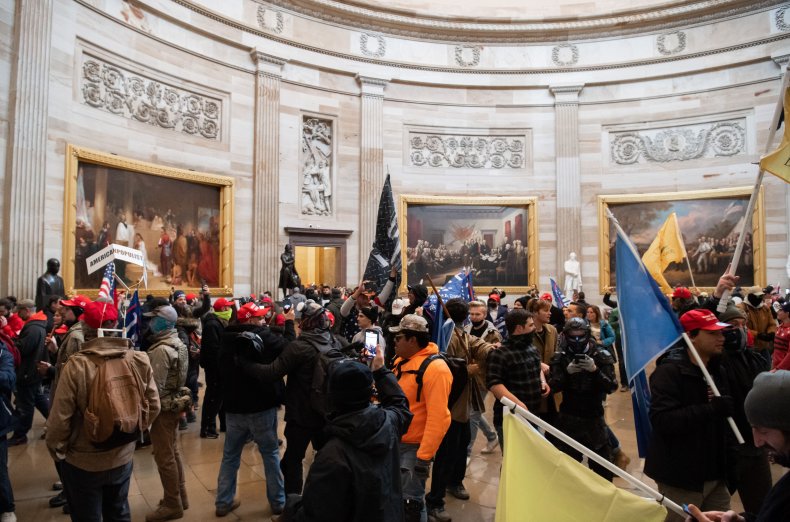 Fairlamb was taken into custody and made his first appearance in court on Friday. According to NJ.com, Fairlamb was released to electronically monitored home detention on a $50,000 unsecured bond. The U.S. Government is expected to appeal Fairlamb's release. Newsweek reached out to the Federal Bureau of Investigation for further information.
Fairlamb was diagnosed with leukemia shortly after his MMA debut at Ring of Combat 31 in September 2010. In 2014, Fairlamb opened Fairlamb Fit, a gym in Pompton Lakes, New Jersey. A bio of Fairlamb on the gym website says that fighting "was, and still is all that Scott knows, believes and practices."
In May 2020, Fairlamb defied stay-at-home orders issued by New Jersey Governor Phil Murphy during the COVID-19 pandemic. In an interview, Fairlamb said Murphy's closure of businesses deemed non-essential was an overreach of Murphy's authority.
"He's overstepped his boundaries," Fairlamb told WCBS, "and it's time for these gyms that are essential to open up."
More than 100 people have been arrested in connection with the riot including individuals connected with the QAnon conspiracy theory movement and the U.S. military.