Former National Security Adviser John Bolton Says North Korea Risk to US Forces and Allies is 'Imminent'
John Bolton, President Donald Trump's former national security adviser and former U.S. ambassador to the United Nations, took to social media Monday afternoon to warn that steps must be taken to ensure that North Korea does not further its nuclear weapons program—instead of merely saying that it must not happen.
"We say that it's unacceptable for North Korea to obtain nuclear weapons, but that's more rhetorical than a real policy at this point," Bolton wrote in a tweet he published at 1:16 p.m. EST on Monday. "The risk to US forces & our allies is imminent & more effective policy is required before NK has the technology to threaten the American homeland."
Bolton held the position of national security adviser until Trump asked for his resignation in September, publicly stating that it was because he "disagreed strongly with many of [Bolton's] suggestions." He has been especially outspoken about issues pertaining to North Korea's nuclear program. The tweet published Monday was merely that latest instance in which he has said that, in his opinion as a national security expert, the U.S. is not doing enough to ensure that North Korea does not have the opportunity to use its arsenal of nuclear weapons.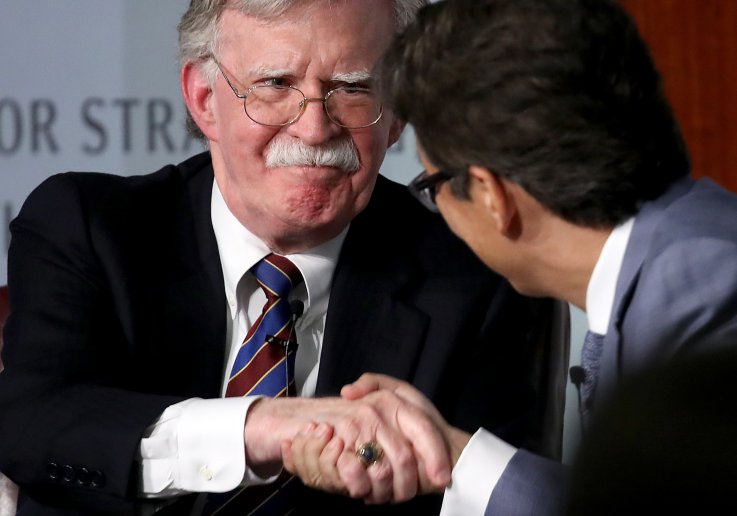 As Newsweek previously reported, North Korean Supreme Leader Kim Jong-un issued an ultimatum to the U.S. earlier this year, in April: If the Trump administration does not come to an agreement with the North Korean government about a process of denuclearization and sanctions relief by the end of the year, then it will conduct a major weapons test, which could significantly raise tensions between the two nations.
But Bolton has maintained that the North Korean government will never voluntarily give up its nuclear weapons by coming to a deal with the U.S.
"I don't think the North Koreans will ever voluntarily give up enough, because what they have to give up to satisfy me is their entire nuclear structure and they need to agree to an inspection system that is so robust and so thorough that they could well think that it threatens the stability of their regime," he said in September at an event hosted by the Center for Strategic and International Studies in Washington, D.C. The event took place only days after Bolton was fired as national security adviser.
As the end-of-year deadline draws nearer and nearer, North Korea's neighbor, U.S. ally South Korea, has advised the Americans to keep pushing for peace for as long as possible. On Dec. 16, Newsweek reported that South Korean President Moon Jae-in met with U.S. special representative for North Korea Stephen Biegun in Seoul to discuss issues on the peninsula. Moon reportedly asked Biegun to "make constant effort for progress in the Korean Peninsula peace process."
Former National Security Adviser John Bolton Says North Korea Risk to US Forces and Allies is 'Imminent' | U.S.