Former NATO Supreme Allied Commander Calls Fiona Hill 'Donald Trump's Worst Nightmare' After Impeachment Hearings
James Stavridis, former NATO supreme allied commander, claimed former National Security Council official Fiona Hill's knowledge and resilience made her a threat to President Donald Trump.
"Fiona Hill is Donald Trump's worst nightmare," Stavridis said while on MSNBC's Morning Joe Friday morning, a day after Hill's testimony at the Trump impeachment inquiry hearings.
During the segment, Stavridis explained that he knows Hill "quite well," and when he was preparing to take over his position in NATO, people regularly recommended he talk to Hill because she was an expert.
"The point I want to make is her knowledge of Russia, Ukraine, this region, is really quite unparalleled," Stavridis said. "She is brilliant, as you saw, and she's also kind of tough as nails."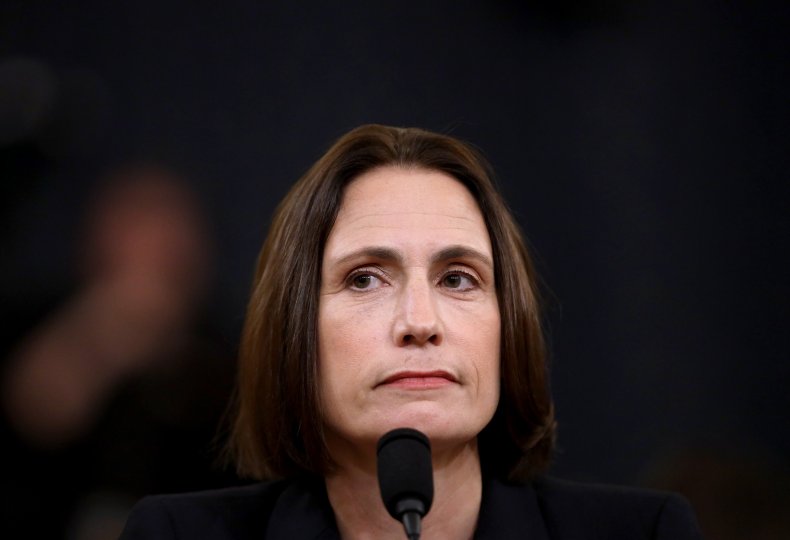 Stavridis added that Ukraine had a "dagger at its throat from Russia," and the White House diluted a national security imperative with its domestic agenda.
"I've never seen anything like it," Stavridis said.
House Democrats launched an impeachment inquiry in September after receiving reports that Trump asked Ukranian President Volodymyr Zelenskiy to investigate former Vice President Joe Biden and his son Hunter. On Thursday, Hill testified before the House Intelligence Committee, saying it was "very clear" Zelenskiy meeting with Trump at the White House was contingent on "other issues."
Hill explained she clashed with U.S. Ambassador to the European Union, Gordon Sondland, who testified on Wednesday, and told him "this is going to blow up," referring to how the United States was engaging with Ukraine. Sondland was carrying out Trump's instructions, according to Hill, and working toward different goals than she was.
"When he wasn't cooperating, it was because we weren't doing the same thing that he was doing," Hill said. "He was being involved in a domestic political errand, and we were being involved in national security foreign policy and those two things had just diverged."
Hill claimed Sondland and acting White House Chief of Staff Mick Mulvaney agreed to pressure Ukraine to investigate Burisma, an energy company that Hunter Biden sat on the board of, in July. John Bolton, then-national security adviser, instructed her to tell the president's legal adviser that he didn't want to be part of "whatever drug deal Sondland and Mulvaney are cooking up."
"It is not credible to me that [Sondland] was oblivious. He did not say Bidens, however, he said Burisma, he said 2016. I took it to mean the elections as well as Burisma," Hill said.
She added that it was "clear" Burisma was "code for the Bidens" and said she understood why Lt. Col. Alexander Vindman was "alarmed" after learning of the plan.
"[Bolton] said, 'This is inappropriate, we're the national security council and we can't be involved in this,'" Hill testified.
Trump regularly denies he engaged in any improper behavior, often referring to the Democrats' moves to impeach him as a "witch hunt." He claimed Sondland's testimony, where he said Trump told him he wanted "nothing" from Ukraine, meant the impeachment pursuit was "all over."
Hill told committee members that she served under both Republican and Democratic presidents and took "great pride" in being a nonpartisan foreign policy expert.
"I have no interest in advancing the outcome of your inquiry in any particular direction except toward the truth," Hill said.