Former Nazi Concentration Camp Guard Goes on Trial, Accused of Being 'a Small Wheel in the Machinery of Murder'
Bruno Dey is 93-years-old. But seven decades ago, he was a 17-year-old private SS guard, serving in Stutthof concentration camp, in what is now Poland, during World War II.
In his job as camp guard, he overheard screams of the Jewish prisoners that were held there.
Dey is the latest in a string of former Nazis who are only now going to trial for the crimes they committed during the Holocaust. The nonagenarian will be trialled on 5,230 counts of accessory to murder in Hamberg state court on Thursday.
According to The Guardian, 5,000 of those murders are prisoners who died during a typhus epidemic after being denied food, water and medicine. A further 200 were exterminated by gas chamber and 30 were shot.
Prosecutors say his role as a camp guard was a small but important element of the the camp's operation that allowed Stutthof to pursue its mission against the Jewish population—his contribution has earned him the description "a small wheel in the machinery of murder," the Associated Press (AP) reports.
According to Deutsche Welle, the big question will be if he knew of the murders that were taking place in Stutthof.
Dey admits to serving as a camp guard but denies being complicit in the murders that took place there, saying there was little he could have done as "they would have found someone else."
As Newsweek previously reported, Dey says he had never been a Nazi and was instated in the SS unit responsible for the running of the camp (SS-Totenkopfsturmbahn) because of a heart condition. He insists he only carried out his duties because he feared for his own life.
But prosecutors argue his passive opposition to Nazism does not negate the severity of his crimes.
"I did not know why they were there," Dey told prosecutors, AP reports. ""I knew well that they were Jews who had committed no crime, that they were only there because they were Jews. And they have the same right to live and to work like any other person. But it was just that Hitler or his party were against that, who had something against the Jews."
"The accused was no ardent worshipper of Nazi ideology," write prosecuters in the indictment, which has been reviewed by AP. "But there is also no doubt that he never actively challenged the persecutions of the Nazi regime."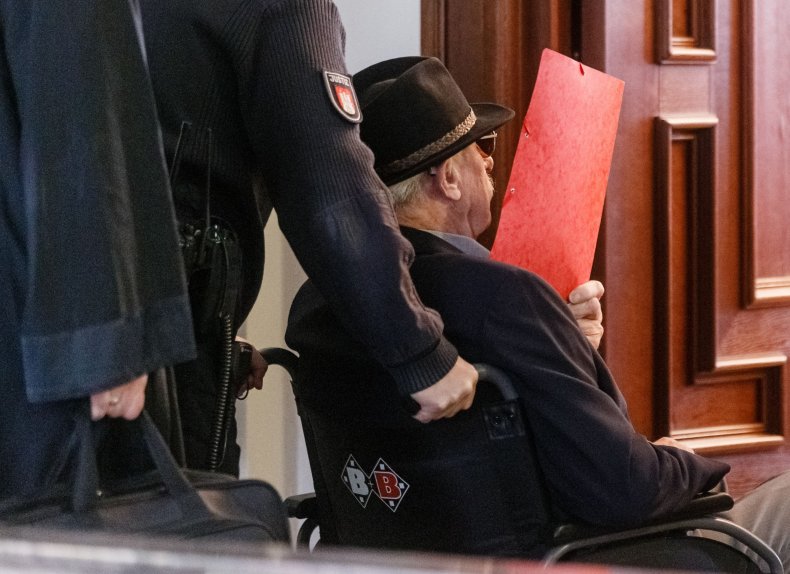 Dey's trial follows a number of trials and charges of accessory to murder against people who were involved in the camps and assisted with the killing of Jews during the Holocaust, even if there is no evidence of their direct involvement in a specific death.
John Demjanjuk was the first when he was convicted on 27,900 counts for his role as a guard at the Sobibor death in 2011, overturning a convention that being on staff at a camp was not enough to get you charged. Reinhold Hanning, Hubert Zafke, and Helma M.—the latter a radio operator at Auschwitz—have also been tried on these charges in more recent years.
The trial of Oskar Groening—the "accountant of Auschwitz" who was sentenced on 300,000 accounts to accessory to murder in 2015—is one of the most high-profile cases involving accessory to murder.
Despite his age, Dey will be trialled in a juvenile court because he was under-21 when the crimes took place. If convicted, Dey faces a prison sentence of six months to 10 years.