Former NBA Player Royce White Says 'It's Become Very Clear Black Lives Don't Matter' To NBA, NFL Owners
Former NBA player Royce White called out NBA and NFL owners Tuesday, saying that it is clear that black lives don't matter to them.
"I want people to consider, who it is that influences their politicians, who it is that influences their local communities, who is it that influences their local tax dollars," White said while appearing on CNN. "These are your NBA owners, your NFL owners. These are your corporate oligarchs; these are the one percent of one percent and it's become very clear that black lives do not matter to them."
White's comments come as several states have seen protesters gather in the streets to stand against police brutality against black Americans following the death of George Floyd in Minnesota. Floyd, a 46-year-old black man, died in police custody on May 25, after officer Derek Chauvin kneeled on his neck while he and three other officers arrested Floyd for alleged use of forged documents at a supermarket in Minneapolis.
White has been an advocate for protests and was one of the organizers of a peaceful protest in Minneapolis.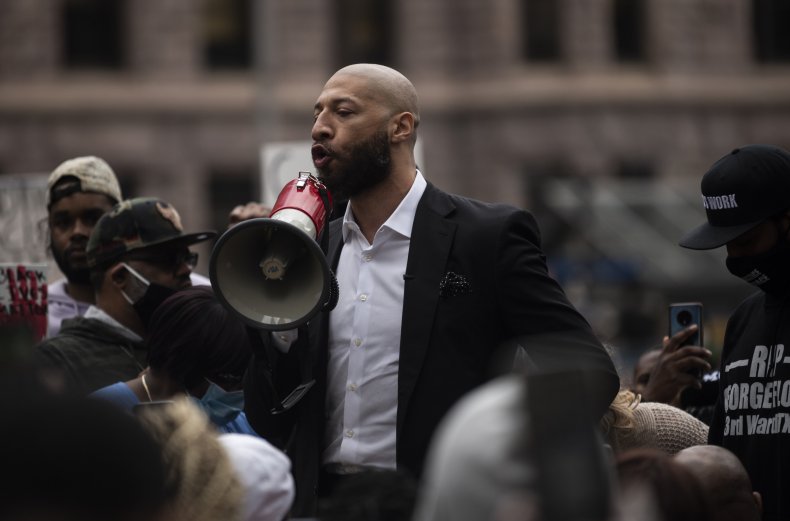 While a number of professional sports, including the NBA, have temporarily stopped due to the novel coronavirus pandemic, the dispute between owners and players over police brutality against black Americans has been a popular issue in recent years.
In 2014, several NBA teams staged silent protests against former Los Angeles Clippers owner Donald Sterling after an audio recording was leaked where Sterling made racist comments. Later that same year, NBA players wore shirts that read "I Can't Breathe" during warmups in support of Eric Garner, who died after he was choked by an arresting officer.
Following the display of support by NBA players, the league's commissioner Adam Silver stated that while he won't fine them for violating court attire rules, his "preference would be for players to abide by our on-court attire rules."
In the NFL, protests against police brutality were led by former San Francisco 49ers quarterback Colin Kaepernick, who protested by kneeling during the National Anthem.
A number of NFL owners expressed their support against Kaepernick's protests by unanimously approving a league policy that required players to stand during the National Anthem and subject teams to a fine if players or other team personnel do not show respect for the anthem.
"We want people to be respectful of the national anthem," NFL commissioner Roger Goodell said. "We want people to stand -- that's all personnel -- and make sure they treat this moment in a respectful fashion. That's something we think we owe."
While appearing on CNN Tuesday, White applauded Kaepernick's protest, calling the quarterback's stance "prophetic."
"There's no stronger symbolism in our time right now for protests than what he has already laid the groundwork for," White said.
The NFL recently imposed a new aspect to the Rooney Rule, a rule that requires league teams to interview at least one person of color for coaching or senior administration positions. Earlier this month, the league voted to increase the number of ethnic minority candidates interviewed to two.
Newsweek has reached out to both the NFL and NBA for comment on White's recent remarks.
With protests continuing across the country, President Donald Trump said Monday that he would use the Insurrection Act to deploy members of the military to areas where protests have grown violent and state officials failed to contain them.
However, White said that by doing so, the president would only lead protests to escalate further.
"We are tired of tyranny. We are tired of the tyranny of the police, we are tired of the tyranny of corporations and we are tired of his tyranny," White said.