Former NBA Player Sebastian Telfair Sentenced to Prison For Gun Possession, Goes on Rant in Court
Sebastian Telfair made a career out of balling on the basketball court. On Monday, he bawled in a New York judicial court.
Telfair is a former NBA player who was sentenced to three and a half years in prison for gun possession. As his sentenced was handed down, he pleaded to the court and Judge John Hecht of the Brooklyn Supreme Court to not take him "from society."
"Please don't take me from society right now,'' Telfair said, according to the New York Post. "I am 34. I can go play in China for six years and take care of my family. I'm waiting for my daughter right now to get her period. Real mental illness because I wasn't around ... She hasn't even gotten her period yet."
"Sebastian Telfair is going to jail for a ... victimless crime," Telfair added.
In 2017, Telfair was driving his Ford F-150 pickup truck when he was pulled over for driving without his lights on and parking on a median. According to The Post, police found "three loaded handguns, a submachine gun, ammo, extended magazines" and a ballistic vest during a vehicle search.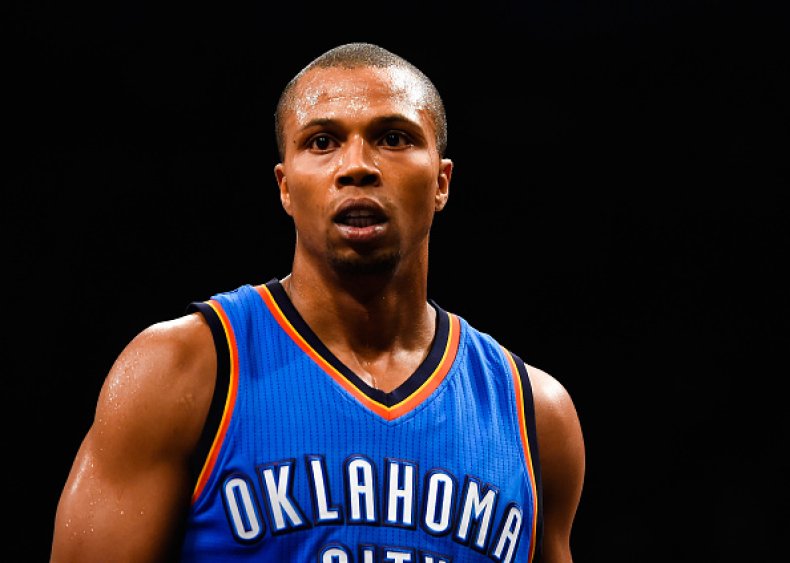 Speaking with the newspaper prior to Monday's sentencing, Telfair said the guns were all his, and all legal. However, they were legally licensed in Florida—where he lived—and not in New York, where they were discovered.
"Put a gun in his hand and fight for us n—a ... I go to the gun store. I got an American Express,'' Telfair said at Monday's hearing.
Telfair said he did not know the guns were in his vehicle as he was in the process of moving to New York while he was going through a divorce. He claimed to have told movers to put some stuff in his truck and other belongings in a moving truck.
Telfair was once considered a rising star in basketball, and he appeared on the cover of Sports Illustrated in 2004 with the headline, "Watch Me Now."
Telfair could have faced up to 15 years in prison for his offense, according to the report. He claimed the search was illegal since there was no warrant presented by the officers, who said they smelled marijuana from inside the vehicle, which prompted their probable cause search.
The NYPD insists they carried out an internal investigation into the matter.
Telfair was a point guard who played in the NBA from 2004, when he was 19, until he stepped away from the game after the 2014-15 season. He played for eight teams in the league—Portland, Boston, Minnesota, Toronto, the Los Angeles Clippers, Phoenix, Cleveland and Oklahoma City.
Former NBA Player Sebastian Telfair Sentenced to Prison For Gun Possession, Goes on Rant in Court | News