Former Republican NJ Governor Defends Saying Hitler 'Had Nothing' on Trump: 'We Are Going Down a Dark Hole'
Republican former New Jersey Governor Christie Whitman has defended a now-deleted tweet in which she claimed Adolf Hitler "had nothing" on President Donald Trump.
"#Hitler has nothing on #Trump," Whitman tweeted, along with a link to a New York Times report about a violent parody video that showed Trump slaughtering members of the media and his political rivals.
The doctored clip, which has been on YouTube for at least a year, was played at a three-day conference for Trump supporters at his Miami golf resort last week, according to The Times.
That tweet was deleted and replaced on Tuesday with a different one condemning the graphic clip, with the reference to Hitler removed.
The former governor wrote: "This video, played @ the president's resort, is the stuff of dictators. The US is a land of discourse with those who disagree, not violent destruction of opponents in a church. #Trump & his defenders should be ashamed. What is America becoming?"
But in an interview with NBC News, Whitman has doubled down on her original statement. She said that Hitler wanted "unadulterated adulation," just like Trump does.
"Hitler took a long time to get where he was and he had to do a lot of other things," she added. "Trump is going much faster. We are going down a dark hole and I really worry for the country,"
Whitman said that she thought about the "inflammatory" comparison to Hitler before posting the tweet but said she thought the shock value may make people think. She didn't elaborate on why she deleted it.
Newsweek has contacted Whitman for further comment.
Whitman, who served as the governor of New Jersey from 1994 until 2001, has long been critical of Trump and her deleted tweet isn't the first time she has compared Trump to Hitler.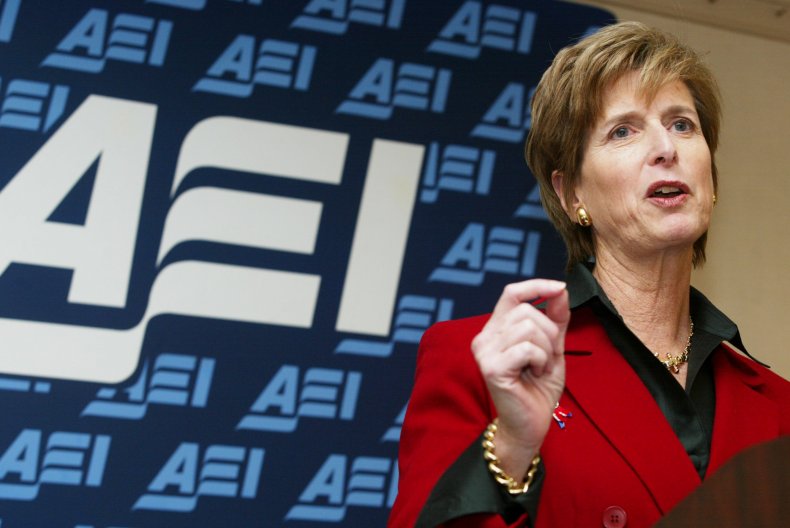 In December 2015, she penned an op-ed in Politico saying Trump was employing the kind of "hateful rhetoric" in his election campaign that led to the rise of Hitler.
"It is no longer a stretch to compare Donald Trump, and some of the other current Republican candidates for president, to some of the worst dictators in history,' she wrote.
"Trump especially is employing the kind of hateful rhetoric and exploiting the insecurities of this nation, in much the same way that allowed Hitler and Mussolini to rise to power in the lead-up to World War II. The parallels are chilling."
In July this year, after Trump told four Democratic congresswomen of color to leave the U.S., she wrote a column for NJ.com again likening Trump to Hitler.
She wrote: "When I denounced Donald Trump in December 2015, I entreated my party—the GOP—to remember our brightest moments in history, when conservatives advocated changes that would overcome hate and division.
"I argued that then-candidate Trump's language was reminiscent of that used by dictators in the 1920s and 1930s, a period that did not end well.
"Four years later, I have watched the Trump administration chip away at the basic tenets of our democracy and the Republican Party embrace our president's fearmongering tactics. His hateful language is an alarming threat to our nation, and heralds the denigration of our country's institutions."
The video that sparked Whitman's tweet was shown at a gathering at Trump National Doral Miami, The New York Times reported. In the clip, Trump's head is superimposed on the body of a man who opens fire with a handgun inside the "Church of Fake News."
Churchgoers are identified by the logos of news organizations or the faces of political rivals, including Bernie Sanders and Barack Obama, as well as other Trump critics. According to the video was based on edited scenes from the 2014 film Kingsman: The Secret Service.
On Twitter on Monday, White House spokeswoman Stephanie Grisham wrote that Trump had not yet seen the video, but condemned it "based upon everything he has heard."
Trump has repeatedly slammed the media as "the enemy of the people" and "fake news," comments that critics have warned could incite violence against reporters.